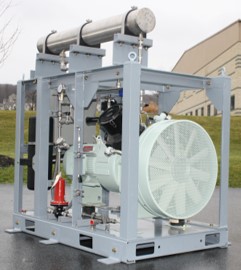 Compressed Air Equipment & Systems for Nuclear Power Applications
Nuclear power is a valuable, low-carbon resource that currently accounts for 10% of the world's energy generation. As some of the most cost-effective and reliable energy producers, nuclear plants are essential to combating climate change.
Businesses across numerous sectors use nuclear energy every day, including healthcare, transportation, agriculture, food and more. Nuclear energy does everything from powering facilities to irradiating bacteria.
There is a great deal of sensitive equipment used in nuclear power generation, making it extremely important that this equipment works effectively at all times. Any failure in instrumentation or containment in a nuclear power facility could have dire consequences.
High quality, high pressure compressed air is also needed for diesel start on back-up power generators. No matter what the application for nuclear power plants, Titus has a compressed air or gas solution.
Air compressors and air dryers for nuclear power plants can have a number of important functions, which is why Fluid Aire Dynamics is proud to provide our array of air compressor system products and services for the nuclear power industry.
We install air compressor equipment that improves efficiency in many common types of nuclear reactors, including pressure water reactors (PWR), advanced gas-cooled reactors (AGR) and pebble bed modular reactors (PBMR). Our systems cool reactor buildings, supply air operating valves for monitoring instruments, assist in gas leak recovery and more.
What Titus Equipment Is Relevant for Nuclear Power Plants?
Nuclear power plants need air compressors, air dryers and air filters — in large part for the purpose of producing high-quality and reliable instrument air, or highly purified air that has no moisture, particulates or other contaminants.
We develop membrane-based technology that puts businesses in control of their instrument air quality. Upgrade your old or antiquated system with our equipment to benefit from the latest technological advancements.
Titus Membrane Air Dryers
The Titus Membrane Air Dryer is one of the most pertinent pieces of equipment for nuclear power plants. The compressed air process creates moisture, which becomes a problem for a nuclear reactor when it condenses. Condensed moisture can contaminate production processes, resulting in freezing, corrosion and other issues. Moisture's adverse effects halt productivity and damage equipment. Membrane air dryers resolve these concerns by removing moisture in a compressed air system. But how do membrane air dryers work?
Consider a cell membrane. A layer of selectively permeable tissue lines the cell to control what goes in and out. The cell membrane allows water to pass through, but its filtration system prevents large, unwanted molecules from entering. The same concept applies to membrane air dryers. Numerous filters and a specialized membrane combine to remove water vapor from the air as it enters the compression system. The filtration process results in a lower dew point and humidity level — key attributes of an efficient air compressor.
Why Use a Titus Membrane Air Dryer?
Membrane dehydration systems provide significant benefits for businesses using air compressors for nuclear power generation systems. Our equipment is:
Efficient: Unlike refrigerated, deliquescent or desiccant dryers, our wet air dryers are free of moving parts, requiring little to no energy to improve your system's performance.
Sustainable: Membrane air dryers operate without hazardous liquids that pollute the environment or wasteful desiccants that must be replaced.
Quiet: The passive, electricity-free drying process enables noiseless generation of dry compressed air.
Reliable: You can count on a membrane air dryer to yield a steady supply of dry compressed air that keeps your systems running at optimal efficiency.
What Is the Purpose of Instrument Air in Nuclear Power Plants?
The purified air used in nuclear power generation is called "instrument air" because a number of the instruments that measure the elements nuclear power plants use to convert power into electricity — like heat exchangers, steam flow and condensate — require the use of clean, compressed air in order to accurately communicate information about levels, pressures, temperatures and flow.
The purpose of the instrument air is to allow throttling of the Air Operated Valves the system uses for flow and level control. Without the clean, compressed air that air compressors provide, the Air Operated Valves, as well as the ports of the instruments, could suffer from clogs as a result of debris, oil or moisture that commonly develop in non-purified air.
A safe, efficient nuclear power plant typically makes constant use of an efficient instrument air system to function.
Titus for Nuclear Power Generation Instrument Air and Other Air Compressor Services
Of the many benefits to nuclear power generation companies of using Fluid Aire Dynamics air compressors to provide quality instrument air is the four-phase service program we offer. When you work with Titus, you'll know that we can troubleshoot and correct any air compressor issues you may have, proactively, before they become problems that could hurt your instruments. Here's how it works:
Phase one — system analysis: We'll assess your air system's performance either through an informal system review or full air system audit.
Phase two — system design and fabrication: We'll outline site preparation requirements, analyze your budget, determine the most effective system layout, plot electrical schematics and more.
Phase three — system installation: We'll acquire the necessary materials and equipment to construct your system, then perform fast, diligent installation procedures.
Phase four — system maintenance: Our periodic maintenance services ensure peak efficiency, catch warning signs and provide 24/7 emergency response when needed.
Contact Us Today
You have a lot of expensive and sensitive instrumentation in your nuclear facility. If you are looking for new air compressor products or services, you want the best to protect that instrumentation. That means you want products from Fluid Aire Dynamics — the air compression system products trusted throughout the world to provide reliable air compression for a wide range of industries, including nuclear power.
At Fluid Aire Dynamics, we have more than 30 years of experience partnering with companies of all sizes in eastern Pennsylvania, Delaware and New Jersey. Our air compression system products will enhance your company's nuclear power generation capabilities, leading to greater sustainability and cost savings. If you're ready to provide high-quality and consistent instrument air to your nuclear facility in a way that fits your budget, contact Fluid Aire Dynamics today.