AKG Air-Cooled Aftercoolers
Humidity can be a problem in many air compression applications. The failure to remove moisture from the compressed air can damage your equipment, resulting in poor performance and more frequent repairs. In addition, the compression process significantly increases air temperature, which also contributes to unpredictable outcomes and poses a potential safety hazard within your facility.
Air compressor aftercoolers, float drains and moisture separators can remedy these challenges. They work by cooling the air and forcing the condensation of water. They also remove contaminants that cause inadequate air quality. You'll experience cleaner, cooler air and improved performance in your air-operated processes.
Fluid Aire Dynamics is your headquarters for AKG air-cooled aftercoolers that deliver the reliable compressed air cooling required for various applications. These highly efficient machines are available with pneumatic or electric motors and can handle 250F to 350F compressed air at the inlet. They can also accommodate up to 250 psi of pressure.
Our Selection of AKG Air-Cooled Aftercoolers
AKG aftercoolers feature an advanced design that cools the compressed air to the closest approach temperature above the cooling media and ambient air temperatures. The result is exceptional heat exchanger performance and the maximum removal of moisture and humidity from the compressed air. The superior design and engineering enable them to withstand extreme heat, ensuring reliable results and fewer maintenance requirements, even in the most challenging work environments.
Fluid Aire Dynamics offers several AKG air-cooled aftercooler options to meet the needs of companies in a wide range of industries. We also provide complete service for every aftercooler we sell.
AKG Belt Guard Series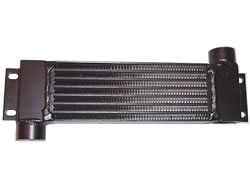 As the name implies, Belt Guard air-cooled aftercoolers mount directly to the belt guard of the compressor. The belt's pulley includes fins that force air to flow over the aftercooler, which promotes heat transfer. Another essential pulley function helps keep the air at the correct operating temperature by causing it to travel over the compressor.
The AKG Belt Guard series features an innovative aluminum plate and bar design that is lightweight and solid and offers excellent corrosion resistance. It also provides maximum performance in low pressure-drop applications. The compact construction allows you to mount the cooler onto the belt guard with ease.
This air-cooled aftercooler comes in three model options and is compatible with piston, rotary screw and centrifugal air compressors. You can also use it with vacuum systems and blower lube oil coolers. The maximum operating temperature is 400 degrees Fahrenheit, while the maximum operating pressure is 250 psig.
CC Series Compressed Air Aftercoolers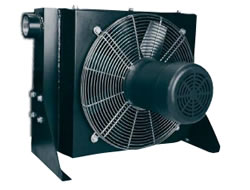 This complete aftercooler package is compatible with most piston and rotary screw air compressors. They feature an innovative bar and plate construction that is more compact than competing models. The efficient TEFC electric motor (models with air motors are also available) conserves energy and lowers your operating costs. Baked powder paint ensures reliable, long-lasting performance in various weather conditions. These aftercoolers also have an aluminum core that provides excellent corrosion resistance as well as propylene fan blades and zinc-plated fan guard.
CC Series compressed air aftercoolers come in six models with capacities up to 1,600 scfm. They have a maximum operating temperature of 150 degrees Fahrenheit and a maximum operating pressure of 250 psig. In addition to rotary screw and piston compressor applications, they're compatible with centrifugal air compressors, vacuum systems and blower lube oil coolers.
AOC Series Aftercoolers/Oil Coolers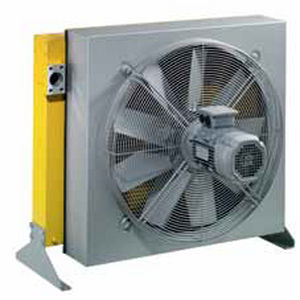 This air-cooled combination aftercooler/oil cooler series from AKG consists of efficient, multifunctional units that are valuable for various applications. The innovative design features side-by-side cooling units that can cool compressed air and line oil. They're also ideal for converting water-cooled to air-cooled compressors. In addition, they're an excellent choice when you need to mount the cooler remotely from the air compressor.
The AOC Series comes as a complete package that includes the aftercooler/oil cooler, single-phase aluminum cooler motor (available in AC and hydraulic options) that ensures efficient operation and resists corrosion, and guards and mounting brackets. The remote mount feature is ideal for installing the unit in a cleaner, cooler location or reducing noise.
Other features include:
Powder painted steel shroud
Propylene fan blades
Zinc-plated steel fan guard
Powder painted steel mounting brackets
Maximum operating temperature of 250 degrees Fahrenheit
Maximum operating pressure of 250 psig
Power output capacity of 5 to 350 hp
500 to 600 cooler rating for air compressors
1,750 rpm fan speed
The AOC Series aftercoolers/oil coolers comes in three dozen models to meet the needs of any operating environment. All are competitively priced to fit your company's budget. Typical applications include rotary screw, piston and centrifugal air compressors, as well as blower lube oil coolers, vacuum systems and compressed air cooling.
Why Choose Fluid Aire Dynamics for AKG Air-Cooled Aftercoolers?
Fluid Aire Dynamics has been providing reliable, affordable compressed air solutions and much more since 1986. Our conveniently located headquarters in Morgantown, PA enables us to provide prompt, efficient service to companies throughout Eastern Pennsylvania, Delaware, New Jersey and throughout the region. Over the years, we've partnered with Fortune 500 companies and small-to-medium local businesses to deliver solutions that help them overcome the most daunting manufacturing challenges.
At Fluid Aire Dynamics, delivering exceptional customer service is a top priority. We support all the equipment we sell with a broad range of services:
Installation: We'll install your new AKG air-cooled aftercooler properly and ensure it meets the manufacturer's standards. We'll also show you how to operate it correctly and safely.
Maintenance: Count on us to perform timely preventative maintenance to keep your equipment in peak operating condition and minimize the risk of a breakdown.
Repairs: If you ever have problems with any aspect or component of your air compressor system, our highly trained technicians will remedy the issue quickly to reduce unproductive downtime.
Request a Free Quote Today
To learn more about our AKG air-cooled aftercoolers and receive a no-obligation quote, feel free to give Fluid Aire Dynamics a call at 610.913.9100 or contact us online today.
| Air inlet | Operating pressure | Ambient air | Air velocity | Max pressure drop |
| --- | --- | --- | --- | --- |
| 250 F | 100 PSIG | 100 F | 500 fpm | 3 PSI or less |
Model number specifications
| Model C-1835BG | Model C-3560BG | Model C-70100BG |
| --- | --- | --- |
| Max SCFM of 35 | Max SCFM of 60 | Max SCFM of 100 |
| Model rating approach temperature | Model rating approach temperature | Model rating approach temperature |
| 5 F for 18 SCFM and 15 F for 35 SCFM | 10 F for 35 SCFM and 25 F for 60 SCFM. | 13 F for 70 SCFM and 25 F for 100 SCFM. |
| Ratings | Features | Material: |
| --- | --- | --- |
| Max pressure rating: 250 PSI | Direct mount | Aluminum |
| Max operating temperature: 400 F | Compact bar-and-plate design | |
| | Competitive pricing | |
| | Deliveries from stock | |
Model Number
A
B
C
D
E
F
G
H
NPT
J
C-1835BG
17.68
14.17
2.76
11.81
15.94
4.29
5.55
1.00
18.94
C-3560BG
17.68
14.17
3.94
11.81
15.94
5.51
6.77
1.00
18.94
C-70100BG
19.65
16.14
6.3
13.78
17.91
7.91
9.17
1.00
20.91
Technical Drawings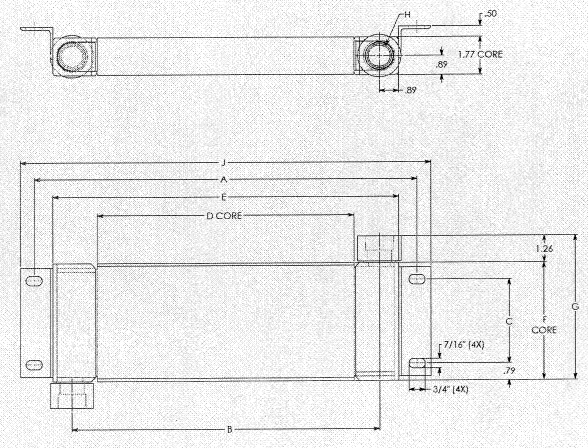 Product Catalogs & Spec Sheet Downloads
Technical Specifications
Sizing Notes, Recommendations Are Based On The Following:
Heat Removal: Aftercooler = Compressor horsepower x 1.15 (motor service factor) x .17 (this assumes 17% of input horsepower is rejected to heat)
15°F Approach Temperature: Compressor air outlet temperature – ambient air temperature
Temperatures: Ambient Air Temperature + 15° F = Compressed Air Outlet Temperature
Flows: Compressor Horsepower x 4.5 = SCFM Air Flow
All flow rates are based on less than a 4 PSI pressure drop @ 100 PSI operating & 100° F ambient and 50% relative humidity
Find Your CC Series Model
Rotary Compressors
| Air Compressor Horsepower | Internal Airflow Maximum CFM | Recommended CC Series Model Number |
| --- | --- | --- |
| 20HP | 113 | CC100 |
| 25-40 HP | 245 | CC200 |
| 50-75 HP | 539 | CC450 |
| 100-125 HP | 785 | CC600 |
| 225-350 HP | 1569 | CC1000 |
| 225-350 HP | 2300 | CC1600 |
| 400-500 HP | 3016 | CC2000 |
| 550-700 HP | 4316 | CC2500 |
| 750-1000 HP | 4800 | CC3500 |
Piston Compressors
| Air Compressor Horsepower | Internal Airflow Maximum CFM | Recommended CC Series Model Number |
| --- | --- | --- |
| 20HP | 83 | CC100 |
| 25-30 HP | 181 | CC200 |
| 40-70 HP | 432 | CC450 |
| 75-100 HP | 638 | CC600 |
| 125-200 HP | 1256 | CC1000 |
| 225-300 HP | 2133 | CC1600 |
| 350-400 HP | 2400 | CC2000 |
| 500-600 HP | 3458 | CC2500 |
| 700-850 HP | 4800 | CC3500 |
Features
Ratings
Materials
Advanced Technology Designs
Maximum Working Pressure – 250 PSI
Cooler – Alumium
Up to 60% smaller than Conventional Fin
and Tube Designs
Maximum Working Temperature – 250°F
Shroud – Powder Painted Steel
Rugged Bar & Plate Design
Fan Guard – Zinc Plated Steel
Reduced Air Side Fouling
Fan Blade – Polypropylene Blades
Competitive Prices
Aluminum Hub
Shipments Available From Stock
Mounting Brackets – Powder Painted Steel
Model Size
A
B
C

Approx.
D
E
F
G
H
(NPT)
J
K
L
M
N
Aprox. NET
Weights Shipping
CC100
12.64
15.94
14.72
10.86
2.52
0.75
1.18
1.00
14.65
3.94
3.50
8.19
M8x10 Balt
30
40
CC200
16.30
19.88
15.59
14.53
2.52
0.75
1.77
1.50
18.66
3.94
3.50
8.19
M8x10 Balt
50
60
CC450
21.00
26.38
17.75
18.81
3.15
1.00
1.77
2.00
25.19
4.92
4.53
10.98
M10x20 Balt
95
137
CC600
23.19
30.31
18.74
21.02
3.15
1.00
1.77
2.00
29.13
4.92
4.53
10.98
M10x20 Balt
125
163
CC1000
27.72
37.00
22.60
25.23
4.33
1.85
1.77
2.50
37.80
5.91
7.87
16.00
M12x20 Balt
195
240
CC1600
35.90
40.94
24.76
30.83
4.33
1.85
1.77
3.00
37.80
5.91
7.87
16.00
M12x20 Balt
296
350
CC2000
37.44
42.91
29.84
30.55
10.91
2.08
1.77
4.00
43.62
5.39
7.87
15.47
M12x20 Balt
320
380
CC2500
44.25
48.82
30.28
34.25
11.57
1.57
1.77
4.00
49.29
5.39
7.87
15.47
M12x20 Balt
440
505
CC3500
57.87
52.76
33.82
43.98
17.56
3.35
2
4.00*
50.55
7.80
10.00
20.00
3/4x1 1/2 Balt
550
645
Model Size
HP RPM
Motor Frame
Single Phase
Voltage
Single Phase

Hz
Single Phase

Full Load Amps 230 V
Three Phase

Votage
Three Phase

Hz
Three Phase

Full Load Amps 230 V
CC100
1/3

3450
IEC 63
115/230
60
2.6
208-230/460

190/380
60

50
1.1
CC200
1/3

3450
IEC 71
115/230
60
3.5
208-230/460

190/380
60

50
1.6
CC450
1/2

1725
NEMA 56C
115/230/460
60
4.0
208-230/460
60*
2.0
CC600
1

1725
NEMA 56C
115/230/460
60
6.4
208-230/460
60*
3.8
CC1000
2

1725
NEMA 56C
115/230
60
9.2
208-230/460
60*
6.2
CC1600
5

1725
NEMA 184TC
230
60
23
208-230/460
60*
13.2
CC2000
7.5

1725
NEMA 213TC
Consult Factory
Consult Factory
Consult Factory
208-230/460
60*
19.6
CC2500
7.5

1725
NEMA 213TC
Consult Factory
Consult Factory
Consult Factory
208-230/460
60*
19.6
CC3500
10

1725
NEMA 213TC
Consult Factory
Consult Factory
Consult Factory
208-230/460
60*
26.0
| Model Number | Air Pressure To Motor (PSI) | Motor Air Consumption (CFM) | Air Motor Connection Size | Fan RPM |
| --- | --- | --- | --- | --- |
| CC100 | 30 | 10 | 1/4 NPT | 3450 |
| CC200 | 60 | 17 | 1/4 NPT | 3450 |
| CC450 | 40 | 25 | 1/4 NPT | 1725 |
| CC600 | 40 | 25 | 1/4 NPT | 1725 |
| CC1000 | 50 | 70 | 1/2 NPT | 1725 |
| CC1600 | 60 | 150 | 1 1/4 NPT | 1725 |
| CC2000 | 80 | 200 | 1 1/4 NPT | 1725 |
| CC2500 | 80 | 200 | 1 1/4 NPT | 1725 |
| CC3500 | 100 | 240 | 1 1/4 NPT | 1725 |
CC Series Technical Drawings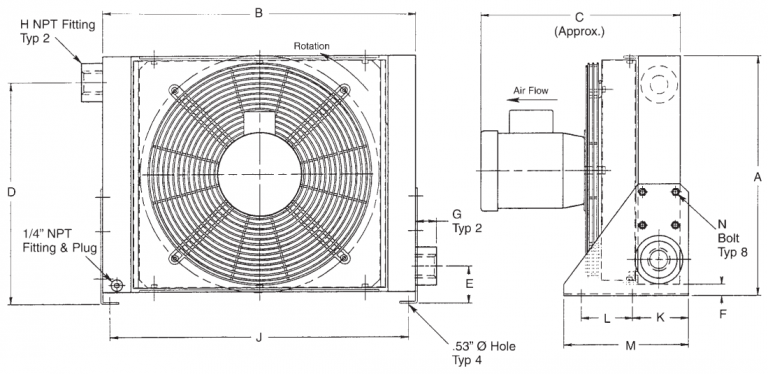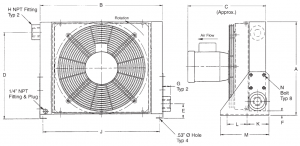 Product Catalogs & Spec Sheet Downloads
| High flows | Operating pressure | Ambient air | Fan speed |
| --- | --- | --- | --- |
| 2500 to 3500 CFM 5 to 250 HP | 100 PSIG | 100 F | 1,750 rpm |
| Ratings | Features | Material |
| --- | --- | --- |
| Max pressure rating: 250 PSI | Oil and air cooling in one unit | Aluminum |
| Max operating temperature: 350 F | AC and hydraulic motor options | |
| Cooler rated for air compressors with 500 to 600 HP | Energy efficiency | |
| | Choice of unit or core only | |
| | Competitive pricing | |
| | Deliveries from stock | |
INLET TEMP
2500 SCFM

APPROACH TEMP
(F)
2500 SCFM

PRESS DROP COOLER
(PSI)
3000 SCFM

APPROACH TEMP
(F)
3000 SCFM

PRESS DROP COOLER
(PSI)
3500 SCFM

APPROACH TEMP
(F)
3500 SCFM

PRESS DROP COOLER
(PSI)
150
2
1.7
4
2.4
5
3.2
200
5
1.7
8
2.4
11
3.2
250
7
1.7
12
2.4
16
3.4
300
9
1.7
16
2.6
21
3.5
350
12
1.8
20
2.7
27
3.6
Technical Drawings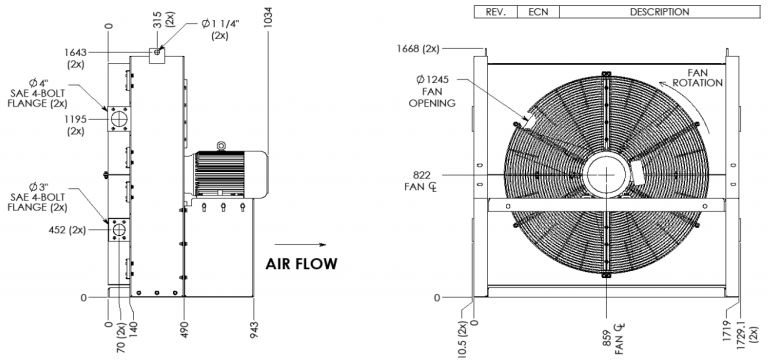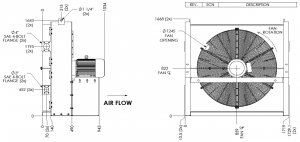 Product Catalogs & Spec Sheet Downloads