Industrial Chillers & Coolers
For many industrial facilities, especially ones that use compressed air, controlling temperature is critical. Whether you work in the pharmaceutical industry, HVAC, food and beverage processing or a range of other industries, you need a reliable way of cooling air, water and equipment. Fluid Aire Dynamics can provide you with the industrial chillers or coolers you need to keep your business running at optimal efficiency.
Why Choose Fluid Aire Dynamics?
As the compressed air experts for over three decades in Pennsylvania, throughout the East Coast and beyond, Fluid Aire Dynamics is a company you can be sure understands fluid cooling equipment. We have a highly-experienced team that knows all the latest chiller and cooler equipment, as well as how to install it and help you generate a strategic plan for your industrial cooling equipment needs.
For help finding the ideal heat exchanger, industrial fluid chiller or industrial air fluid cooler for your business, call Fluid Aire Dynamics at 610.913.9100 or contact us online today.
Air and water-cooled chillers are reliable devices for keeping equipment as well as air or process water at the necessary temperatures. These chillers are used frequently and effectively in the industry of plastics manufacturing, as well as laser cutting and welding and for keeping products and equipment sufficiently cool in industries such as food and beverage and medical devices.
Fluid Aire Dynamics offers standard industrial fluid chillers in ½-ton to 500-ton systems, with ½-ton to 40-ton units available in energy-saving models. At Fluid Aire Dynamics, you will find not only standard water-cooled chillers and energy-saving packaged air-cooled chillers, but also semi-hermetic air or water-cooled chillers and split-unit air-cooled chillers.
A complete line of chillers including water-cooled and air-cooled are available through Fluid Aire Dynamics for applications including HVAC, plastics manufacturing, laser cutting, welding, wine & beverage, process cooling, MRI scanning equipment cooling, lube oil cooling and many others.

Air-fluid coolers are a great way to keep equipment like welding machines, hydraulic presses and air compressors from getting too hot. If you work in an industry with sensitive equipment that could be easily damaged by contaminants, our air fluid coolers are a great choice, as these are closed-loop air fluid coolers that do not allow any lime, sludge or other contaminants to escape the system and harm your equipment.
Call us at 610.913.9100 for information on the types of air fluid coolers we offer and install and for help finding the right air fluid cooler for your business.
A heat exchanger is a critical piece of equipment when you need to transfer heat between fluids for cooling or heating purposes in your industrial operations. All manner of industries, from HVAC to petrochemical, automotive, energy and many more make use of heat exchangers every day. No matter which fluid you need to transfer heat through, oil, water, air or virtually any other liquid or gas, whether you prefer a classic shell and tube heat exchanger or a plate frame design, we will help you find the right heat exchangers for you and your business.
Quality heat exchangers available through Fluid Aire Dynamics include AKG heat exchangers such as the AC Series of Air-Cooled Oil & Bypass Coolers, the ACD Series Dirty Environment Air-cooled Oil & Bypass Coolers, the AKG/P Series Water-cooled Oil Coolers and the C-Series TEFC Motor Fan Driven Oil Coolers.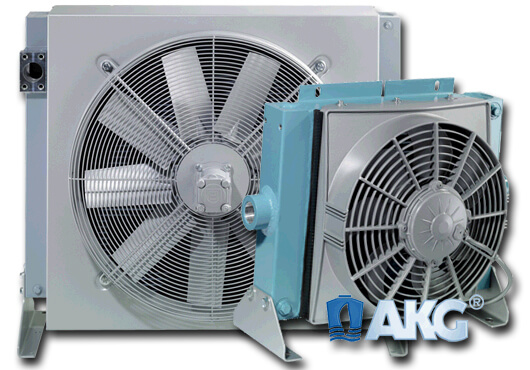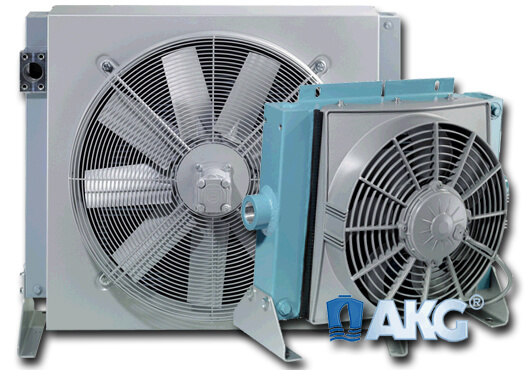 AKG Industrial Heat Exchangers
AC Series Air-cooled
Oil & Bypass Coolers
ACD Series Dirty Environment
Air-cooled Oil & Bypass Coolers
AKG/P Series Water-cooled Oil Coolers
C Series TEFC Motor Fan Driven Oil Coolers
Additional Equipment
Not content to offer just any product in a given category, Fluid Aire Dynamics carefully selects the manufacturers and brands that it represents. When it comes right down to it, the name on the box is not the one that most customers remember but rather the name of the company that sold it to them. As a result, the products that you will find in the product categories below are those that have proven to be reliable, efficient and cost-effective for our customers and their critical application needs.
Select equipment category below for more information.