FUNKE Gasketed and Brazed Plate Heat Exchangers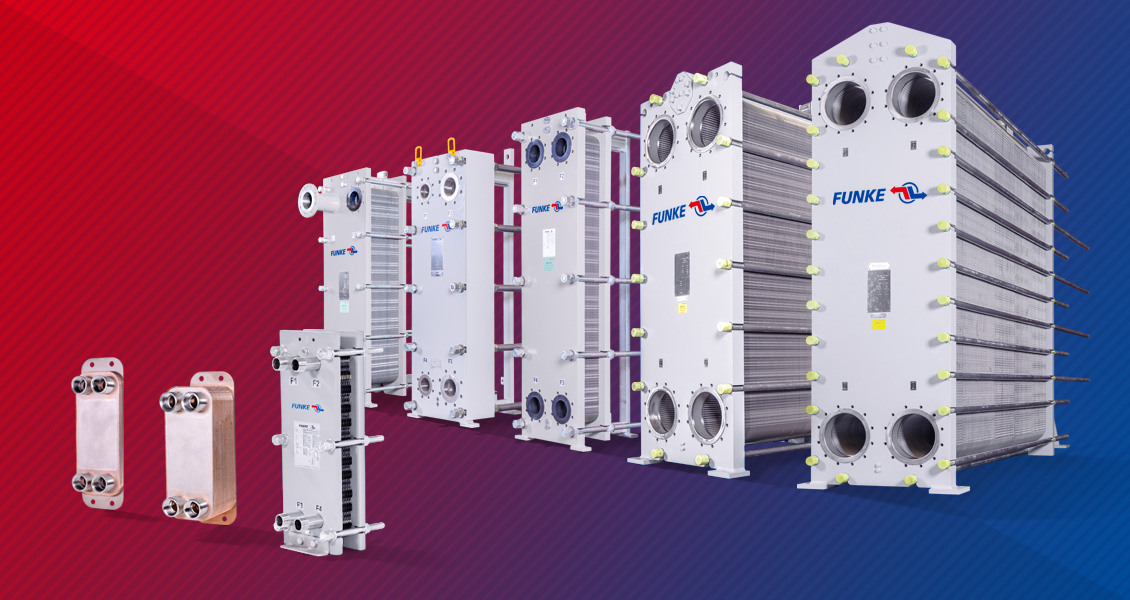 Heat exchangers are an essential tool in HVAC work, power plants, chemical operations and many other industries. When your operations are looking to expand or improve their heat exchange capabilities, the FUNKE brand is an excellent place to start. With FUNKE being a leader in quality heat transfers up to 2400 square meters (m2), these heat exchangers will surely give you plenty of room for your heating and cooling needs.
What makes FUNKE heat exchangers so special is their one-of-a-kind "Off-Set" system. This system gives the exchangers asymmetrical flow gaps, improving their efficiency, performance and cost-effectiveness. Depending on the particular design you choose, you might notice an up to 17% performance improvement when using FUNKE heat exchangers over other brands.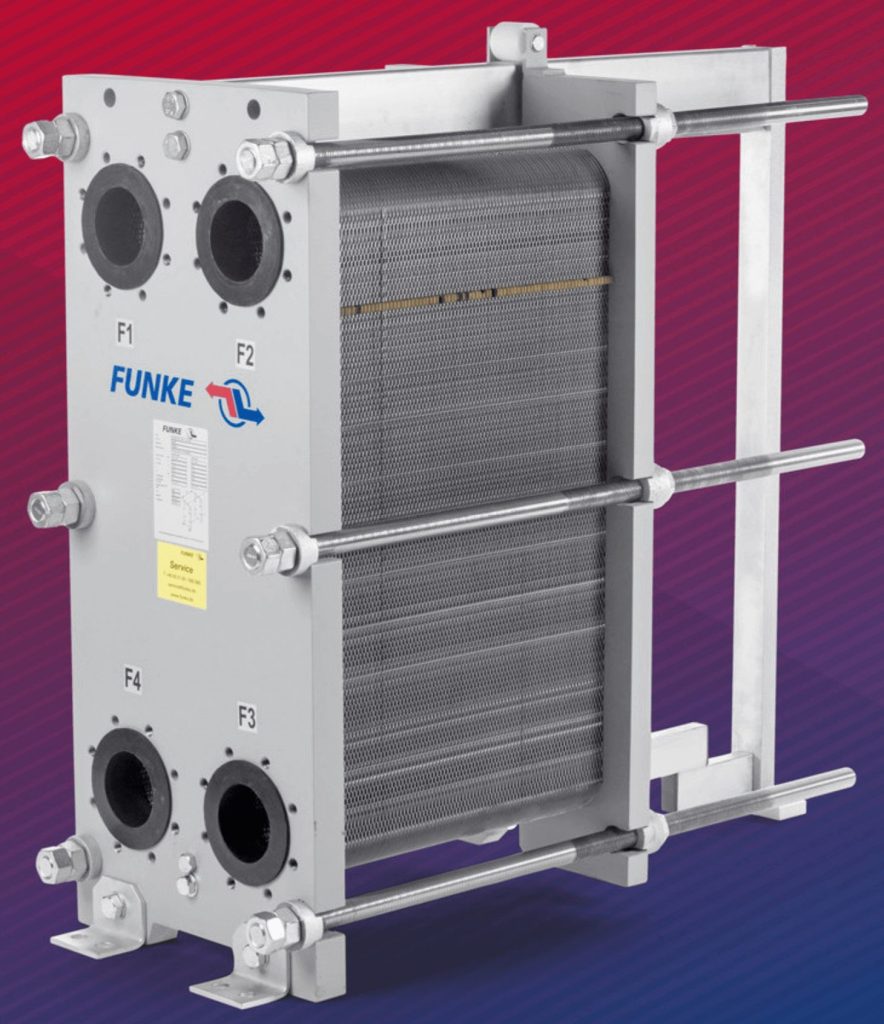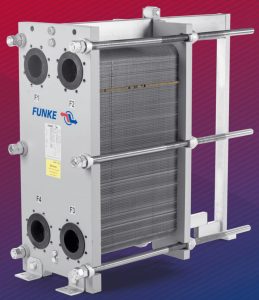 Gasketed Plate Heat Exchangers Series
As a leader in the industry, FUNKE knows how important it is to constantly be innovating new ways to improve. Their gasketed plate heat exchangers (PHE) do exactly that, with a new form of CFD-optimized embossing and incredible features like a bypass stop system. This series' new design makes these machines more compact and much cheaper, whether you choose the standard design or the double-wall plate design.
The models in this series include thermally, hydraulically optimized heat transfer plates designed to replace earlier, similar models. You may experience up to 20% improvement in pressure loss and heat transfer efficiency, and these machines feature the same nominal connection diameters for DN 25 to DN 500. You'll have options like:
FP2000: An updated version of the series FP10, FP16 and FP22.
FP4000: An updated version of the series FP206, FP31, FP40, FP50 and FP71.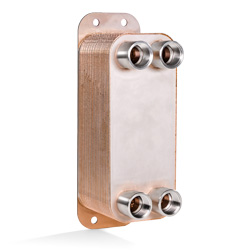 Brazed Plate Heat Exchangers Series
If the gasketed PHEs don't quite hit the mark for you, consider our collection of brazed PHEs instead. The models in this series include:
These models were designed for high-temperature, high-pressure work in compact spaces. Even when you're working with a low volume of material, any of these machines will produce efficient, high turbulent flows for unmatched heat and pressure transfer. Thanks to this flow, the machine is also self-cleaning, so you can spend less time maintaining your heat exchangers and more time using them for what they were made to do.
Benefits of FUNKE PHEs
Whichever version of FUNKE PHEs you decide on, you're getting some incredible benefits you won't find with other brands. Some of the reasons your operations might choose these series are:
Cost-effective: FUNKE PHEs have lower investment costs, operational needs and maintenance requirements than most heat exchangers. They're also self-cleaning and easy to open when you need to perform maintenance.
Compact: They're only about 25% of the size of other PHEs, but they still deliver K-value heat transfers three to five times greater than shell-and-tube heat exchangers.
Safety: PHEs are constructed with safety as the most important consideration. They have a low liquid content to maintain a low operational weight and multiple chambers to avoid mixing your media.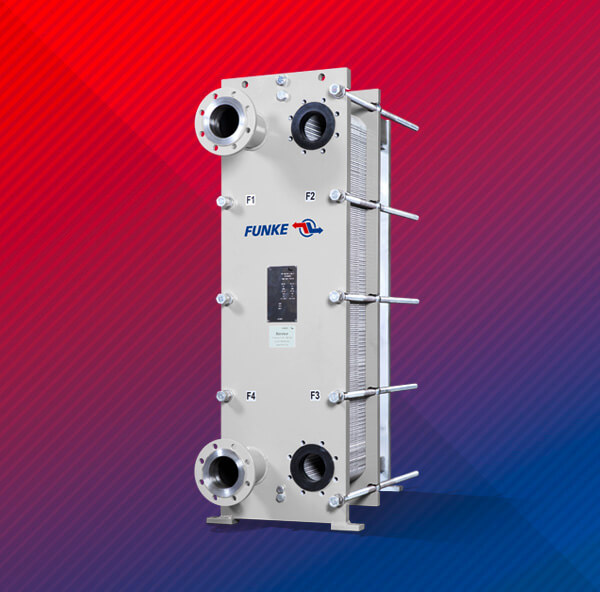 Key Technical Data
Depending on the series you choose for your operations, the technical specifications of your heat exchanger will fall between:
Capacity: 1 kilowatt (KW) – 30 megawatts (MW)
Surface / plate: 0,04 m² – 3,0 m²
Volume flow: 5 cubic meters per hour (m³/h) – 4500 m³/h
Working pressure: max. 25 bar
Nominal connection diameter: DN 25 – DN 500
Operating temperature: -20°C – +195°C
Functional Design of FUNKE PHE
At the core of every FUNKE plate heat exchanger is a collection of apertures on embossed plates. These plates are put together at an angle of 180° and have a gasket assigned to them. Together, these pieces are a plate pack, which is mounted and compressed so that media can pass through it.
While there are flow gaps between each plate, the gasket seals the gap as media passes through it, keeping the two media in the heat exchange separated. For the best heat transfer, media passes through the plate packs in a single- or multi-pass counterflow. The diagram below can give you a visual example of how FUNKE PHEs work.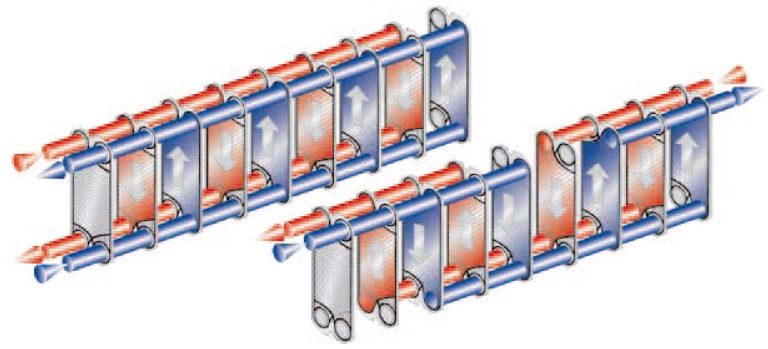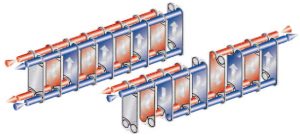 Explore the Plate Heat Exchanger Up Close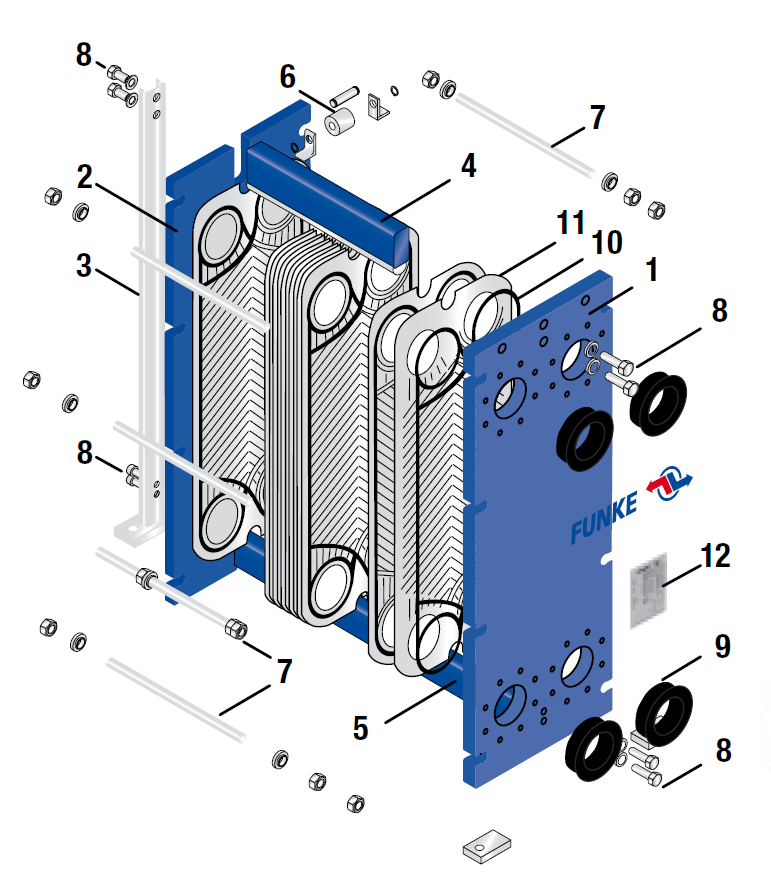 Plate heat exchangers have a very complex design to ensure that media can pass through them safely and complete the heat exchange properly. This diagram shows you how many parts go into the exchanger. This diagram can also be helpful when you need to perform maintenance and part replacements on the PHE.
Fixed plate
Movable plate
Support column
Carrying bar
Lower plate guiding bar
Carrier roller
Tightening bolt and nuts
Fixing bolts
Rubber/metal liners
Gaskets
Heat transfer plates
Nameplate
The Best Plate for All Your Needs
From the first look, most heat exchangers appear the same. It can be easy to think this is true and pick the cheapest or best-looking one and be done with it. However, when you're considering buying heat exchangers, it's what's on the inside that really matters. Performance is determined by how the interior parts work together, and it's about how many plates are inside, their size and, most importantly, the wave pattern.
The wave pattern refers to how the plates are situated, which is often referred to as corrugation. With an obtuse corrugation angle like you see with figure H below, you'll have longer thermal paths. This quality provides you with better heat transfer, but higher pressure drops. Corrugation with acute angles, as demonstrated in figure L, is better situated for low-pressure operations.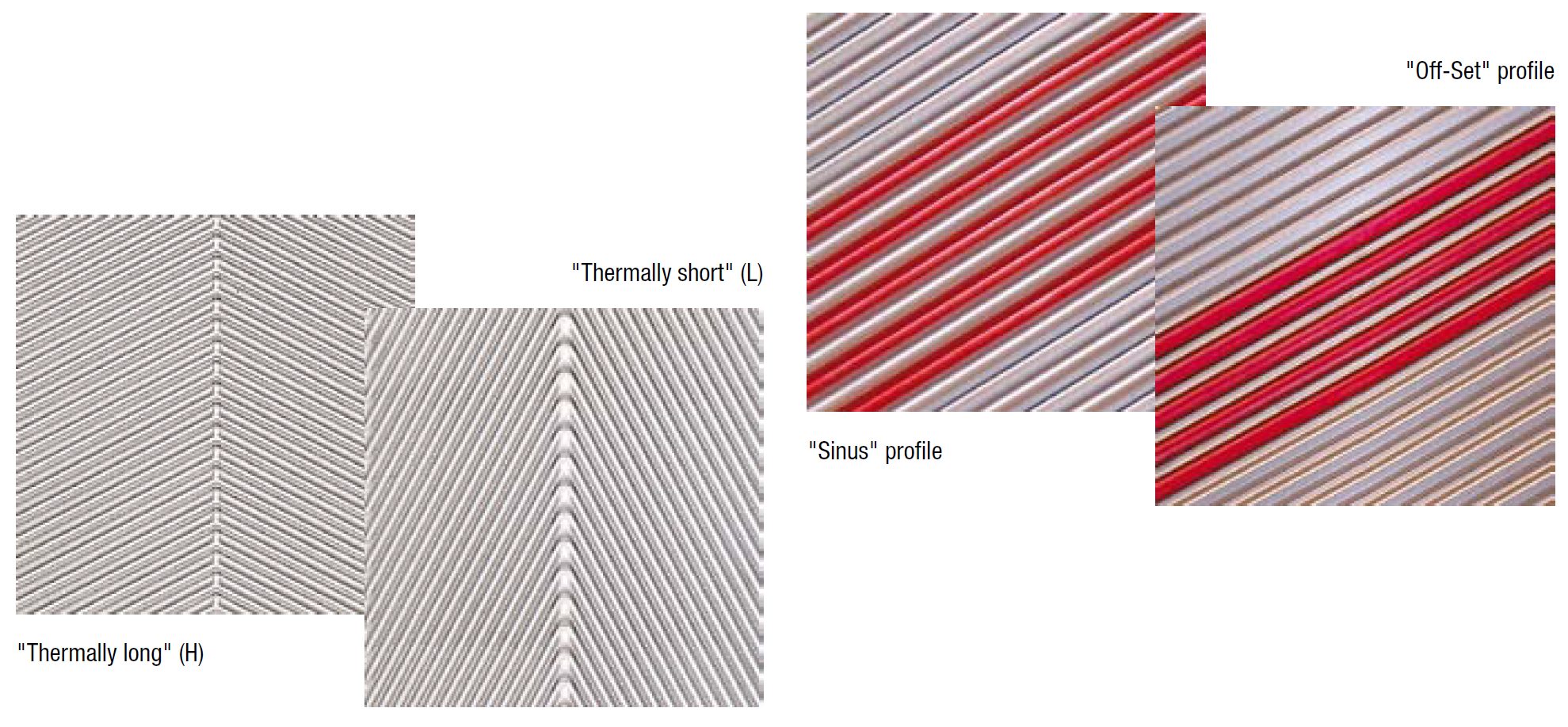 FUNKE PHEs make the best of both worlds with their "Off-Set" corrugation, creating asymmetrical flow gaps that allow for good heat transfer and pressure when necessary. This special configuration also allows you to adjust the size of the cold and warm PHE sides up to ⅓ of their total capacity.

The Power of Double-Wall Plates


Another enhancement of FUNKE PHEs is their double-wall plate construction. This structure is part of the maximum safety design, as it prevents media from mixing in places where it shouldn't. With laser-welded plates, the liquids can escape out the plate pair's edges to prevent contamination in case a leak occurs.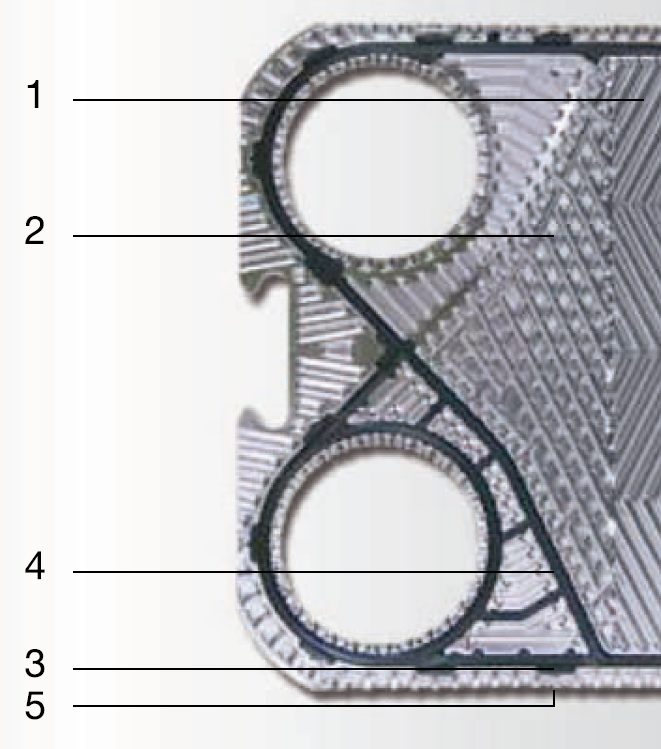 Plate and Gasket Overview
Be sure to take a close look at the thermodynamic design of these plates, which gives you their extreme heat transfer rates. In this diagram, you can see:
The "Off-Set" design that provides you with both symmetrical and asymmetrical flow gaps.
Carefully made fields of entry for the best media distribution.
Gaskets that allow for better maintenance access using a clip system and have a ribbed surface to better stabilize the plate pack.
Leakage grooves along the double gaskets to prevent media mixing.
Enhanced plate pack reinforcement, which translates to high-pressure resistance during operation.
Data and Materials
Every FUNKE PHE can be customized to suit your industry's particular operational needs. Below are some of the technical alterations we can make so that your PHE does everything you need it to.
Plate Material
Standard FUNKE plates are made using 1.4404 / AISI 316L, chosen for its ability to resist chemical corrosion and stand up against various media types for a long time. Other plate materials you may decide will work better for you include:
Alloy C276: Ideal for working with media similar to concentrated sulphuric acid.
1.4301 / AISI 304: A more cost-effective choice for operations that do not use critical media.
1.4539 / AISI 904L: Has a higher nickel content and provides good performance for its price when working with low-acid, low-chloride media.
1.4547 / 254 SMO: For operations that deal with highly corrosive media, this material is even more resistant than our standard material.
Titanium ASTM B265 Grade 1: Provides even more durability against corrosive media.
Titanium-Palladium ASTM B265 Grade 11: The highest level of corrosion resistance. It's the only choice for working with chlorides and highly corrosive media at high temperatures.
Gasketing
Gaskets for these PHEs come in adhesive and nonadhesive forms, and the material mostly depends on the series you choose. Other materials may be available when requested, but the most common gasket materials are:
Nitrile rubber (NBR): The best choice for all water- and oil-related applications.
Ethylene-propylene-rubber (EPDM): Good for water and steam applications, as well as working with chemical compounds that don't use mineral oil or grease.
Fluororubber (Viton): The choice for working with corrosive materials at high temperatures.
Connections
You may need specific connections to make your PHE work with your existing setup. We offer all common connection types and materials, including:
Threaded or flange connections
Loose flange connections
Molded rubber parts
Metal linings
If you have another connection type in mind, contact us to see if it's available.
Special Equipment
In certain cases, these additions to your PHE may be useful in your applications:
Stainless steel cladding and frames
A switch-over valve and thermostat so your PHE can also function as a double cooler
Accessories
Other accessories you may find useful include:
Insulation
Shroud trays or drip trays
Resistant paint coatings
Inline filters
CIP cleaning systems
Earthing lugs
Talk with us before placing your order to see which options we have available.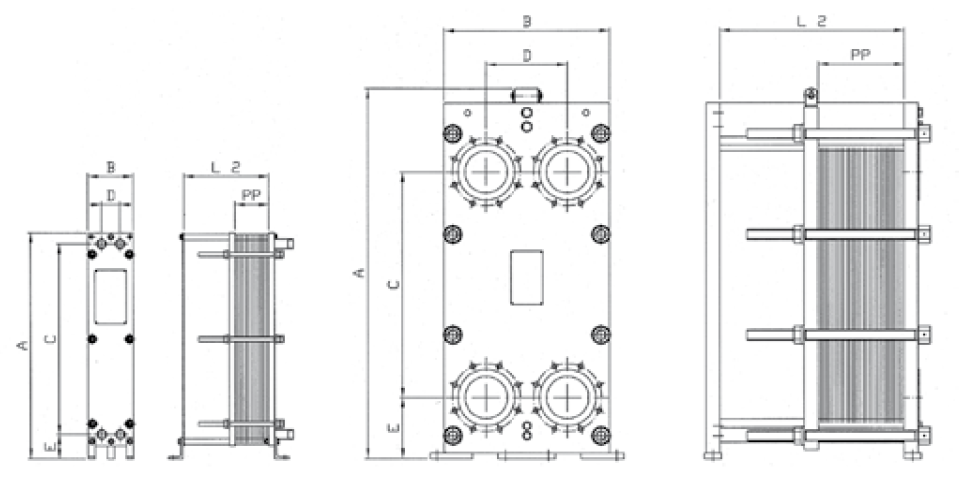 Typical Industry Uses
You'll find FUNKE plate heat exchangers in all kinds of industries. Most commonly, our clients work in these fields:
HVAC
Power plants
Chemical and pharmaceutical manufacturing
Renewable energy processing
Automotive manufacturing
Swimming pool technology
Compressor systems
Surface treatment
Hydraulics
HVAC
Industry
Power Plants
Chemistry
Renewable
Energies
District heating/
cooling
Hydraulic
Central cooling
Basic chemistry
(Acids, alkalines, etc.)
) Geothermal Power
Thermal power
stations
Automotive industry
Lubricating oil
cooler
Special chemistry
(Adhesives, coating, etc.)
Solar power plants
swimming pool
technology
Process Technology:
thermal plants, plastics
generator cooling
Fine chemistry
Water power plants
supply technology
Surface treatment
Auxiliary system cooling
Pharmaceutical industry
Bioenergy
and others
Compressor Systems
Get Started Today With Fluid Aire Dynamics
Fluid Aire Dynamics is here to make sure you have all the tools you need to keep your business running as smoothly as possible. Along with supplying machinery from some of the best manufacturers in the industry, we also provide preventative maintenance and emergency services throughout our service area in Pennsylvania, Delaware, Maryland, Virginia, New Jersey and New York.
We have more than 30 years of experience in installing and repairing plate heat exchangers, air compressors, air purifiers, gas generators and other essential machines. Partner with us to get the best deals on your machines and constant care when you need it. Request your estimate today.
Technical Specs
frame/pressure rating
max. pressure range bar
max. number of plates
surface/plate m²
A
mm
B
mm
C
mm
D
mm
E
mm
L2
mm
PP
mm
connections
max. surface m²
FP
04
16
125
0,04
460
160
336
65
85
150-600 pcs. x 2,4
1"
5
FP
08
16
150
0,08
800
160
675
65
85
150-600 pcs. x 2,4
1"
12
FP
14
16
200
0,14
837
310
590
135
132
250-1000 pcs. x 2,4
2"
28
FP
20
16
200
0,20
1066
310
819
135
132
250-1000 pcs. x 2,4
2"
40
FP
05
25
150
0,04
532
200
381
70
45
250-1000 pcs. x 2,7
1"
6
FP
09
25
150
0,08
827
200
676
70
45
250-1000 pcs. x 2,7
1"
12
FPDW
05
16
150
0,04
532
200
381
70
45
250-1000 pcs. x 2,9
1"
6
FP
10
25
200
0,10
733
310
494
126
128
250-1000 pcs. x 2,9
2"
20
FP
16
25
200
0,16
933
310
694
126
128
250-1000 pcs. x 2,9
2"
30
FP
22
25
200
0,21
1182
310
894
126
128
250-1000 pcs. x 2,9
2"
45
FPDW
16
25
200
0,16
933
310
694
126
128
250-1000 pcs. x 3,1
2"
30
FP
19
16
500
0,19
1080
440
650
202
200
500-2500 pcs. x 3,1
DN 80
100
FPDW
19
16
500
0,19
1080
440
650
202
200
500-2500 pcs. x 3,1
DN 80
100
FP
205
25
500
0,21
1160
480
719
225
204
500-2500 pcs. x 3,1
DN 100
105
FP
31
25
500
0,30
1332
480
894
225
204
500-3000 pcs. x 3,1
DN 100
150
FP
40
25
500
0,40
1579
480
1141
225
204
500-3000 pcs. x 3,1
DN 100
200
FP
50
25
500
0,50
1826
480
1388
225
204
500-3000 pcs. x 3,1
DN 100
250
FP
71
25
500
0,70
2320
480
1882
225
204
500-3000 pcs. x 3,1
DN 100
350
FPDW
205
16
500
0,21
1160
480
719
225
204
500-3000 pcs. x 3,3
DN 100
105
FPDW
31
16
500
0,30
1332
480
894
225
204
500-3000 pcs. x 3,3
DN 100
200
FPDW
50
16
500
0,50
1826
480
1388
225
204
500-3000 pcs. x 3,3
DN 100
250
FP
41
25
700
0,40
1470
620
941
290
225
500-4000 pcs. x 3,3
DN 150
280
FP
60
25
700
0,60
1835
620
1306
290
225
500-4000 pcs. x 3,3
DN 150
420
FP
80
25
700
0,80
2200
620
1671
290
225
500-4000 pcs. x 3,5
DN 150
560
FPDW
80
16
700
0,80
2200
620
1671
290
225
500-4000 pcs. x 3,7
DN 150
560
FP
42
25
750
0,40
1470
620
941
290
225
500-4000 pcs. x 3,1
DN 150
315
FP
62
25
750
0,60
1835
620
1306
290
225
500-4000 pcs. x 3,1
DN 150
450
FP
82
25
750
0,80
2200
620
1671
290
225
500-4000 pcs. x 3,1
DN 150
600
FP
112
25
750
1,15
2687
620
2157
290
225
500-4000 pcs. x 3,1
DN 150
840
FP
405
25
700
0,41
1380
760
770
395
285
500-4000 pcs. x 3,1
DN 200
300
FP
70
25
700
0,70
1740
760
1130
395
285
500-4000 pcs. x 3,1
DN 200
355
FP
100
25
700
1,00
2100
760
1490
395
285
500-4000 pcs. x 3,1
DN 200
700
FP
130
25
700
1,30
2460
760
1850
395
285
500-4000 pcs. x 3,1
DN 200
910
FPDW
100
16
700
1,00
2100
760
1490
395
285
500-4000 pcs. x 3,3
DN 200
700
FP
81
25
800
0,80
1930
980
1100
480
365
1780-5280 pcs. x 3,8
DN 300
640
FP
120
25
800
1,20
2320
980
1490
480
365
1780-5280 pcs. x 3,8
DN 300
960
FP
160
25
800
1,60
2710
980
1879
480
365
1780-5280 pcs. x 3,8
DN 300
1280
FP
190
25
800
1,90
3100
980
2267
480
365
1780-5280 pcs. x 3,8
DN 300
1520
FP
150
25
800
1,50
2500
1370
1466
672
480
1980-5980 pcs. x 4,1
DN 500
1600
FP
200
25
800
2,00
2855
1370
1822
672
480
1980-5980 pcs. x 4,1
DN 500
1600
FP
250
25
800
2,50
3211
1370
2178
672
480
1980-5980 pcs. x 4,1
DN 500
2000
FP
300
25
800
3,00
3567
1370
2534
672
480
1980-5980 pcs. x 4,1
DN 500
2400
Product Catalogs & Spec Sheet Downloads