FUNKE Gasketed Frame and Plate Heat Exchangers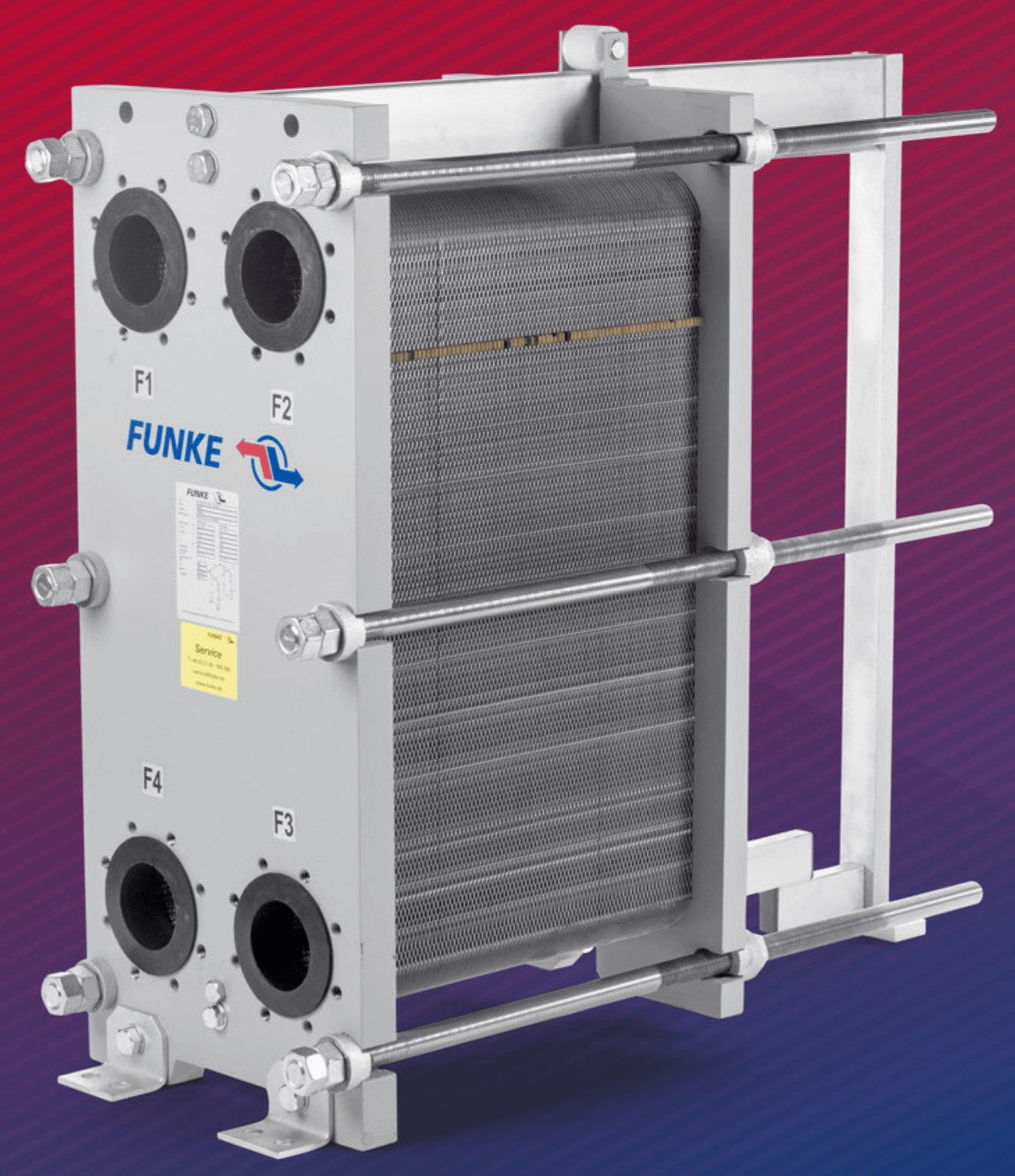 Fluid Aire Dynamics's inventory of FUNKE gasketed heat plate exchangers (PHEs) features a number of compact, single and multipass PHEs. Despite their smaller-than-average size, these PHEs yield ample power thanks to heat exchange surfaces of up to 2,000 m².
What makes these PHEs the best choice for your company's needs? Aside from a unique design of highly intricate embossing, these machines are easily customizable to fit your material, cost and performance desires. Our team wants you to be able to achieve all your business goals, and we know you need the best machinery available and reliable support options to meet productivity objectives. We're here to offer you both in a convenient package so you can get back to work today.
Welcome to the FP Series
FUNKE's gasketed PHEs use adjoining embossed plates with apertures. Gaskets are glued or secured to each plate so that when the plates are arranged at 180° angles from one another, the spaces create a flow gap that is sealed securely, preventing media mixing and outside interference in the heat exchange process.
This entire assembly gets mounted and compressed within a frame that features a fixed plate and a moveable plate. Altogether, this creates a machine that can efficiently transfer heat between media.
As with all machinery, over time, your PHE will require some maintenance. Luckily, these measures are generally easy, and you won't have to replace parts often to keep your unit in service. Most commonly, any issue with these parts involves the loosening of bolts and gaskets, which can be retightened many times to increase your return on investment.
Build Now, Expand Later
FUNKE frame and plate heat exchangers are ready to help your operations grow alongside your business. When you order a FUNKE PHE from Fluid Aire Dynamics, we'll discuss your needs so we can determine the number of plates and sizes that you'll need to complete your work without spending more than you need to. You can feel confident in getting a PHE that fits your current needs, because the moment you want to expand, we'll come right back to help you do so.
One of the biggest benefits of these plate heat exchangers is that you can add plates and build extensions right onto the original machine without affecting its performance. When you're ready to increase your capabilities, all it takes is a few additions and reinstallations for you to expand your capabilities and get back to production.
Benefits of FUNKE PHEs
FUNKE frame and plate heat exchangers come with many capabilities you won't find with other models and brands. Some of the most standout additions include:
High thermal conductivity
Highly efficient self-cleaning
Unique FUNKE "Off-Set" design
Optical gasket identification (color-coding)
Compact design
Highly flexible (upgrade/downgrade)
Ease of service and maintenance
Modular systems for short production times
Tiered plate guiding bar (easier plate installation)
Many connection options
Connecting your machine to other parts of your setup can be challenging when the connections don't line up by default. With FUNKE PHEs, you can customize the connectors to fit your needs. We offer all the most common connection types, such as rubber moldings, metal liners, welding neck flanges, tri-clamps, dairy pipes and aseptic.
Technical Data
When considering these PHEs for your operations, consider their maximum specifications to ensure they'll fit your needs:
Heat exchange surface per plate: 0.04 – 3 m²
Maximum operating pressure: 25 bar
Maximum operating temperature: 200°C
As safety is also one of our top priorities in providing you with new equipment, you'll find that we offer a number of additional safety features if your operations require them, including:
Double gaskets at inlets and outlets to keep media from mixing.
Double plates with special gasket systems for PHEs that will be safety heat exchangers.
Stainless steel configurations to accommodate pharmaceutical and food safety needs.
Plate heat exchangers in a redundant configuration installed as a compact unit on the base frame, including switch-over valve, thermostat and safety valves.
FP2000 Series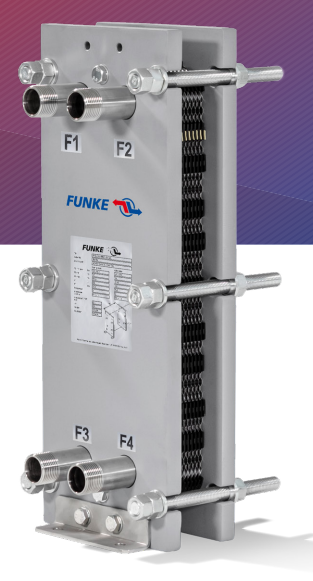 The FP2000 Series features DN 50 connections and serves as an upgrade to the FP10, FP16 and FP22 series. Nominal connection diameters allow connections from DN 25 to DN 500, and you'll have new features like the bypass stop system and CFD-optimized embossing.
FP4000 Series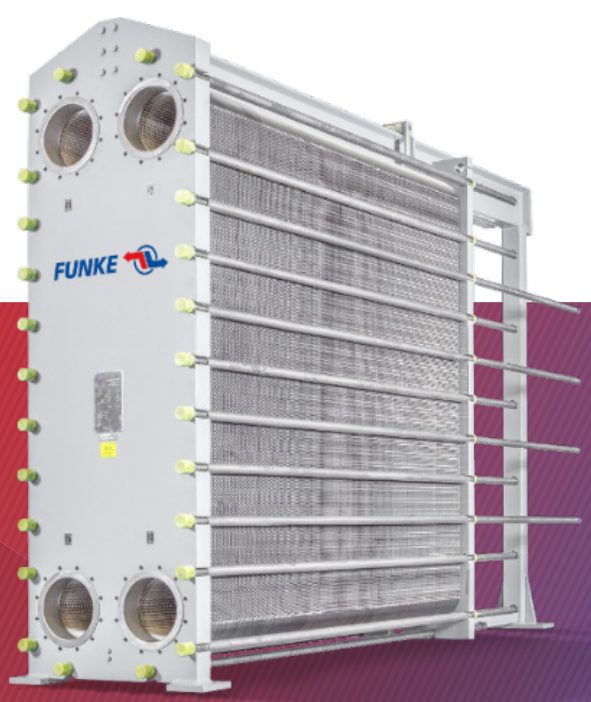 With the FP400 series, you'll have DN 100 connections and nominal connection diameters from DN 25 to DN 500. This series can replace the FP206, FP31, FP40, FP50 and FP71 lines. Benefits of this series include CFD-optimized embossing and the new bypass stop system.
Gasket and Plate Combinations
You'll find a variety of options in our selection of FUNKE plates and gaskets, letting you find the most cost-effective, compact solutions for your PHE. All of FUNKE's plates feature embossing that's been optimized for maximum thermodynamics and hydraulics, regardless of the materials and attachments you choose. Take a look at some of the most common plate and gasket configurations we supply.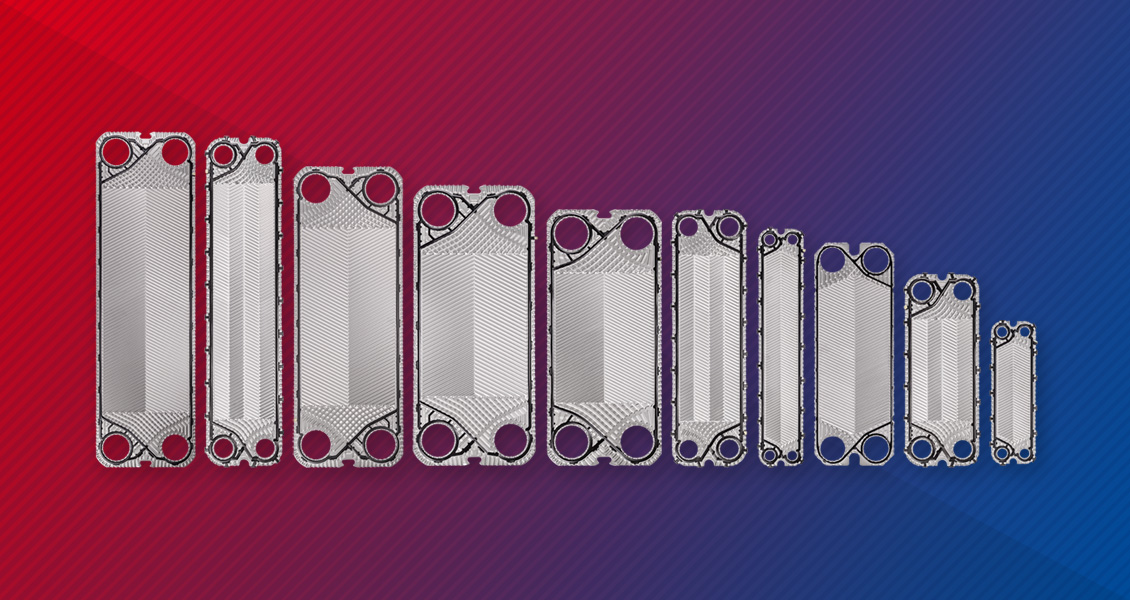 Standard Plate Materials
1.4301 (AISI 304)
1.4404 / 1.4401 (AISI 316L/AISI 316)
Special Plate Materials
Depending on your applications, you may need plates made from more durable materials. Alternatively, you might also be able to get away with less robust options if you don't work with corrosive media. Other popular plate materials include:
1.4539 (N08904 / 904L)
1.4547 (254 SMO / S31254)
2.4066/2.4068 (Nickel 200 / Nickel 201)
2.4602 (Alloy C-22)
2.4819 (Alloy C-276)
2.4605 (Alloy 59)
3.7025 (titanium Gr. 1) / 3.7225 (TiPd, titanium Gr. 11)
Tantal
Gasket Materials
NBR in various qualities
EPDM in various qualities
Chloroprene
Butyl
FPM (Viton) in various qualities
Other materials upon request
Gasket Attachments
Mechanically secured gaskets (standard)
Glued gaskets
PHE Design
This diagram gives you an up-close view of all the parts that make your PHE function, with the numbered components highlighting how many pieces come together to give you a working heat exchange solution. This resource is also helpful for performing occasional maintenance and replacements if you're interested in completing these yourself. However, when you buy your FUNKE PHEs from Fluid Aire Dynamics, we can take care of the preventative maintenance and repairs for you.
The diagram shows these parts: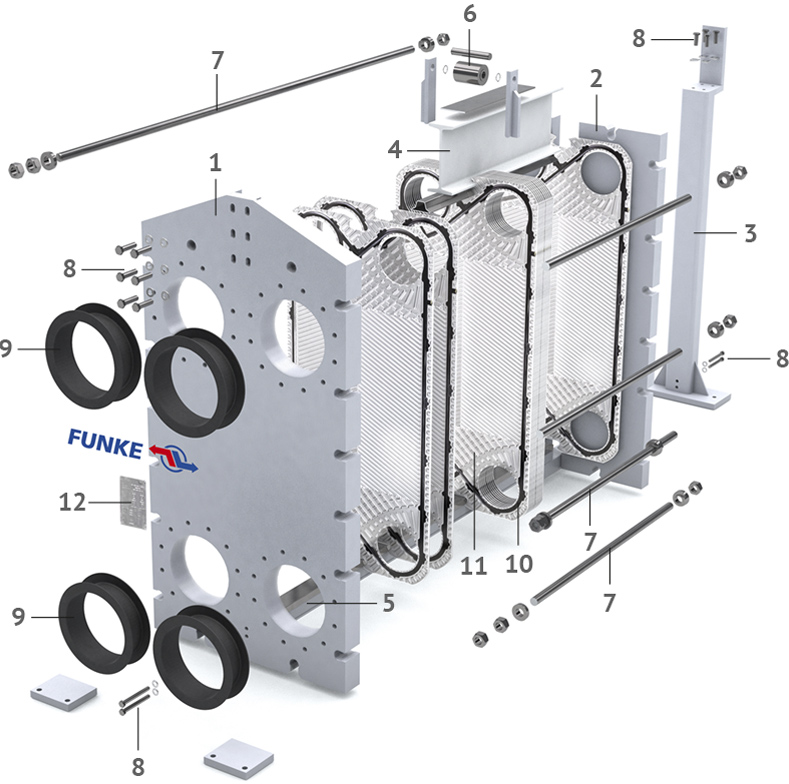 Fixed plate
Movable plate
Support column
Carrying bar
Lower plate guiding bar
Carrier roller
Tightening bolt and nuts
Fixing bolts
Rubber/metal liners
Gaskets
Heat transfer plates
Nameplate
Media Flow Diagrams
Plate heat exchangers usually feature one of two configurations:
Single-pass: Single-pass configurations are the more common option. In this case, the outlet and inlet pipes are all connected to the fixed plate, so the media only has to pass through once to complete the heat transfer. A major advantage to this configuration is that taking it apart for servicing is much easier.
Multiple-pass: In multiple-pass PHEs, the connection pipes are attached to both the fixed and movable plates, which are on opposite sides of the configuration. Because of that, media has to pass through the plate package more than once to achieve the proper heat transfer. Multiple-pass PHEs are a better option when working with media that only has a slight difference in temperature.
For a visual example of how these configurations differ, take a look at the associated figures.
Flow Diagram
Single-pass flow diagram

All connections are located on the fixed plate
Multiple-pass flow diagram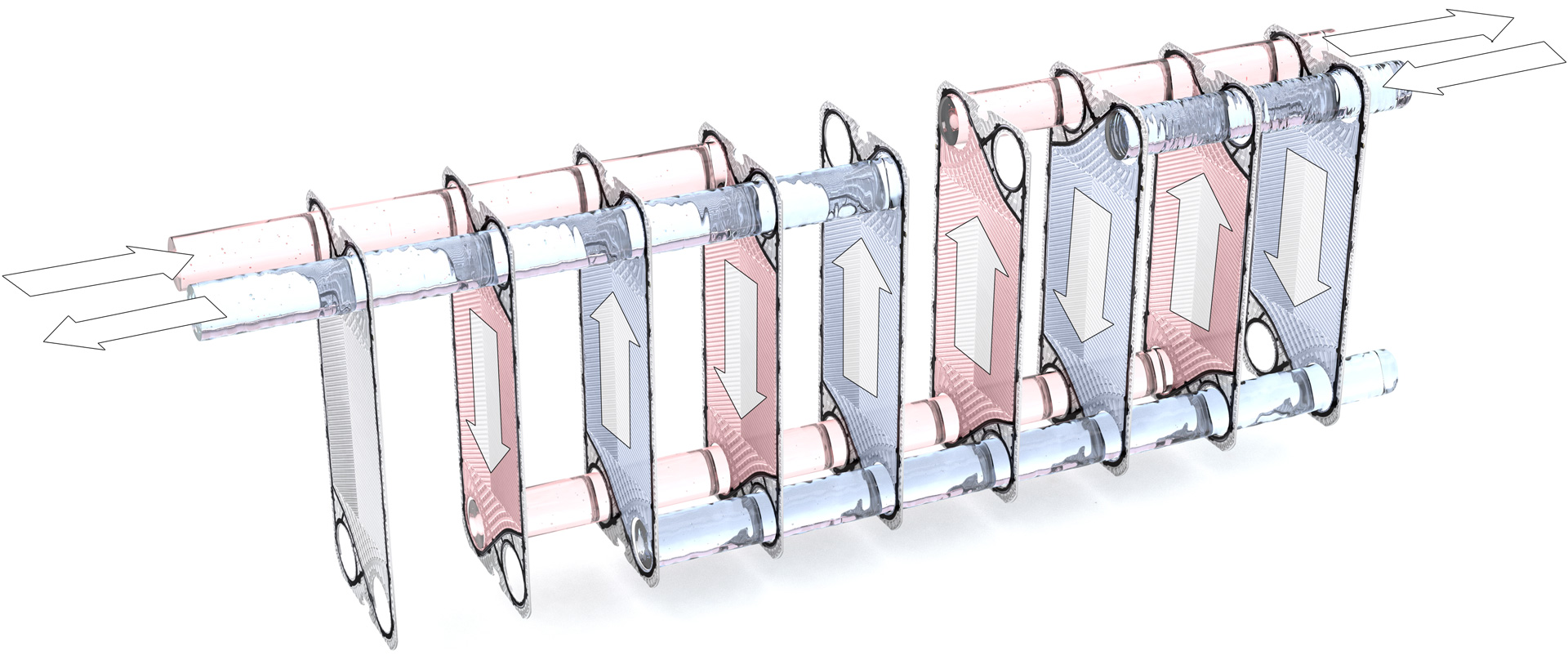 The connections are located on the hard plate and the movable plate
Media Flow
Single-Pass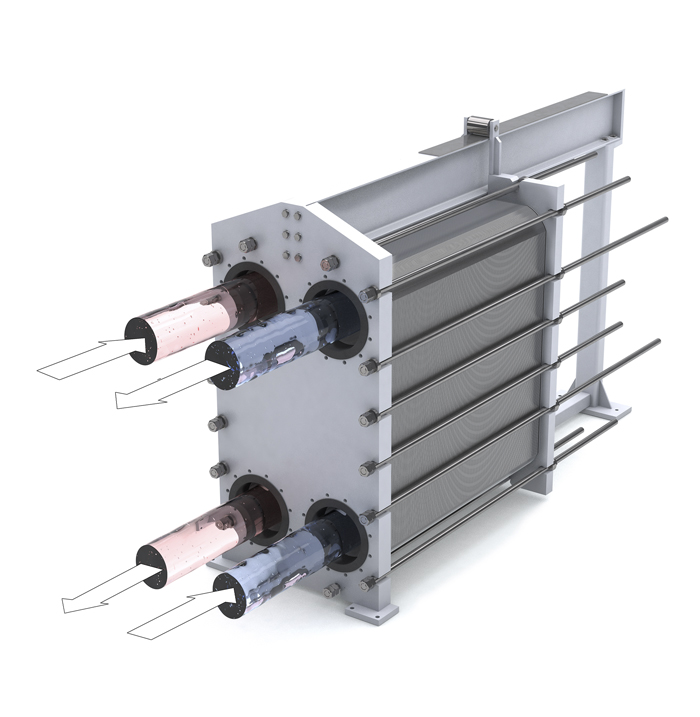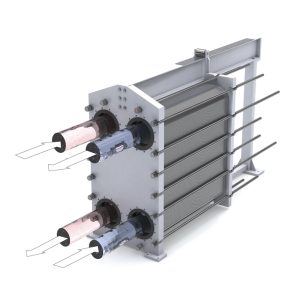 Two-Pass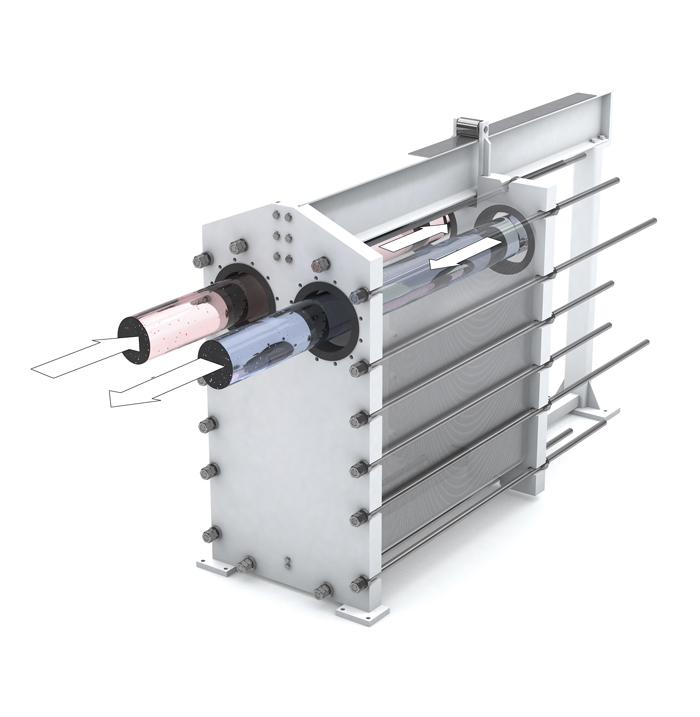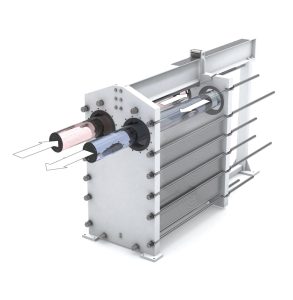 Three-Pass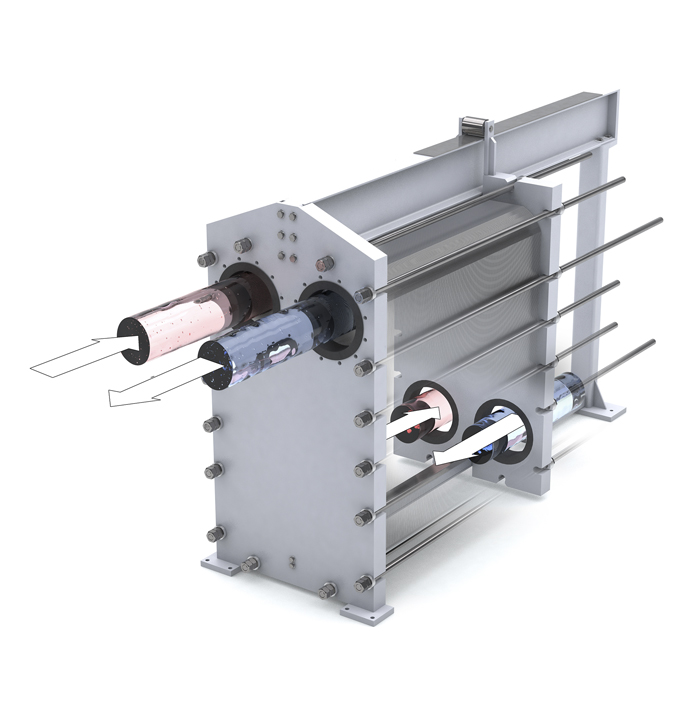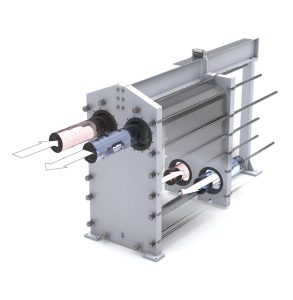 Industry Applications
FUNKE PHE devices are used in all kinds of industries, and they especially shine with HVAC manufacturers, automotive producers, power plants, chemical industries and renewable energy plants. If your industry deals with any of these processes, it's likely you need a solid plate heat exchanger:
Energy recovery
Cooling, heating and temperature control
Condensing operations, including steam-condensators
HVAC
Industry
Power Plants
Chemistry
Renewable
Energies
District heating/
cooling
Hydraulic
Central cooling
Basic chemistry
(Acids, alkalines, etc.)
) Geothermal Power
Thermal power
stations
Automotive industry
Lubricating oil
cooler
Special chemistry
(Adhesives, coating, etc.)
Solar power plants
swimming pool
technology
Process Technology:
thermal plants, plastics
generator cooling
Fine chemistry
Water power plants
supply technology
Surface treatment
Auxiliary system cooling
Pharmaceutical industry
Bioenergy
and others
Compressor Systems
Request Your Estimate Through Fluid Aire Dynamics
For over 30 years, Fluid Aire Dynamics has provided plate heat exchangers, air compressors, gas generators and other machines your company uses to get the job done — and we do more than deliver products. Our team will complete preventative maintenance and emergency services when you need them so your business can keep moving without delay.
If your base is in Pennsylvania, New Jersey, New York, Virginia, Maryland or Delaware, we'll be there whenever you need us. Get started today by requesting an estimate on your next PHE.
FP2000 Series Technical Specifications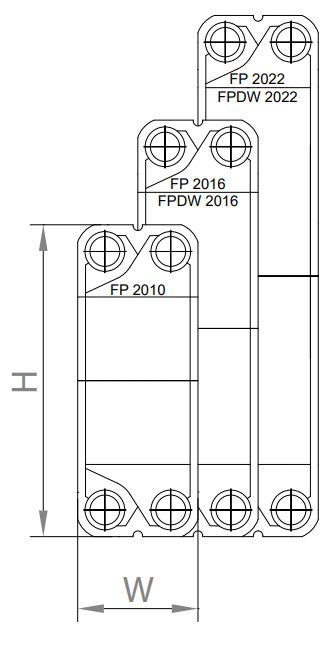 | Model | FP2010 | FP2016 | FP2022 | unit |
| --- | --- | --- | --- | --- |
| Max. Area | 0,41-20 | 0,75-37 | 1,05-52 | m² |
| W x H | 230x596 | 230x796 | 230x996 | mm |
| Plate Structure | H/L | H/L | H/L | |
| Max. Pressure | 25 | 25 | 25 | barg |
| Max. Temp | 200 | 200 | 200 | °C |
Materials
| Plates | Material Thickness | Gaskets |
| --- | --- | --- |
| 1.4404 / AISI 316L | 0,35 / 0,50 / 0.60 mm | NBR-HT |
| Titan / 3.7025 | 0,50 / 0,60 mm | EPDM-HT |
| 254 SMO / 1.4547 | 0,50 / 0,60 mm | Viton I |
| Alloy C276 / 2.4819 | 0,60 mm | Viton S |
| Alloy 904L / 1.4539 | 0,60 mm | Viton G |
Design Codes & Standards
AD2000/PED 2014/68/EU
EN13445
ASME VIII Div 1 & U-Stamp
API662, NACE MR0175 & MR0103
Special Design
Double wall plates (FPDW; 2 x 0,35 mm, 1.4404) for FP2016 and FP2022 possible
Multipass Design
horizontal units
2-Section Cooler for three-fluid circle
Special Features
Opti Flow: Optimized inlet area, best distribution of the fluid over the entire width of the
heat transfer plate for optimum utilization of the surface area
Best Wave: CFD optimized plate design for best possible ratio of pressure loss and heat transfer
Clip-On gaskets for best fit even after repeated opening
Bypass-Stop Design: Minimized bypasses for optimal heat transfer
Double gaskets with leakage grove
Frame
Design pressure
10, 16, 25 bar // 150 lbs
Material
C-Steel S355J2+N, DIN 10025, painted, solid stainless steel, 1.4401
Painting
Standard-painting Funke : 1 x 80 μm Water based paint, RAL 5012
others e.g. other RAL, acc. Munsell, ISO 12944-5, ATEX, Hight temperature, agains extra costs
others
e.g.
Connection
Standard: threaded pipe male G2"
Threads
Threads threaded pipe female G2"

Welded neck flanges
DN 50 / 2", stainless steel, C-Steel C22 - DIN EN 1092-1, ANSI B16.5 u.a.
Rubberliner
DN 50 / 2", NBR, EPDM, Viton I, for Flange - DIN EN 1092-1, ANSI B16.5 u.a.
Metal inserts
DN 50 / 2", stainless steel, Titanium - DIN EN 1092-1, ANSI B16.5 u.a
Tri-Clamp
DN 50, DIN 32676, 1.4404 / 1.4435, Pipe DIN 11866-A,
2" ASME BPE, 1.4404 / 1.4435, Pipe DIN 11866-C
2"
ASME
Hygienic connection,
DIN 11851, DN 50,1.4404/1.4435, Pipe DIN 11866-A
Product Catalogs & Spec Sheet Downloads
FP4000 Technical Specifications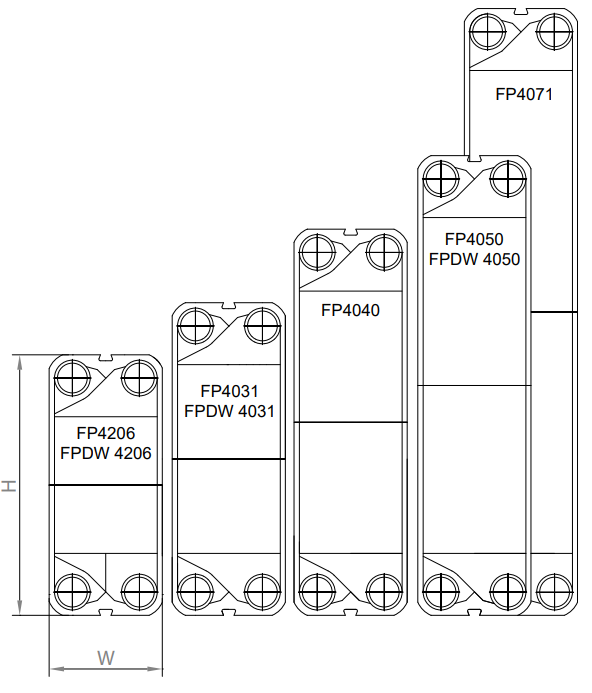 | Model | FP4206 | FP4031 | FP4040 | FP4050 | FP4071 | unit |
| --- | --- | --- | --- | --- | --- | --- |
| Max. Area | 1-83 | 1,4-111 | 1,9-188 | 2,4-238 | 3,4-337 | m² |
| W x H | 380x875 | 380x1050 | 380x1297 | 380x1544 | 380x2038 | mm |
| Plate structure | H / L | H / L | H / L | H / L | H / L | |
| Max. pressure | 25 | 25 | 25 | 25 | 25 | barg |
| Max. Temp. | 200 | 200 | 200 | 200 | 200 | °C |
Materials
| Plates | Material thickness | Gaskets |
| --- | --- | --- |
| 1.4404 / AISI 316L | 0,35 / 0,50 / 0.60 mm | NBR-HT |
| 1.4301 / AISI 304 | 0,50 / 0,60 mm | HNBR |
| Titan / 3.7025 | 0,50 / 0,60 mm | EPDM-HT |
| 254 SMO / 1.4547 | 0,50 / 0,60 mm | Viton I |
| Alloy C276 / 2.4819 | 0,60 mm | Viton S |
| Alloy 904L / 1.4539 | 0,60 mm | Viton G |
Special Design
Double wall plates (FPDW; 2 x 0,35 mm, 1.4404) möglich für FP4206, FP4031 und FP4050
Multipass Design
horizontal units
2-Section Cooler for three-fluid circle
Special Features
Opti Flow: Optimized inlet area, the best distribution of the fluid over the entire width of the
heat transfer plate for optimum utilization of the surface area
Best Wave: CFD optimized plate design for the best possible ratio of pressure loss and heat transfer
Clip-On gaskets for best fit even after repeated opening
Bypass-Stop Design: Minimized bypasses for optimal heat transfer
Double gaskets with leakage grove
Design Codes & Standards
AD2000/PED 2014/68/EU
EN13445
ASME VIII Div 1 & U-Stamp
API662
NACE MR0175 & MR0103
Product Catalogs & Spec Sheet Downloads