Air Compressors
You may be aware that you need air compressors for your business, but if you're like many people, you don't know a whole lot about them. As a leading U.S. compressor provider, we at The Titus Company want you to understand everything you need to know about air compressors so you can make informed decisions about your air compressor for your company.
Air Compressors, Explained
Air compressors are simply devices that pressurize air to the desired level and push it out into a space in a steady stream. Air compressors come in a variety of sizes, configurations and types. There are a few different types of air and gas compressors that we offer at The Titus Company, including:
Reciprocating Compressor – The application of a reciprocating compressor is to introduce air into a chamber through a valve system, at which point it is compressed with a series of pistons.
Rotary Screw Compressor – A screw air compressor uses a pair of helical screws to drive air into the chamber and shrink the chamber to compress the air.
Centrifugal Air Compressor – Centrifugal air compressors draw air into the center of a rotating impeller using radial blades.
Oil-Free Scroll Compressor – Compressors generally require oil-based lubrication to keep their parts moving smoothly. An oil-free scroll compressor works without oil for clean environments where oil could contaminate the facility. The scroll compressor is not the only type of oil-free gas compressor. While we most commonly offer oil-injected rotary screw compressors and reciprocating compressors, you can order an oil-free screw compressor from Titus as well.
Pressure Lubricated Air Compressor – These air compressors use pressure to make sure the oil gets everywhere it needs to go to fully lubricate the compressor.
Air Compressor Brands
At The Titus Company, we pride ourselves on offering the finest possible air compressor brands, including the popular Atlas Copco Compressor. Other top air compressor brands we offer include:
Anest-Iwata Scroll Compressors
Boge Compressors
Mattei Compressors
Sauer Compressors
Sullivan Patek Compressors
If you need help deciding which air compressor is right for you, get in touch with us now and one of our trained air compressor professionals will help determine the perfect air compressor for your application.
Air Compressor Repair and Maintenance
Keep in mind that in addition to the commercial-grade air compressor and gas compressor products we provide, we also offer a complete range of air compressor services, including regular air compressor system maintenance, compressor rebuilding service and even emergency repair for air compressor products. If you need repair, rebuilding or maintenance for air compressors, contact us right away.
Reciprocating – Lubricated
Oftentimes the simplest and lowest cost option, reciprocating compressors have wide application in workshops, light manufacturing and auto repair & painting applications, as well as point-of-use applications in many medium to large industrial plants for serving certain high demand, short duration applications such as blow-down cycles of bag house filters.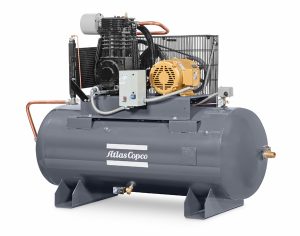 Atlas Copco
AR Series – Commercial Grade (5-20 HP)
LE/LT – Industrial Grade (2-20 HP)
LS/LP – Heavy Duty (5-30 HP)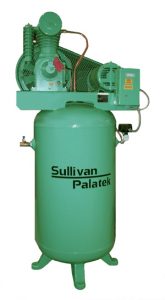 Sullivan-Palatek (Saylor-Beall)
Splash Lubricated (1.5-30 HP)
Pressure Lubricated (1.5-30 HP)
Reciprocating – Oil Free
For many medical, laboratory, pharmaceutical or food and beverage applications having oil-free compressed air is an absolute must. In many of these applications oil-free reciprocating compressors offer just the right combination of up-front cost and efficiency to meet the need.
Reciprocating – High Pressure
For applications requiring pressures ranging from 220 to 7250 PSIG, high pressure reciprocating compressors and boosters are the ideal product choice. Available in both lubricated and oil-free designs, they offer the right high pressure air or gas generation solution.
Sauer


Mistral Series High Pressure Air & Gas Compressors
(5.8 to 154.3 SCFM to 580 PSI)
Passat Series High Pressure Air & Gas Compressors
(33.5 to 207.8 SCFM to 1150 PSI)
Hurricane Series High Pressure Air & Gas Compressors
(15.3 to 76 SCFM to 5000 PSI)
Tornado Series High Pressure Air & Gas Compressors
(7.2 to 15.2 SCFM to 6000 PSI)
Typhoon Series High Pressure Air & Gas Compressors
(44.1 to 231.8 SCFM to 1500 PSI)
5000 Series High Pressure Air & Gas Compressors
(27 to 89 SCFM to 5000 PSI)
Sauer Cont'd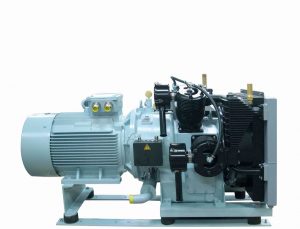 6000 Series High Pressure Air & Gas Compressors
(160 to 480 SCFM to 7000 PSI)
Harmattan Series High Pressure Air & Gas Compressors
(38 to 136.5 SCFM to 217 PSI)
Mistral Series High Pressure Air & Gas Boosters
(6.9 to 140 SCFM to 580 PSI)
Passat Series High Pressure Air & Gas Boosters
(39 to 178 SCFM to 1150 PSI)
Hurricane Series High Pressure Air & Gas Boosters
(7 to 70 SCFM to 5000 PSI)
6000 Series High Pressure Air & Gas Boosters
(230 to 518 SCFM to 7250 PSI)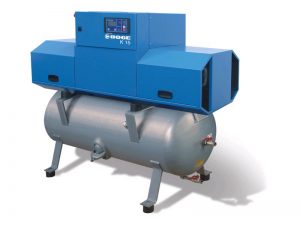 Boge
K Series Oil Free to 600 PSIG
(7.5 & 15 HP)
SRHV Series Lubricated to 600 PSIG
(10 – 25 HP)
Rotary Screw – Lubricated
No other compressor type offers the flexibility, durability and reliability of the rotary screw machine.  Designed for continuous duty, it is the compressor of choice for most industrial compressed air applications.  Available with sophisticated controls and Variable Frequency Drives, it can also be one of the most efficient methods for generating compressed air when and where it's needed.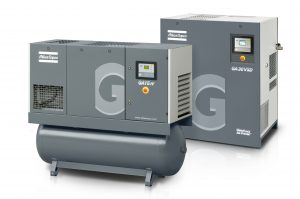 Atlas Copco
GX Series (3 – 15 HP)
GA Series / GA VSD Series (7.5 – 200HP)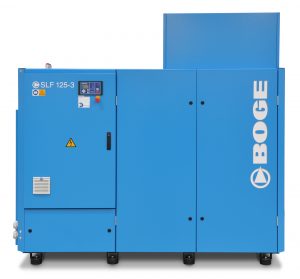 Boge
CL Series (4 – 20 HP)
C Series (10 – 30 HP)
S Series (40 -340 HP)
SF Series VFD (60 – 150 HP)
SLF Series VFD (30 – 270 HP)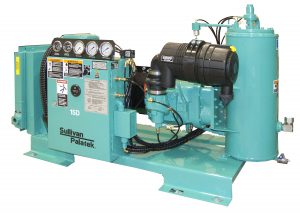 Sullivan-Palatek
M Series (5, 7.5 & 10 HP)
C Series (10HP)
D Series (15 – 40 HP)
DG Series (25 – 50 HP)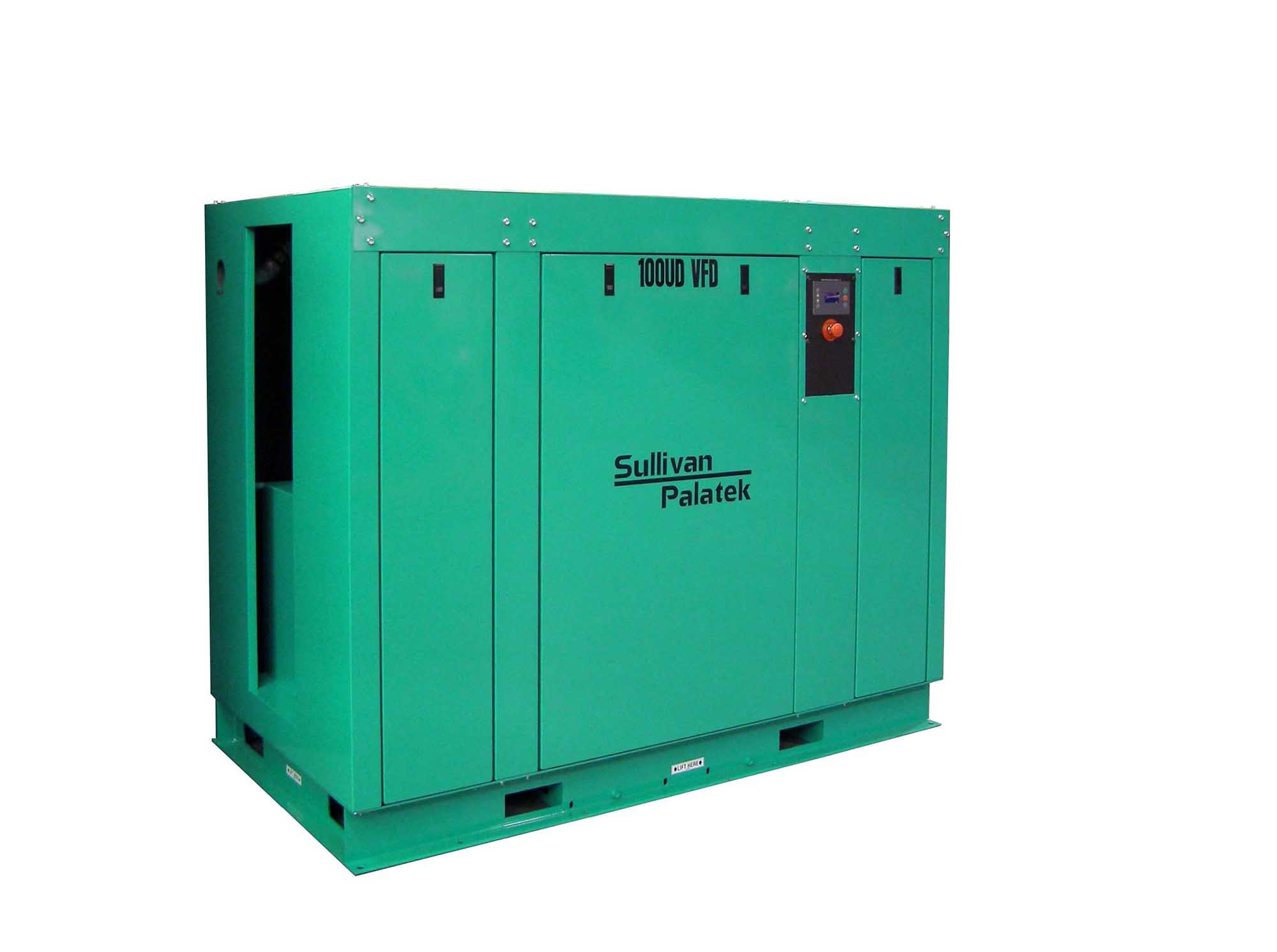 Sullivan-Palatek Cont'd
UD Series (40 – 100 HP)
SP 20 Series (125 – 300HP)
SP 32 Series (300 – 450 HP)
Line Shaft LSC Series (10 – 60 HP)
VFD Series  (15 – 350 HP)
Rotary Screw –  Oil-free
Combining the strengths of the Rotary Screw design with the benefit of an oil-free compression-chamber gives greater flexibility and cost-effectiveness to applications where at one time only over-sized centrifugal compressors or costly and maintenance-intensive filtration systems were required.  Now reliable, efficient oil-free compressed air is available for the most demanding applications.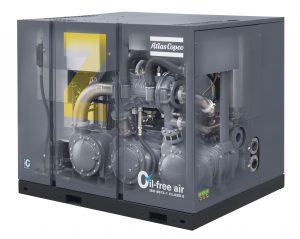 Atlas Copco
ZT Series (20 – 60 HP)
ZR Series (40 – 60 HP)
Rotary Vane – Lubricated
For applications where reliability and simplicity are desired, rotary vane compressors can provide an excellent alternative.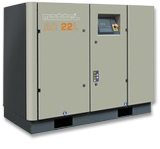 Mattei
ERC Series (5 – 100 HP)
AC Series (5 – 60 HP)
Optima Series VSD(15 – 250 HP)
Maxima Series (40 – 200 HP)
Scroll – Oil-free
Ideally suited for laboratory, medical and other small critical-air applications where oil lubricated machines cannot be tolerated.  The scroll compressor provides quiet, reliable operation for continuous-duty applications.
Additional Equipment
Not content to offer just any product in a given category, The Titus Company carefully selects the manufacturers and brands that it represents. When it comes right down to it, the name on the box is not the one that most customers remember but rather the name of the company that sold it to them. As a result, the products that you will find in the product categories below are those that have proven to be reliable, efficient and cost-effective for our customers and their critical application needs.
Select equipment category below for more information.