Sulzer HST™ Single-Stage High Speed Centrifugal Compressors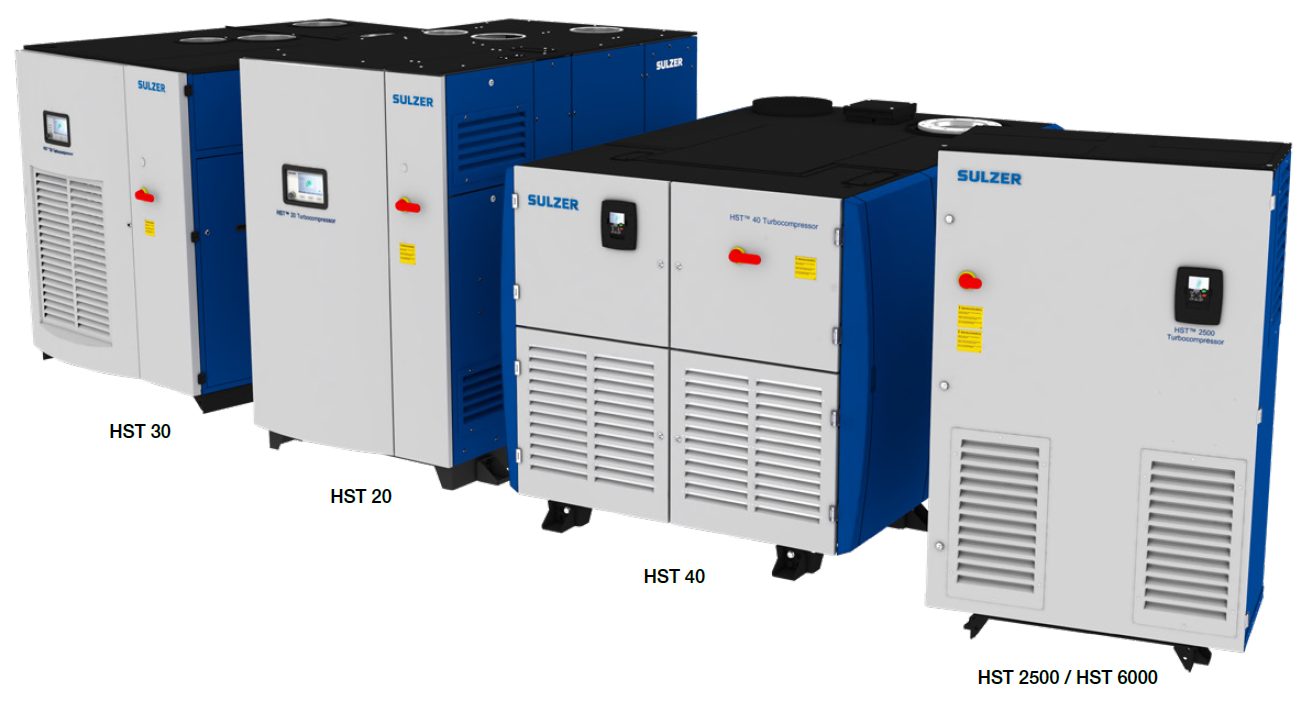 The Sulzer HST™ Single-Stage High-Speed Centrifugal Turbocompressors Collection includes some of the best oil-free blowers on the market. These compressors have the power to meet your company's low-pressure air needs for aeration, diffusion, filtration, processing or treatment all over your plant.
Efficient, Reliable, Unbeatable
When you choose to install a Sulzer high-speed turbocompressor (HST), you're joining thousands of businesses around the world that have experienced increased efficiency and reliability thanks to these turbo blowers. Their unique construction affords a naturally longer life cycle than many models on the market, and the detailed control features allow you to get the best output for your input.
At Fluid Aire Dynamics, we see people become Sulzer equipment converts every day. From reduced carbon dioxide emissions to major savings in energy and maintenance costs, everyone has a reason to love these state-of-the-art machines. We're constantly delivering them to companies all over Pennsylvania, Delaware, New York, New Jersey, Maryland and Virginia.
| | All HST Models |
| --- | --- |
| Power supply | 380 - 690 V |
| Input frequency | 50 - 60 Hz |
| Protection class | IP33D |
| Thermal motor protection | PT100 |
| Permitted chemical vapors | IEC 60721-3-3 class 3C3 |
Explore Sulzer's One-of-a-Kind High-Speed Technology
Sulzer has spent over two decades perfecting their high-speed technology, giving them a reputation for quality and reliable functionality. Sulzer pioneered the use of magnetic bearings, which offer better stability and performance than any other type of bearings. Unique for the industry, our bearings are developed and produced in-house for high-quality, efficient, problem-free operation. Some of the unique features you'll find in your new oil-free centrifugal compressor are:
Only one moving part: Conventional compressors may contain hundreds of moving parts. Turbocompressors built with our high-speed technology have just one: a single shaft that functions as the motor's rotor, upon which the impeller and cooling fan are mounted. Flow is controlled by speed alone, which eliminates the need for inlet guide vanes or outlet diffuser vanes with complex mechanics that can wear or break down and need frequent maintenance.
Electrical efficiency: The motor that runs every blower has been custom designed to ensure the highest electrical efficiency possible. A built-in frequency converter drives the motor, resulting in significant savings on your energy bill. It will also reduce your business's environmental impact, which can spell even more savings for you in the long run! 


No friction wear: The magnetic bearings used in our HST turbocompressors permit motion without mechanical friction or wear. Even during starts and stops, there is never any contact between the rotating and static parts. The lack of contact also eliminates vibration, leading to reduced noise, higher reliability and longer component life – an edge over competing brands.
Real-time, built-in monitoring system: The magnetic bearings are continuously regulated by a monitoring system, which gives you access to full machine diagnostics without additional hardware. Non-contact position sensors check and adjust rotor position thousands of times per second to compensate for any undue movement. Should any problem occur, the system issues a warning or triggers a fault and if necessary stops the turbocompressor to protect the machine.
No liquids for added safety: Our high-speed technology is 100% air-cooled and completely liquid-free. It means there is no risk for potentially dangerous leakage or contamination. There is nothing that can boil or freeze and nothing that needs to be exchanged, which in turn increases durability and reduces maintenance.
Touch Down Bearing
Position Sensor
Radial Actuator
Axial Actuator
Magnetic Bearing Controller
Backup Battery
Benefits and Features You'll Love
Still, that's only the beginning of everything you'll appreciate about Sulzer HST™ Single-Stage High-Speed Centrifugal Turbocompressors.
Due to its innovative design, the compact HST turbocompressor has no wearing parts and uses no lubricants, thus requiring minimal maintenance. The unique technology enables optimal operating efficiency with minimized energy consumption and reduced environmental impact.
Compressor Controls
Motor Outlet Silencer
Magnetic Bearing Controller
Battery Backup
Blow Off Valve with Silencer
Variable Speed Drive
Take a look at all the major benefits adding one of these machines to your company's arsenal can give you:
Cost-Efficient
You'll find many upgrades on the HST turbocompressors that aren't in any other centrifugal compressor models, such as:
A single impeller design
A high-speed motor to match the impeller's speed
Zero-friction magnetic bearings
These superior design elements increase the machine's efficiency. Because they're capable of working at high speeds, they get more done in less time and with less energy output required. Plus, generating zero friction ensures the maximum life span of the machine with minimal repair requirements.
Quiet Operation
When designing the HST collection, Sulzer ensured the compressor would have a quieter-than-normal operation by building silencers into the machines. This is yet another cost-efficient solution the brand provided, as there's no extra installation cost or need for soundproofing on your part. A quieter design leads to less noise pollution, contributing to better working conditions for employees.
Compact Design
Your new unit will be easier to work with than your old one from the moment it arrives. Although it's no less powerful, it's shorter than many machines and includes many flexible connection options, so it easily fits in smaller, oddly shaped spaces. Furthermore, many additional components like the air-cooling system are integrated into the cabinet so you don't need more room to house them.
With the HST turbocompressor, you won't have to install foundation material, and you can move it on a pallet truck for unbeatable convenience.
Optimized Safety
The HST turbocompressor is as safe as it is easy to install. To reduce the risk of injury, these machines have:
No liquid
No pump
No fan
No heat exchanger
Nothing that can freeze or boil in normal circumstances
Nothing that needs regular changing
The advanced technology in these blowers ensures they still provide the same services without any of the hassles common to other models.
Secure Networks
One thing you will find inside Sulzer turbocompressors is magnetic bearings regulated by a monitoring system. This monitoring system connects to your local network, allowing you to monitor how the machine is functioning in real time. And on the off chance you do notice something amiss with your system, you'll be able to access remote troubleshooting options securely.
Standard VFD Design
Despite the optimized technology that makes HST turbocompressors so special, the design still uses a number of standard VFD components, ensuring easy access to spare parts and international tech support. The VFD parts include the following:
Outlet Silencer
Inlet Filters
Inlet Silencer
Turbo Air End
High-Speed Electrical Motor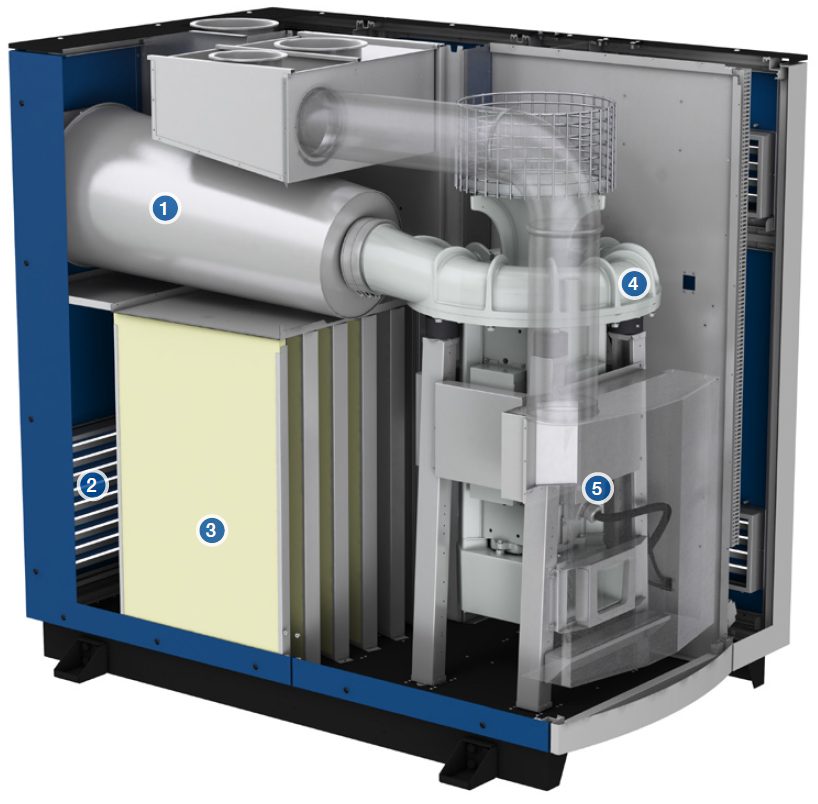 Optional Features
As we mentioned, there are numerous ways you can assemble your new turbocompressor to fit the room you're keeping it in. There are also some optional add-ons that can help you better configure your compressor room.
Inlet Air Processor: This add-on allows you to process inlet air from the compressor room. With this feature, the compressor package has built-in filtering and silencing, so there's no need for inlet piping. An inlet processor is most useful for the smaller compressor sizes.

Inlet Air Piping: Most times, it's more convenient to draw in air from outside the compressor room. Adding inlet air piping allows the compressor to bring in outside air, filtering it as it comes through the pipes so the machine has clean air to use.

Forced Air Cooler: If your air compressor will live in a hot, humid, dusty locale, it may be worth the investment to add a forced air cooler. Like inlet air piping, this addition brings in air from outside the compressor room and passes it through a filter. Then, a fan cools the air before it moves on through the machine while the heat is released outside through another pipe.

Heater: If the climate your machine will be in is especially humid, you may want to consider adding a heater for the control cabinet or motor compartment to your compressor room so your electrical parts stay dry.
Locked Stop Button: Add an extra layer of safety to your machine by including a locked stop button in your order request. This button is added to the control panel, and once you press it, you won't be able to restart the machine through remote actions before unlocking the button.
Control Alternatives
When you install your HST compressor, there are a few ways for you to connect to the built-in monitoring system:
Connection to Plant Automation Control Systems: Connect your HST turbocompresor to your plant automation system through a PC, either locally or via Internet, so all relevant functions can be accessed in one central location.

Master Control Unit (MCU) 300: This system allows you to sync connections with up to eight compressors at their respective optimal operational points in order to maximize energy savings. To the plant level automation, a group of up to 8 compressors will appear as one large unit for production of compressed air. The MCU 300 is available in models supporting common field buses. Furthermore, it can be adapted to special requirements from the process or upper-level automation. If required, Sulzer can deliver an MCU for controlling both HST turbocompressors and legacy blowers, allowing them to work side-by-side and optimizing energy use.

Fieldbus connection: All models in the HST range are ready for connection to modem field-bus networks. A full range of control commands is implemented. For monitoring purposes, a wide selection of registers is visible to the upper level automation.
Remote connection: Using the HST Secure Remote Connection for Service Personnel allows authorized individuals to connect to the HSTs and control them remotely securely. When used in conjunction with a maintence plan, this access can be used for regular monitoring, determining maintenance needs, reviewing past maintenance logs and remote troubleshooting when a warning or fault is indicated in the local display. Remote troubleshooting increases downtime since it can be done much faster than an on-site, scheduled technician visit. If manual intervention is necessary, the remote connection will help in preparing for the visit.

Accessories
Although there are plenty of features included in the HST turbocompressor series, you can further customize your unit with accessories that suit specific applications:
Inlet box silencer: A compact, sound minimizing accessory for pipework into horizontal inlets. Can be equipped with flanges on both ends or designed to connect with ventilation piping. Comes built-in with some HST models.
Inlet filter: Filtering air is a necessary part of the compressor's process, but it can lead to a loss in pressure. This filter is the best way to get quality air with minimal pressure loss and easy exchange of filter material.
Radial inlet: This accessory completes two functions — it gives the horizontal inlet a 90-degree bend so you can install it from any direction while also working as a silencer.
Outlet diffuser: Helps move high-speed flow downstream while losing as little pressure as possible. Part or all of this accessory comes standard on some models.
Outlet cone silencer: A combination of an outlet silencer and space-saving diffuser that minimizes noise at both the beginning and end of the pipeline. It comes built-in on some HST models.
Outlet flange elbow: With carefully perfected vanes, this accessory can provide a quick turn from the outlet while minimizing the pressure loss that comes from sharp bends.
Manual outlet value: Recommend as the final component of the discharge in order to be able to separate the turbocompressor from the piping when it needs maintenance.
Back-flow barrier: Also known as a "check valve," this neccessary barrier keeps air pressure from leaking out of the compressor. Properly specified low-loss double-flap valves are available for all models.
Motor cooling air silencer: Silences the air cooling noise. The motor cooling air silencer can be applied right at the compressor package. On some models, this function is built-in. It is recommended to use a pipe to exhaust the motor cooling air from the compressor room.
Blow-off air silencer: 

Minimizes blow-off noise that occurs on machine startup. To minimize this noise, one or several blow-off air silencers can be mounted after the blow-off discharge. It comes standard in many models.

Flexible joint:

Moveable joints prevent pipework strain from affecting the compressor. We provide flexible joints in relevant sizes for the inlet (needed if heavy pipes are used) and outlet connection.
Certified to Meet Your Standards
All models of the Sulzer turbo blower meet UKCA and CE certification standards, including compliance with:
Machinery Directive (MD), 2006/42/EC, 2009/127/EC
Low Voltage Directive (LVD), 2006/95/EC
Electromagnetic Compatibility (EMCD), 2004/108/EC
These products are also designed and manufactured with the (BS) EN 61800-3 standard in mind and intended for use in second environment locations, e.g., in industrial areas.
Treat Your Water Right
The HST is only intended for use in industrial applications. Some of the most common industries we see utilizing these products include:
Wastewater treatment plants
Pulp and paper mills
Power Generation
Manufacturing
Food & Beverage
Chemicals & Pharmaceuticals
Mining & Metals
Learn more about the materials that go into manufacturing these highly versatile products and which system's operating data will fit your business's needs below. For more information, contact Fluid Aire Dynamics online or call us at 610-913-9100. We're here to provide quality Centrifugal compressors and equipment maintenance services for Pennsylvania, Delaware, New Jersey, Maryland, and parts of Virginia and New York. Request your estimate today.
Materials
| Part | Material |
| --- | --- |
| Impeller | High-strength aluminum alloy |
| Volute and backplate | Aluminum alloy |
| Motor Frame | Aluminum alloy |
| Enclosure | Plated Steel with Structural Steel Base |
Operating Data
Product Catalogs & Spec Sheet Downloads