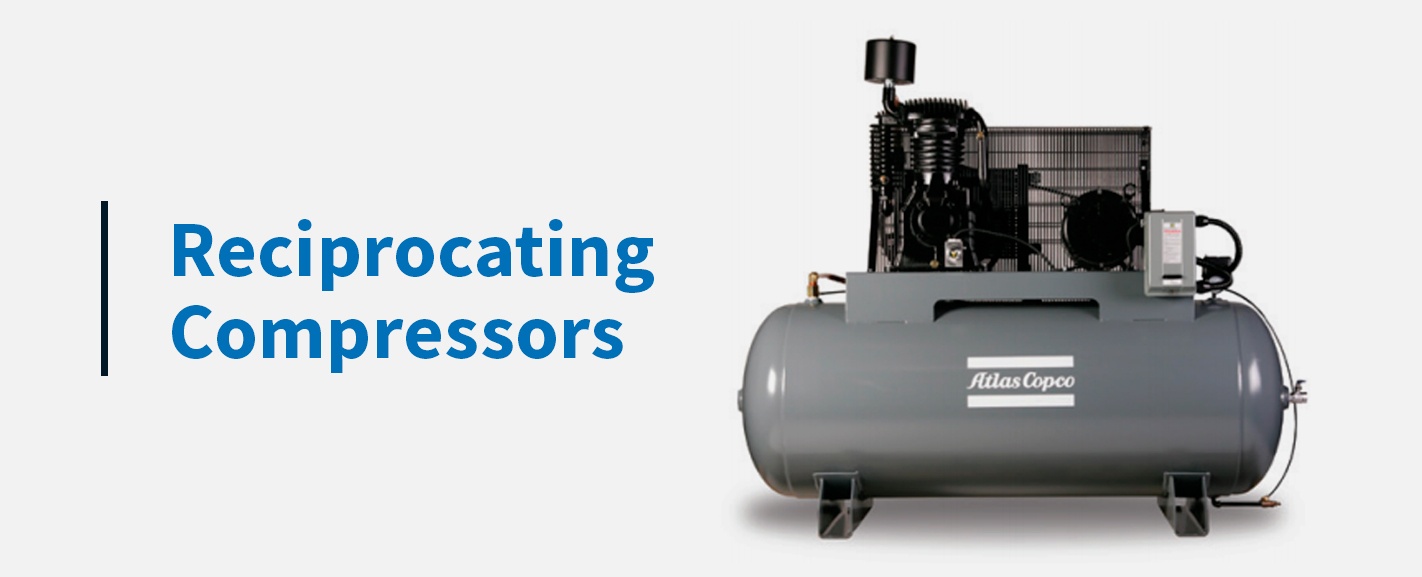 Reciprocating Compressors
Reciprocating air compressors work on the principle of reciprocation, which means to move something back and forth. Also known as piston compressors, these machines are positive displacement equipment, meaning that they increase pressure in air to compress it. Understanding reciprocating compressor design and the types of compressors available is essential to choosing the right model for your application, whether you're a home artisan or run a factory floor.
What Is a Reciprocating Compressor?
A reciprocating air compressor uses piston-driven crankshafts to pressurize air and other gases, increasing their density while decreasing their volume. Air compression makes materials like natural gas easier to store, transport and use effectively.
Reciprocating compressors store the pistons inside cylinders. Each cylinder has a closed end next to the cylinder head and is finished at the other end with a movable piston. The valves of the cylinders are located at the bottom of the compressor's valve pockets. During the first stage of compression, air moves into the cylinder via a suction valve, triggered by the movement of the piston. This creates a vacuum.
The piston then reverses its motion, fulfilling the "reciprocating" part of the name, and begins compressing the air in the process. Once the cylinder's interior pressure exceeds the pressure in the discharge pipes, valves open and allow air out of the cylinder.
How Does a Reciprocating Compressor Work?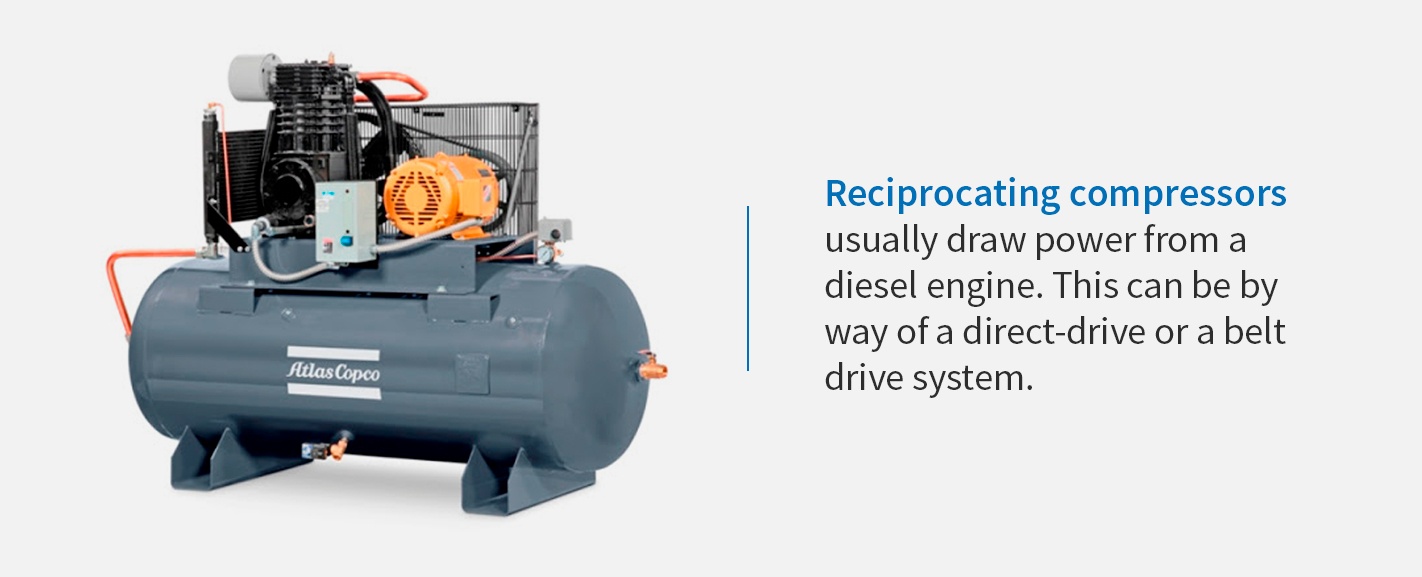 Reciprocating compressors usually draw power from a diesel engine. This can be by way of a direct-drive or a belt drive system, either of which will be in continuous operation as long as the engine is on. The entire cycle is facilitated by a mechanism for unloading, and some systems have a governor that is typically mounted directly to the compressor. When a governor is present, it works to enforce specific intake and cut-out pressure. Let's take a look at some reciprocating compressor basics.
Reciprocating Air Compressor Uses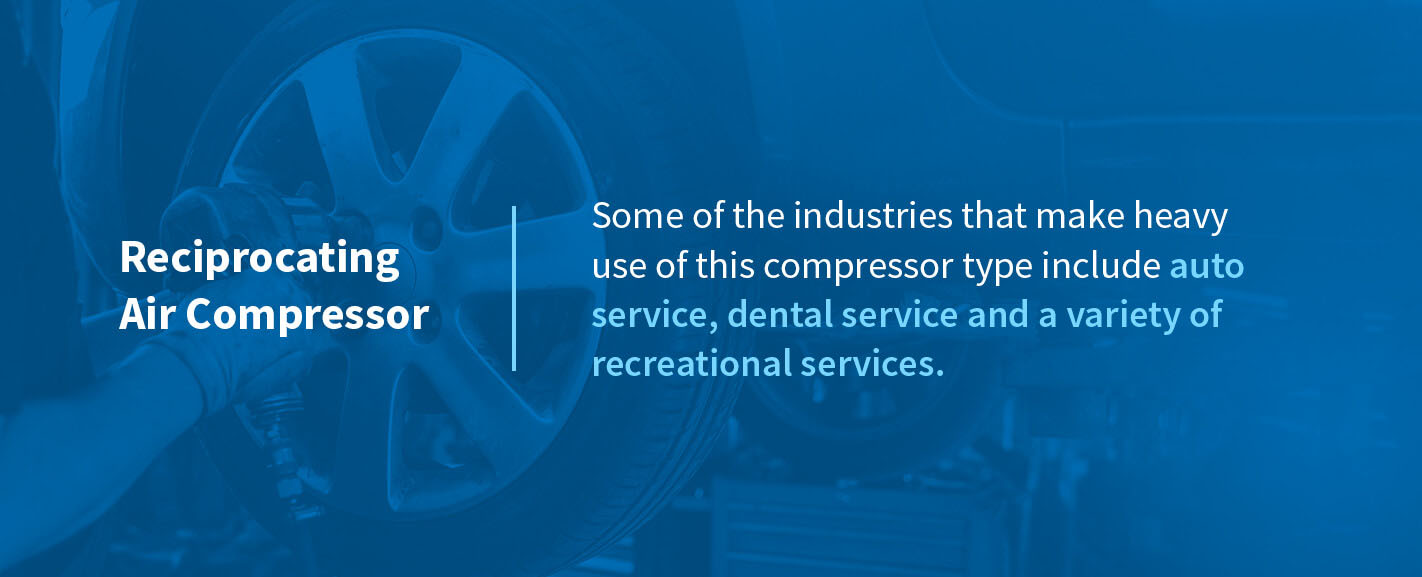 Businesses of all sizes use reciprocating air compressors. Some of the industries that make heavy use of this compressor type include auto service, dental service and a variety of recreational services, for example. Here is a quick look at some of the most common compressor uses for businesses ranging from small to medium size:
Sandblasters in machine shops or factories
Wood or auto body sanding
Spray painting for vehicles
Manufacturing snow for skiing or other entertainment purposes
Dental and some medical tools
Pneumatic nail guns, hammers and drills in construction
Air guns for cleaning machinery
Air compressors are also common in the agriculture industry, for uses such as:
Conveyors that move feed or grain between silos and other destinations
Ventilation systems in greenhouses or hydroponic systems
Crop spraying to deliver pesticides or fertilizer
Powering different types of material handling machinery
Powering various dairy machines from milking to material transportation
Compressed air is also an essential power source for large businesses in the manufacturing industry. Fabrication, assembly, refinery plants and more use compressed air to power:
Air tools and automated machinery
Welding or cutting equipment
Component ejection from molds
Production monitoring devices
Feed and roller machinery adjustments
Molding gas tanks and plastic bottles
Positioners, air knives, clamps and air chucks
Pneumatic finishing and packaging devices
In terms of everyday applications, air compressors are more essential than most people realize. Refrigerators and freezers use air compressors to cool air within the unit, and air conditioners use them as the main source of power for cooling. Even recreational activities like paintball and scuba diving make use of air compression.
Types of Reciprocating Compressors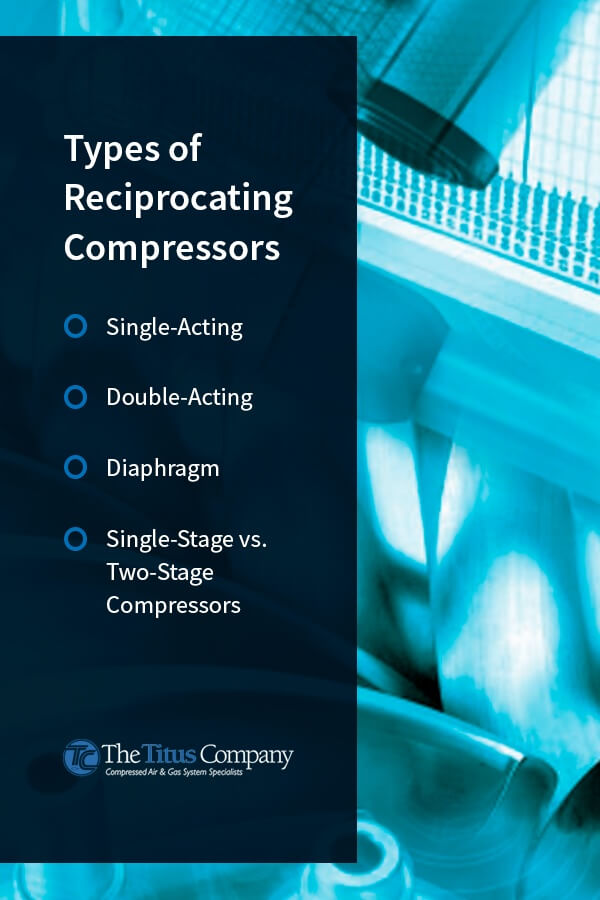 With reciprocating air compressors, you have a few options based on your application.
Reciprocating Compressors vs. Other Air Compressors
How do reciprocating air compressors measure up to rotary screw and centrifugal compressors, and what pros and cons should you consider?
Trust Fluid Aire Dynamics With Your Air Compression Needs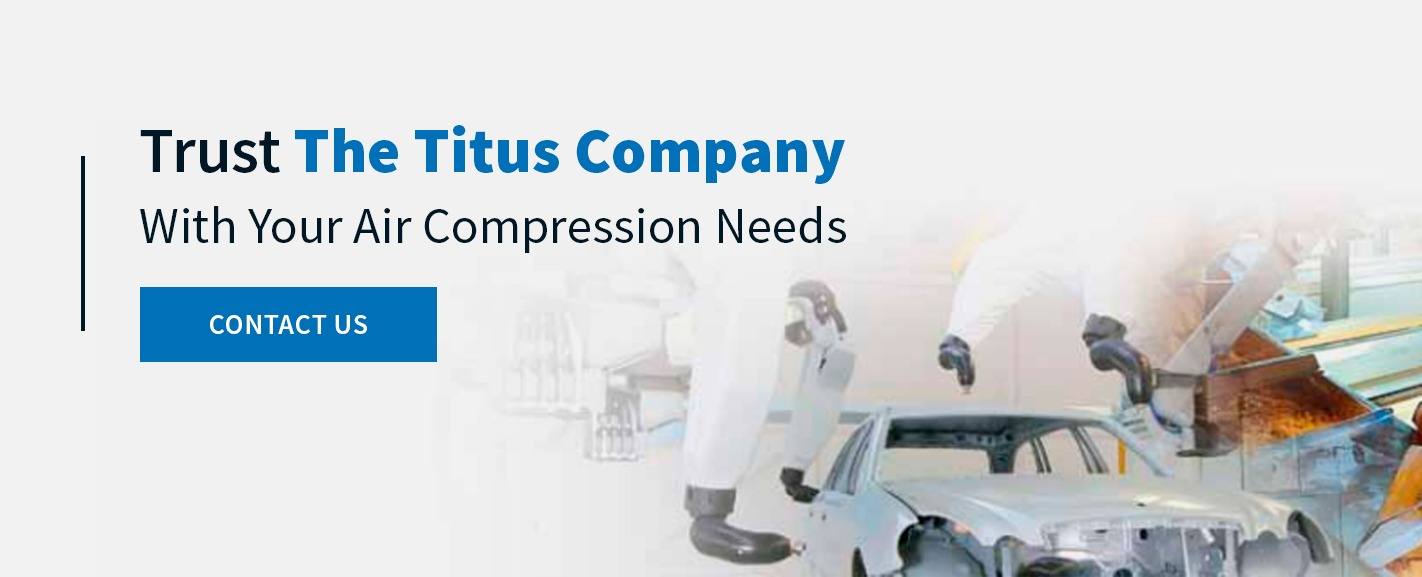 When it comes to your air compressor needs, working with a company you can trust will save you money and bring you better peace of mind. Fluid Aire Dynamics has been providing air compression customers with world-class sales and service since 1986, and we are proud to share our expertise with companies of all sizes in Delaware, Maryland, New Jersey, Northern Virginia, and Eastern Pennsylvania.
Our number one goal is to make sure you're receiving the maximum value from your compressed air system, whether you got it from us or not. That's why we're happy to provide services such as analysis of your compressed air system to ensure it is operating as efficiently as possible.
We also have the skill to design and fabricate unique systems to suit your applications. We install the system and also provide maintenance to keep your equipment running strong. To learn more about Fluid Aire Dynamics and what we can do for you, reach out to us online or call us at 610.913.9100.