Boge High Pressure Reciprocating Air Compressors
BOGE Compressed Air Systems is responsible for some of the industry's top sustainable air and gas compression solutions, and our goal is to make them accessible for all. Whether you need compressed air for a large manufacturing application or a low-pressure commercial project, we'll satisfy you with a piece of equipment from one of BOGE's major product lines.
Fluid Aire Dynamics specializes in cost-effective air system products. We carry a wide variety of reputable BOGE models designed to suit a broad range of specifications and industry requirements. Both BOGE K Series and SRHV Series compressors set high standards for safety and quality excellence, so help your operations reach their full potential by trying out one of these energy-efficient models. We'll keep you running on reliable compressed air with our proven repair and support services.
Choose From Multiple BOGE Piston Compressors
At Fluid Aire Dynamics, we believe that every company should be able to power its systems and equipment with good, clean air. That's why our inventory contains high-pressure compressors from the BOGE K Series and SRHV product families. Compressors from both of these product lines can deliver the optimal performance at a 40 bar pressure maximum. This capacity sets them up for success in demanding commercial and industrial projects.
K Series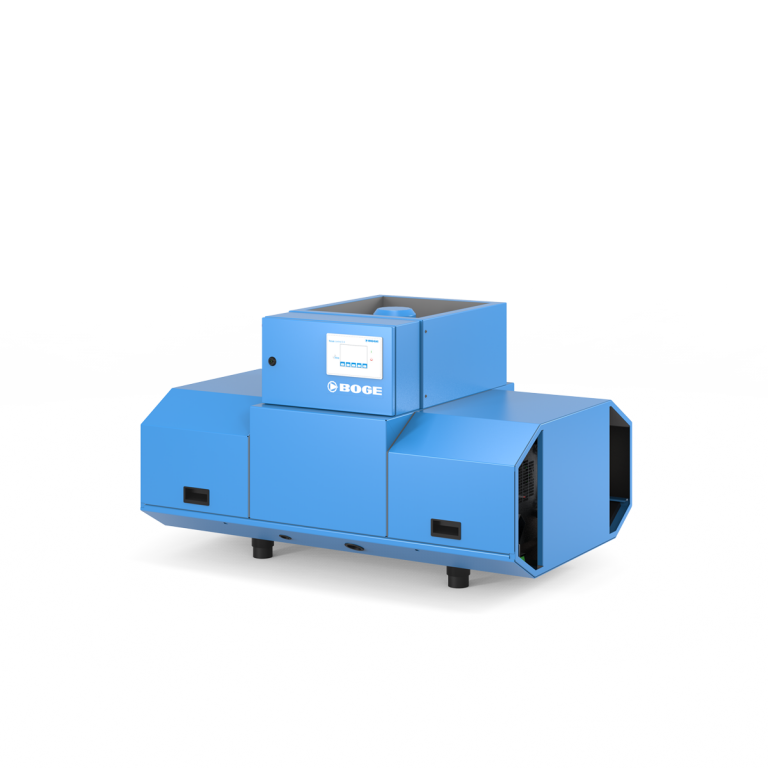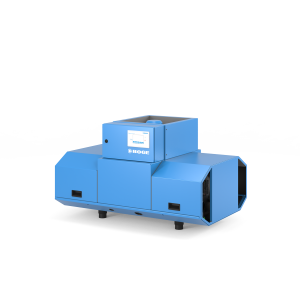 The BOGE K Series is a product family of oil-free compressed air systems for business leaders who value efficiency and financial savings. If you're searching for a durable solution that operates without oil in the compression chamber, you can count on one of our K Series models for long-lasting service.
Our oil-free piston compressors are ideal for both smaller and larger applications thanks to their pressure specifications and compact designs. They're small enough to fit in limited spaces, while their high levels of efficiency give them a competitive edge in bigger manufacturing, processing and maintenance projects.
Meanwhile, the lack of frequent oil changes eliminates air and condensate contamination, making the K Series a valuable solution for workers who require cleaner, safer air. With the use of oil-free compressed air, you can maximize safety and establish more environmentally friendly operations.
Some of the other benefits offered by the BOGE K Series include:
Improved productivity: K Series piston compressors are directly coupled with their compressed air receivers and armed with smart control systems so you can accomplish more in a shorter amount of time. You can even choose a control option that allows you to detect and address leakages more quickly.
Reduced wear and tear: The K Series compressor comes with an oil-free pushrod system, which helps lower friction during use. This design cuts down on wear and tear and gives you more freedom to operate without disruptions caused by maintenance and repair issues.
Lower costs: Power consumption, maintenance efficiency and condensate management all contribute to compressor operational costs. K Series products are designed to make your experience as simple and economical as possible. Without the need for oil changes, you'll save plenty of time and money in the long run.
SRHV Series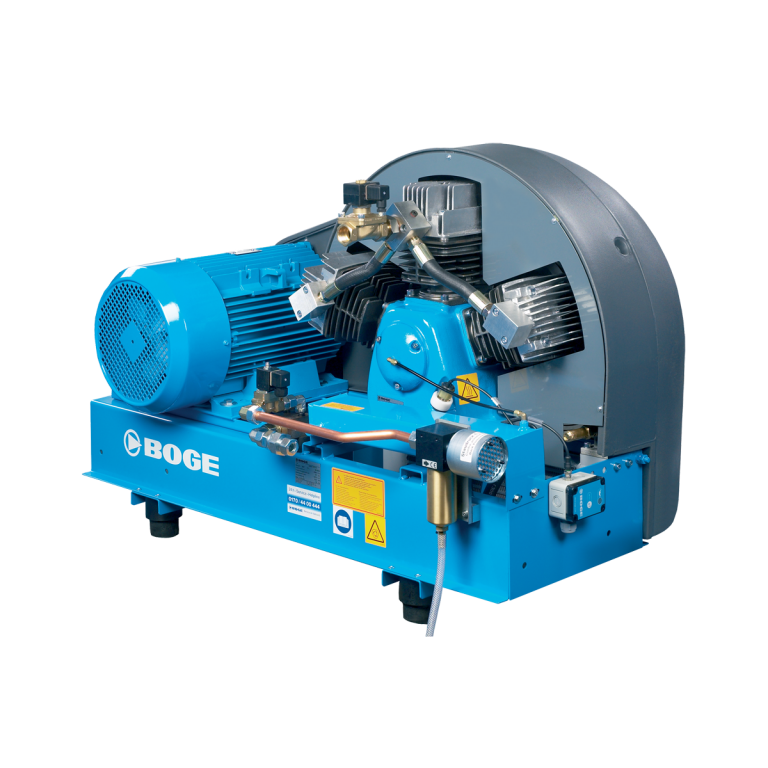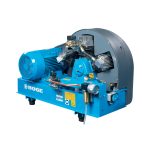 SRHV Series lubricated air compressors are long-lived, powerful high-pressure boosters that require oil maintenance. These boosters come with easy-to-use controls and high-quality speed management potential so that users can quickly implement them for all their nitrogen compression needs. Precise pressure adjustments, oil-level monitoring features and high-efficiency cooling ensure a smooth, steady job every time.
Fluid Aire Dynamics offers a broad selection of single-stage compressed boosters from the SRHV Series, each of which is designed to give you more balanced control of the full compression process. With powerful IE3 motors, rugged design materials and cylinders built from cast iron, the SRHV Series compressors are prepared to handle almost any situation or industrial work environment.
When you choose an SRHV Series model from Fluid Aire Dynamics, you can rely on:
Continuous operations under heavy demands: Our BOGE oil-lubricated boosters are well-ventilated, and they constantly work to maximize airflow and cooling during use. This helps ensure consistent temperature and pressure levels, which in turn reduces the risk of mechanical failures or productivity losses.
Minimal energy or resource waste: SRHV models use precise measurements and adjustments to maintain the optimal energy and pressure usage. By making the most of each resource, these boosters help lower power consumption and overall expenses.
A long service life: The rugged SRHV Series design serves as a strong asset to your business because it keeps the effects of wear and tear to a minimum. This translates into fewer maintenance demands and a longer service life for your compression equipment.
How Are BOGE Compressed Air Systems Used?
Compressed air solutions are essential in commercial and industrial applications around the world. Clean, high-pressure air can be used in all locations, from homes and businesses to large manufacturing facilities. Our goal is to help each customer find the specific compressor or booster that they need.
BOGE piston compressors are compatible with many different work environments and job types. Some of the common ways that BOGE compressors can be applied in business include:
Food and beverage processing
Pharmaceutical manufacturing
Hospital procedures and cleaning processes
Air filtration
Power generation and delivery
Agricultural applications
BOGE K Series and SRHV models can be used to power work tools and equipment, operate air systems and manage inflatable devices. Whatever the scale of your project or the size of your workspace may be, we have an oil-lubricated or oil-free piston compressor that will help you get the job done on time.
Reduce Repair Costs With Maintenance Services
Fluid Aire Dynamics has over 30 years of experience working with businesses throughout New Jersey, Delaware, Eastern Pennsylvania, southern New York and northern Maryland. Building long-lasting relationships is what we do. That's why we deliver product solutions that uphold high standards of performance and quality.
Our air compressors also come with continued maintenance and support from skilled professionals. From ongoing performance monitoring and preventive maintenance strategies to emergency repairs, we have everything you need to keep your facility running without interruption. We'll even help with the installation process after the purchase to save you time and resources!
Request a Free Quote Today
Fluid Aire Dynamics offers an excellent return on investment with our huge selection of high-quality compressed air systems. We have a full list of our BOGE K Series and SRHV Series compressors below, so browse our options to find a product that fits within your parameters. Request a free quote online today to learn more.