Do you have or need dryers for compressed air for your facility? If so, you may be confused about the different types of air dryers that are available to you. As a provider of quality air compressor and air dryer products, Fluid Aire Dynamics can get you just about any air dryer you need for your business.
Here is some basic information about commercial, industrial & construction air dryers, and how they work, to help you determine what your own air dryer needs are.
What Are Compressed Air Dryers?
Compressed air dryers are machines that remove water vapor from compressed air. They are necessary with air compressors because air compressors concentrate various elements of the air, giving it a higher dew point and creating condensation that could negatively affect your facility, causing freezing, corrosion and other problems.
How Do Compressed Air Dryers Work?
Different types of compressed air dryers work in different ways. There are refrigerated air dryers, desiccant air dryers, membrane air dryers and deliquescent air dryers. Which type you use will depend on what your specific application needs are.
What Type of Applications Are Appropriate for Compressed Air Dryers?
You can find compressed air dryers in use for many applications across multiple industries, including:
Naval
Nuclear Power
Pharmaceutical
Chemical/Petrochemical
Food and Beverage
Manufacturing
What Are the Different Types of Compressed Air Dryers?
Refrigerated Dryers
Refrigerated dryers are commonly used air compressor dryers that work with twin heat exchangers in order to cool down the hot air as it comes in and prevent it from condensing again.
Oftentimes the most cost-effective drying option, refrigerated dryers have wide application in most manufacturing facilities as they provide a level of dryness that satisfies most compressed air uses. Fluid Aire Dynamics is proud to offer some of the best products available in the marketplace.
HeatSink Cycling Refrigerated
Dryers (10 to 2400 SCFM)
Multiplex – HeatSink Cycling
Refrigerated Dryers (3250 to 19200 SCFM)
Non-Cycling Refrigerated Dryers
(11 to 2400 SCFM)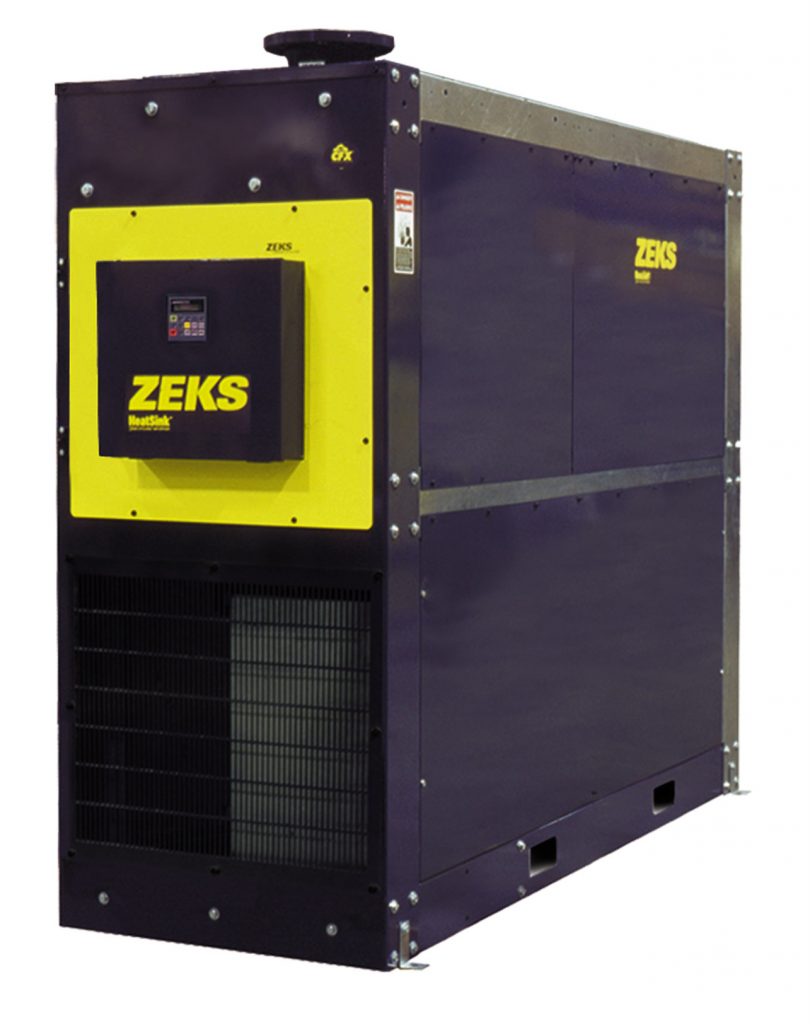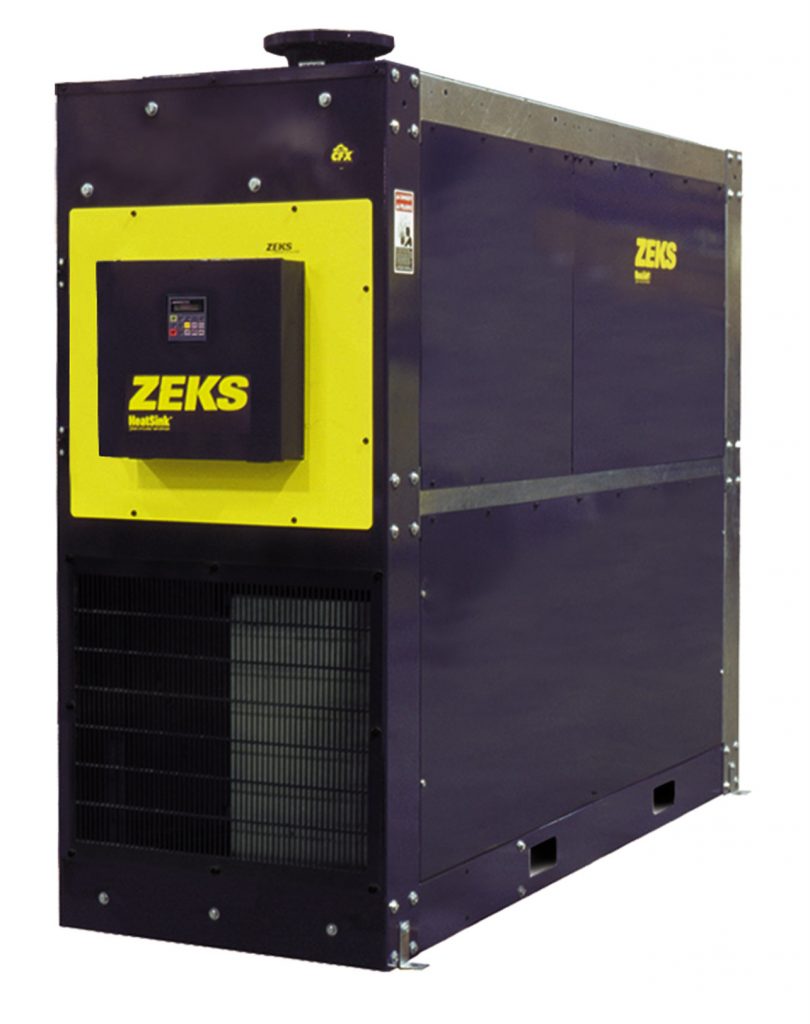 ZEKS Cont'd
NC MultiModule – Non-Cycling
Refrigerated Dryers
(3250 to 19200 SCFM)
HT –High Temperature Refrigerated
Dryers (15 – 100 SCFM)
HP –High Pressure Refrigerated Dryers
(Flows to 3540 SCFM &
Pressures to 6000 PSIG)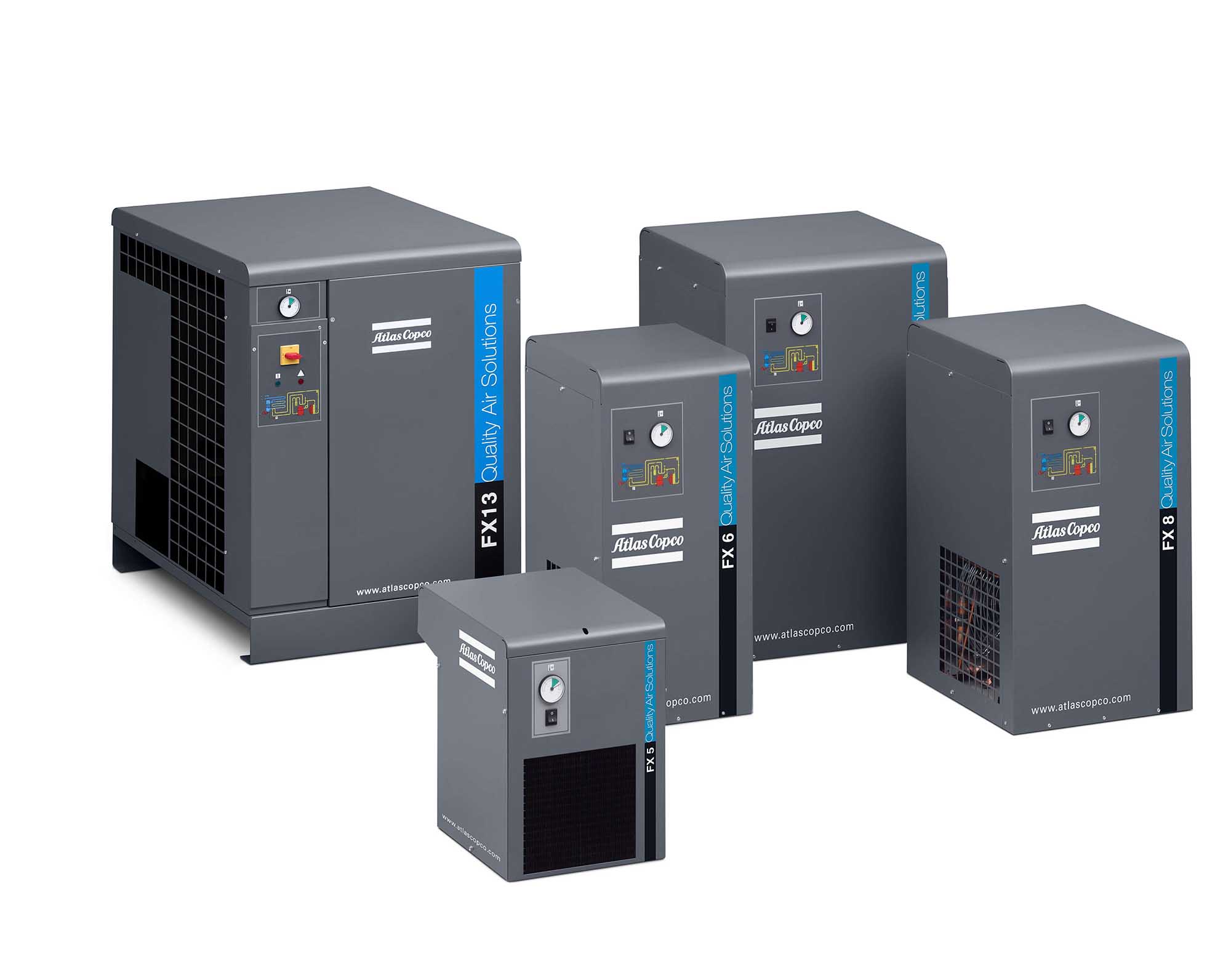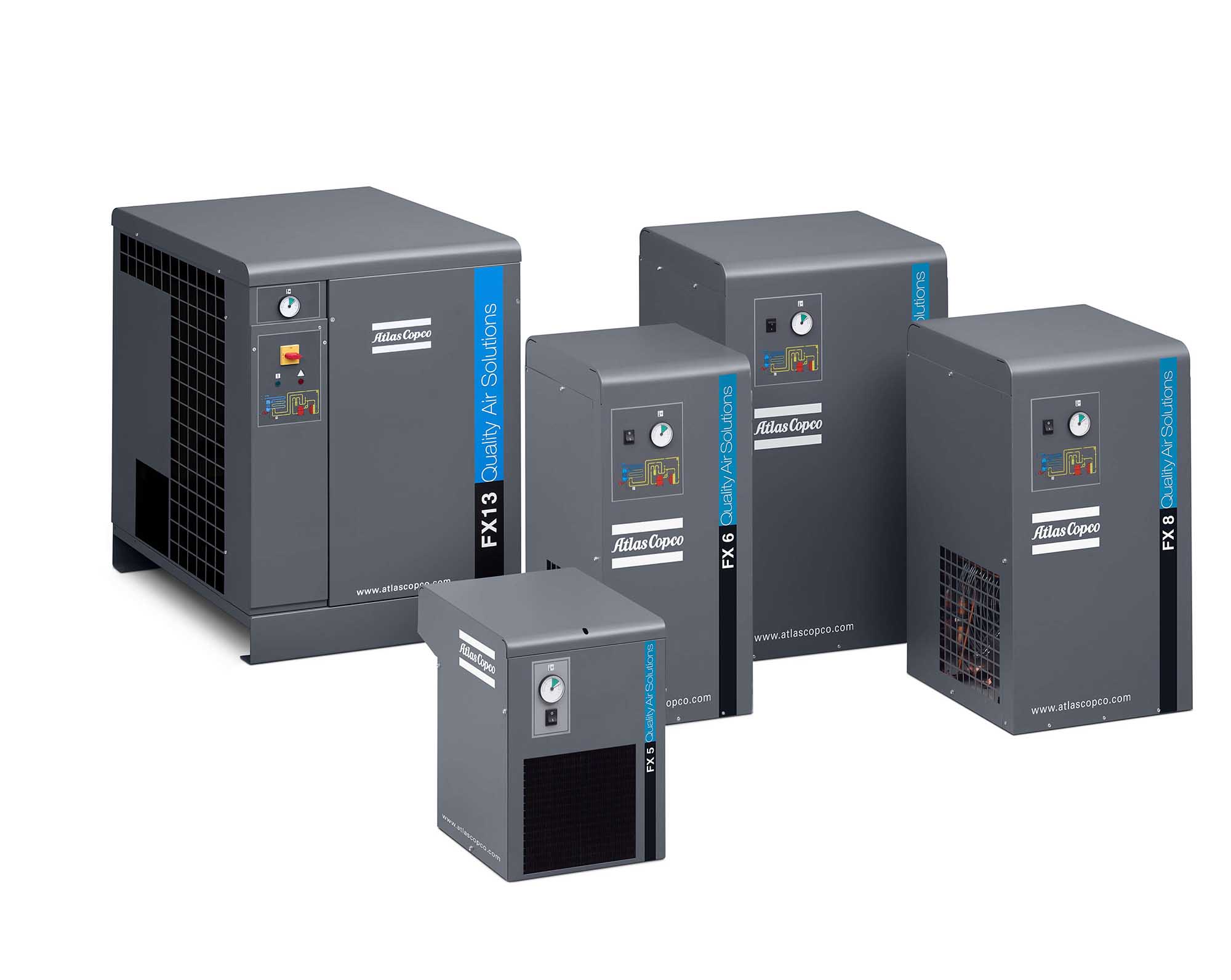 Atlas Copco Refrigerated Air Dryers
FD – Cycling Refrigerated Dryers
(13 to 8500 SCFM)
FX – Non-Cycling Refrigerated Dryers
(13 – 2400 SCFM)
Desiccant Dryers
You can use desiccant dryers when you are working with extremely sensitive products that cannot tolerate any moisture. Desiccant dryers use active desiccant material, like activated alumina, silica gel or molecular sieves, to remove water from the compressed air through adsorption as the air cycles through the machine.
These dryers can be heatless, as the desiccant material draws the moisture and a pressure-swing system regenerates it, but they can also be heated. This is sometimes known as a "heated purge dryer" or "blower purge dryer," since it uses hot air blowers to purge the desiccant material so that it can absorb moisture effectively again.
If you have an oil-free air compressor, you may be able to utilize a Heat of Compression desiccant dryer, which uses the energy of the compression process to regenerate the desiccant.
For applications demanding ultra-dry compressed air, desiccant dryers are often the product of choice. As with refrigerated dryers, Fluid Aire Dynamics offers a wide range of models to suit any price or performance requirement.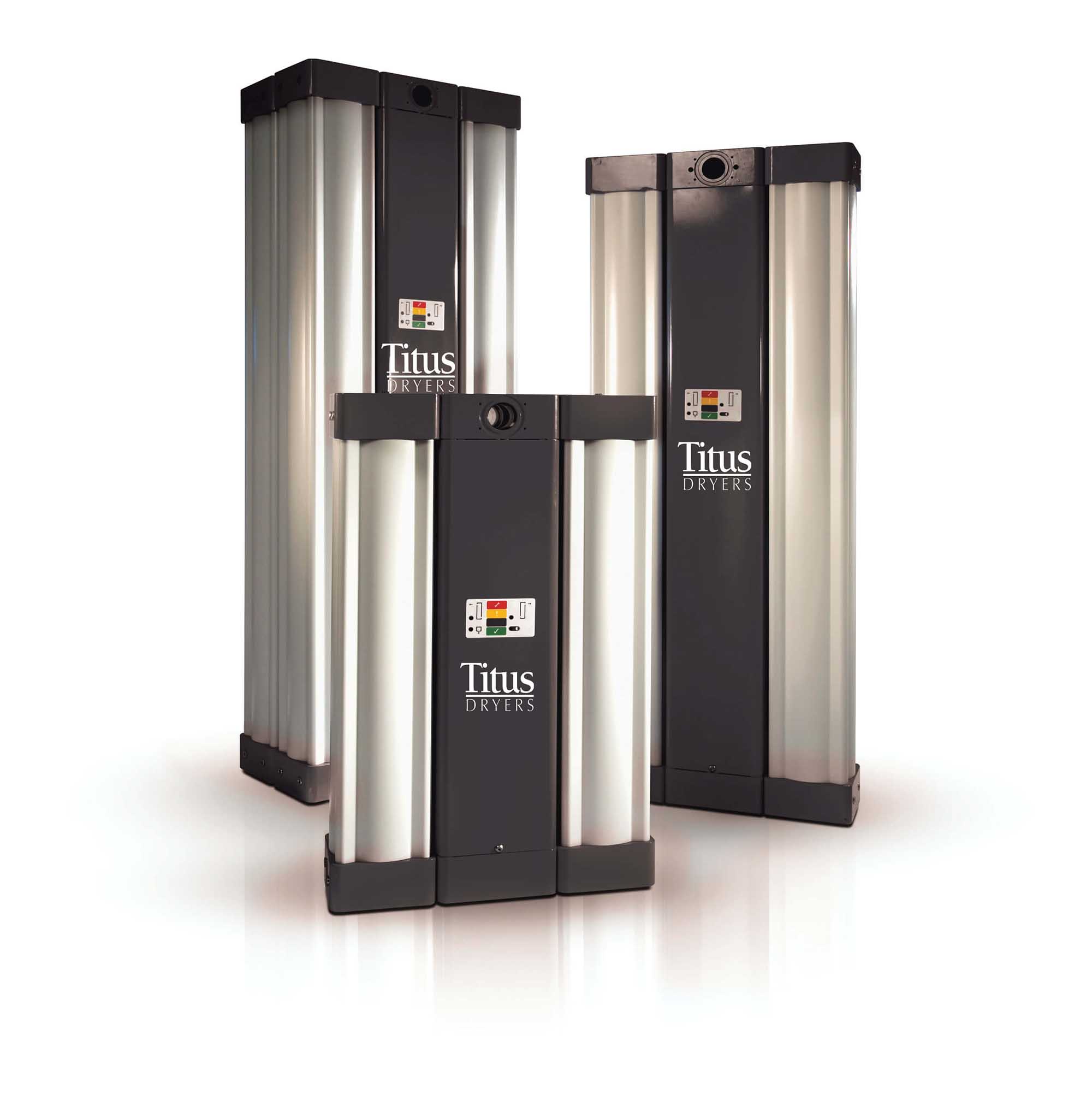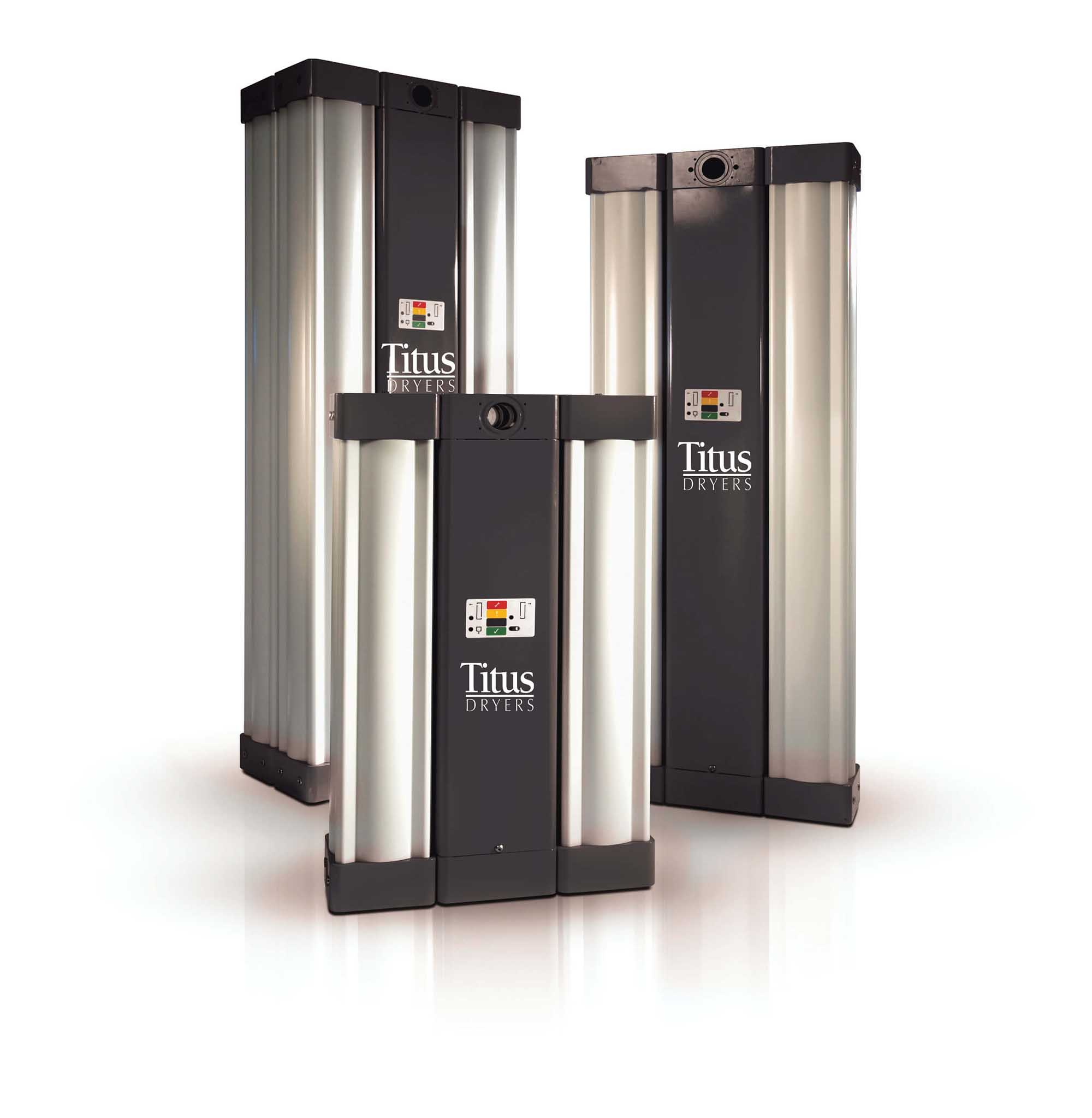 Fluid Aire Dynamics Desiccant Dryers
TDD – Heatless Desiccant Dryers
(4 to 365 SCFM)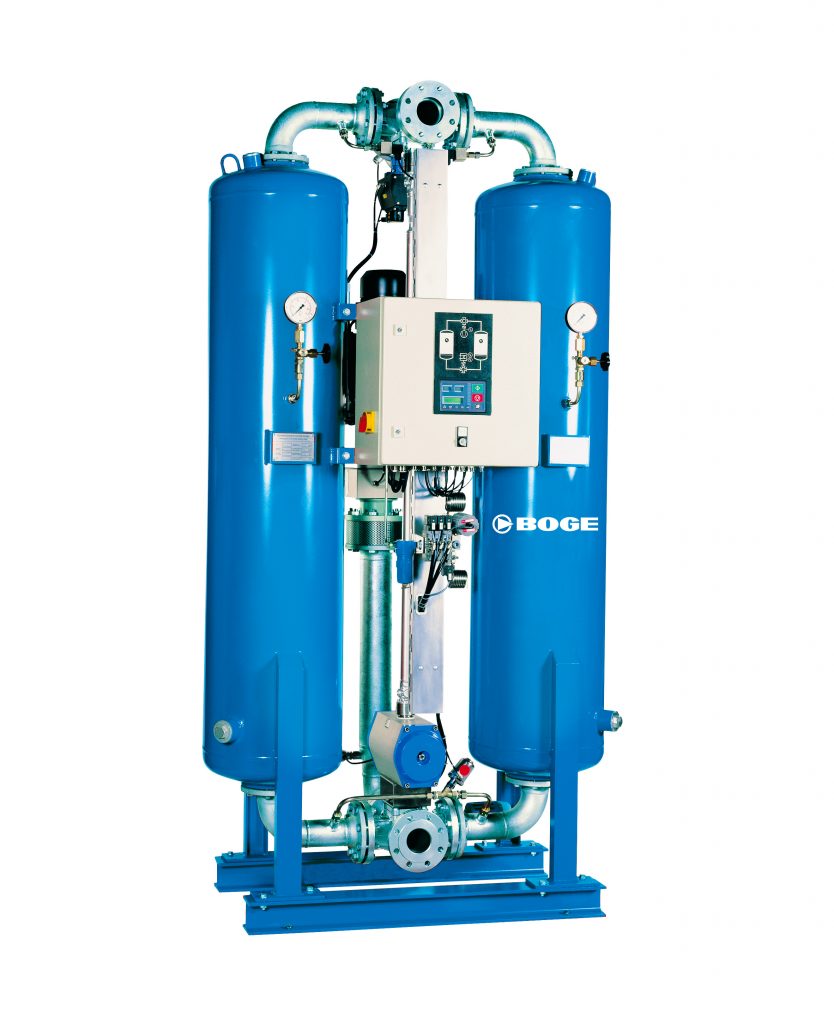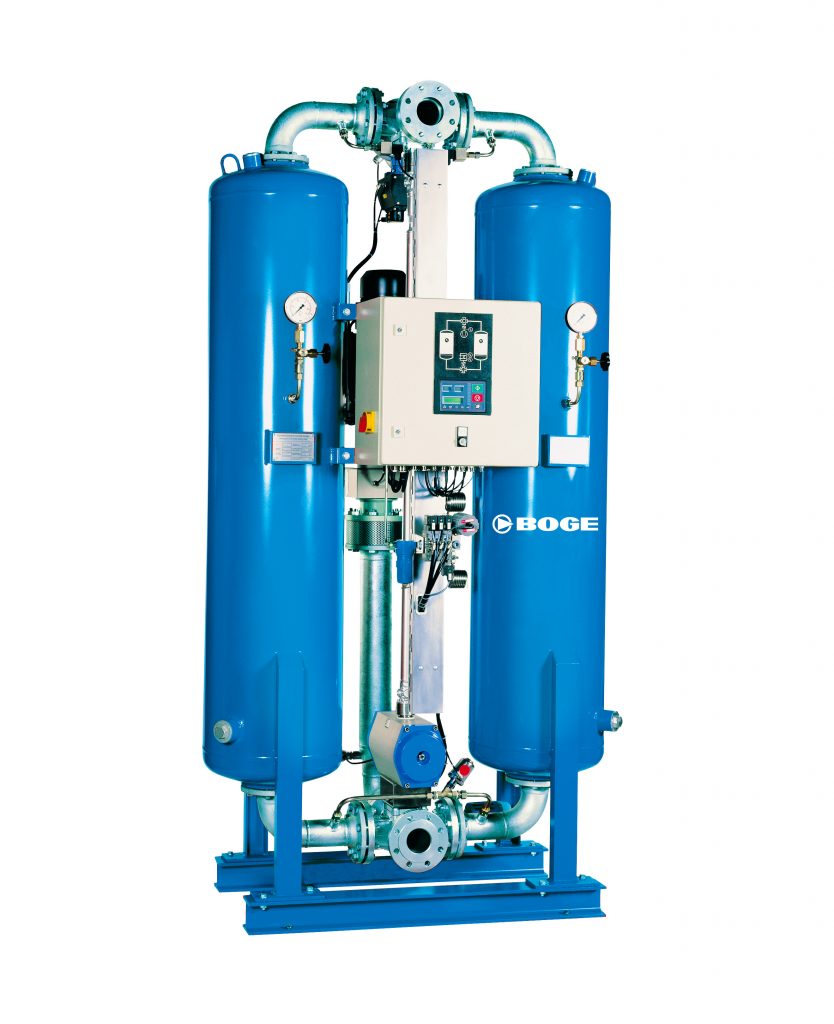 Boge Desiccant Dryers
HLD – Heatless Desiccant
Dryers (80 to 5100 SCFM)
HRD – Heated Desiccant
Dryers (70 to 4050 SCFM)
HBP – Blower Purge Desiccant
Dryers (260 to 4050 SCFM)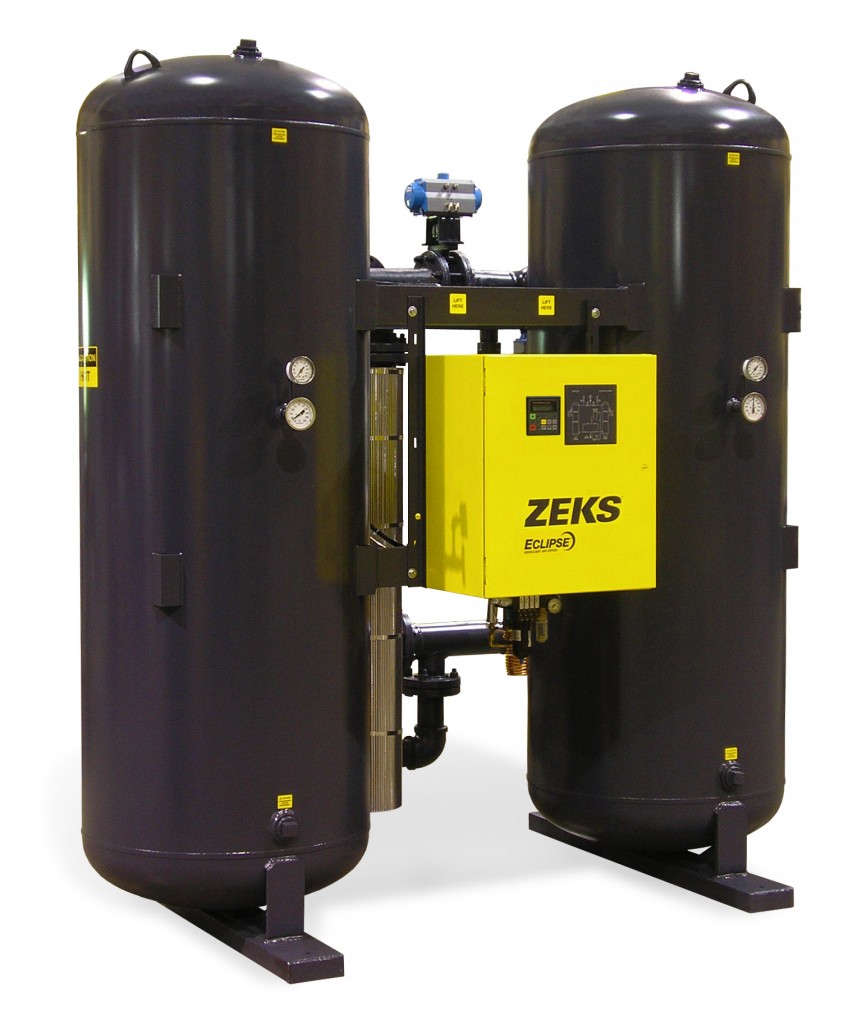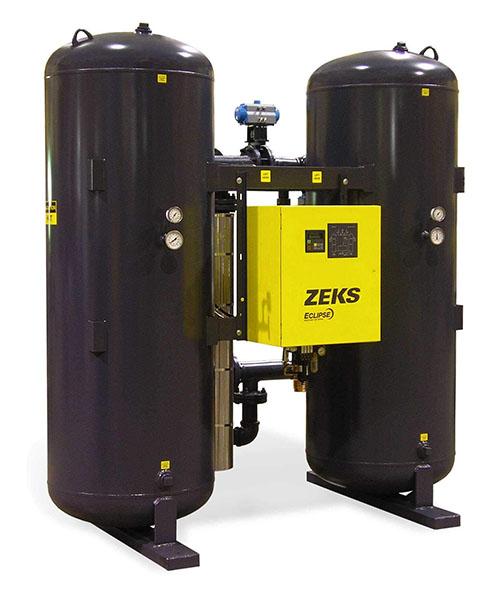 ZEKS Eclipse
ZPA – Heatless Dryers
(90 to 5000 SCFM)
ZHA – Heated Purge Dryers
(150 to 8000 SCFM)
ZBA – Blower Purge Dryers
(150 to 8000 SCFM)

ZEKS Hydronix
MPS – Heatless Desiccant
Dryers (20 to 60 SCFM)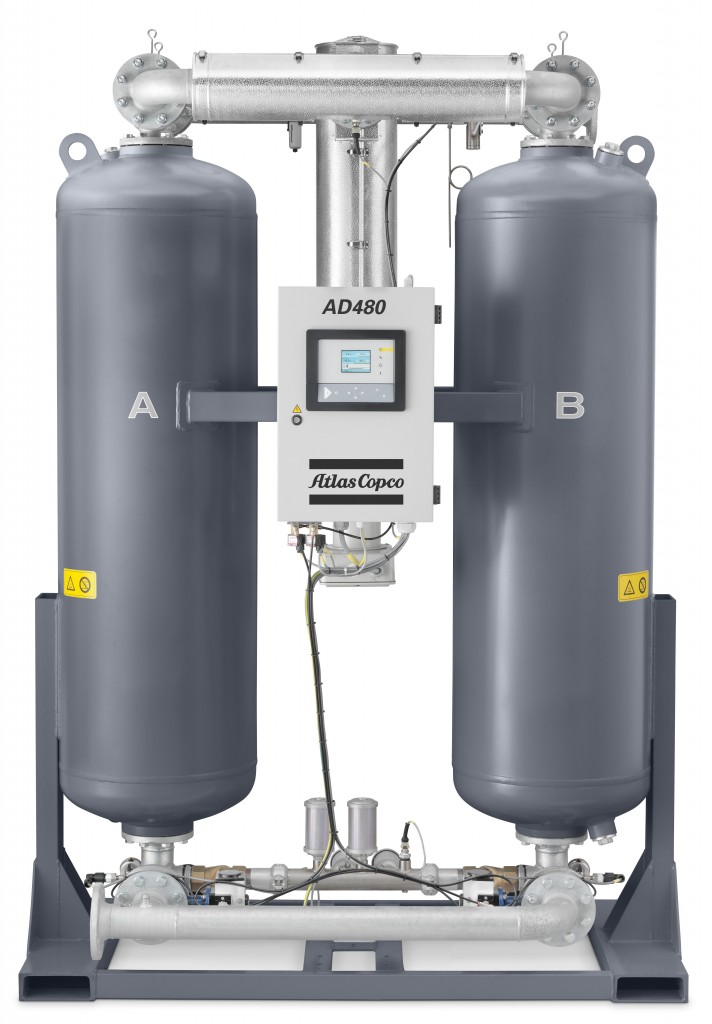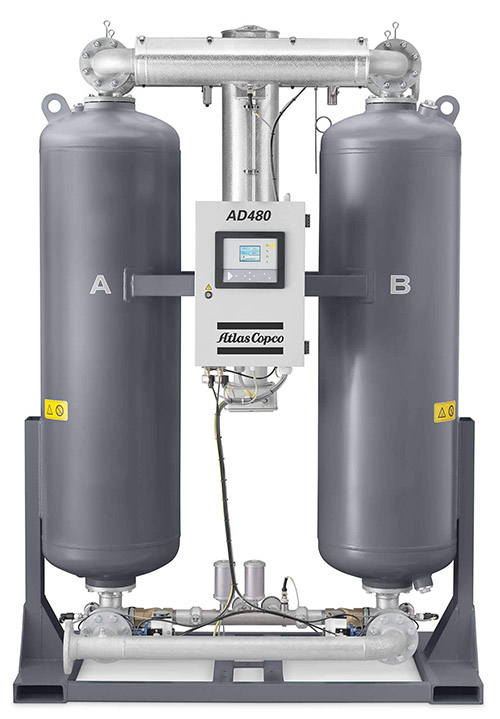 Atlas Copco Desiccant Dryers
CD – Heatless Desiccant Dryers
(3 to 3400 SCFM)
AD – Heated Purge Desiccant Dryers
(250 to 3400 SCFM)
BD – Blower Purge Desiccant Dryers
(200 to 6400 SCFM)
MD – Heat of Compression Desiccant Dryers
(Variable Flow & Dew Point)
ND – Heat of Compression Desiccant Dryers
(Variable Flow & Dew Point)
XD – Heat of Compression Desiccant Dryers
(1165 to 7600 SCFM)
Specialty Gas and Liquid Dryers
Some facilities generate gasses and liquids that are not common to typical manufacturing processes. For these situations, there are specialty gas dryers and specialty liquid dryers which the manufacturer designs specifically to safely remove these elements from the air.
Fluid Aire Dynamics offers a wide range of specialty dryers, designed for the removal of moisture from a variety of exotic gases and process liquids. These dryers are specially designed to meet a host of demanding customer applications.
Liquid Dryers
Aromatics
Benzene, Toluene, Xylene
Saturated Hydrocarbons
Propane, Butane, Pentane, Hexane
Unsaturated Hydrocarbons
Butadiene, Butene, Propylene-Propane Mixtures
Chlorinated Hydrocarbons
Methylene Chloride, Trichlorethylene, Trichlorethane
Refrigerants and Propellants
Freon 11, 12, 134a, 404A
Miscellaneous Liquids
Vinyl Chloride, Acetone, Tetrahydrofuran, Dimethyl-acetamide, Methyl-Ethyl-Ketone, Ethylene Dichloride, Normal Paraffins, Kerosene
Gas Dryers
Biogas Dryers
Carbon Dioxide Dryers
Hydrogen Dryers
Landfill Gas Dryers
Natural Gas Dryers
Breathing Air Purifiers
High quality air is of vital importance to industrial facilities, but nowhere is it as critical as in breathing air applications. The purity of breathing air is crucial to assure worker safety in a wide range of applications including tank cleaning, sand blasting, paint spray and many others. Fluid Aire Dynamics can solve these critical breathing air applications with products from top quality manufacturers.
Aircel
BHD Series (50 to 600 SCFM)
Atlas Copco
BAP Series (15 to 300 SCFM)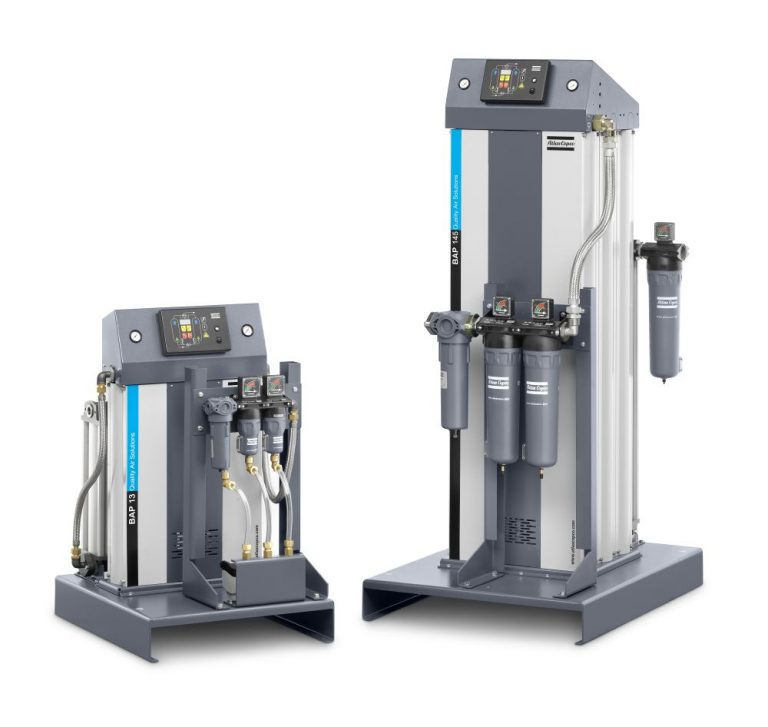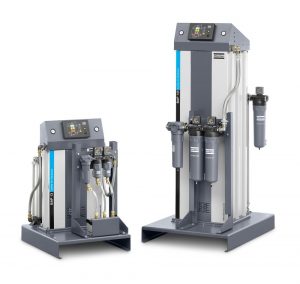 Membrane Dryers
Membrane dryers are dehumidifying dryers that work by depressing the dew point of incoming air. They are popular since they can operate continuously without electricity and are quiet and low-maintenance.
No longer relegated to simply point-of-use drying applications, membrane dryers are now available in capacities and efficiencies that rival desiccant dryers without the costly and time-consuming maintenance.  They are ideal for applications where the dew point requirement falls somewhere below +32°F (0°C) and -40°F/C.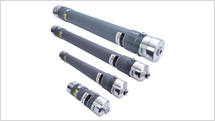 Fluid Aire Dynamics
TMD – Simple, Fixed
Purge Dryers
TME – Purge Saving Dryers
TDX – Complete, Field Expandable,
Cabinet Dryer Systems
TMD/EB – Simple, Pre-Packaged,
Wall or Floor Mount Filter & Dryer Packages
Deliquescent Dryers
Deliquescent dryers are very simple dryers and are also popular among businesses who are looking for an electricity-free, low-maintenance solution to compressed air-drying issues. You will often use them as natural gas or landfill gas dryers. They work by using a pressure vessel containing a special tablet that absorbs water vapor as it dissolves.


Van Air Systems
D Series – Single Tower Deliquescent Dryers
(7 to 16000 SCFM)
PLD Series – Natural Gas Dryers
(to 15000 SCFM)
Additional Equipment
Not content to offer just any product in a given category, Fluid Aire Dynamics carefully selects the manufacturers and brands that it represents. When it comes right down to it, the name on the box is not the one that most customers remember but rather the name of the company that sold it to them. As a result, the products that you will find in the product categories below are those that have proven to be reliable, efficient and cost effective for our customers and their critical application needs.
Select equipment category below for more information.