Breathing Air Purifiers
If you have been focusing on the quality of air when it comes to compressed air for product processing at your facility but have been neglecting the quality of the air your employees are actually breathing, you are committing a potentially grave oversight. Nothing is more important than the quality of the air your employees breathe on a daily basis, as without quality air, they may not be able to perform their jobs at an optimal level and may even face threats to their long-term health.
What Do Breathing Air Purifiers Do?
Quite simply, breathing air purifiers filter the air that flows through your facility, which your workers inhale. This makes sure any major contaminants in the air that may otherwise enter your employees' lungs end up trapped in the purifier for safe removal while your workers enjoy clean, healthy air.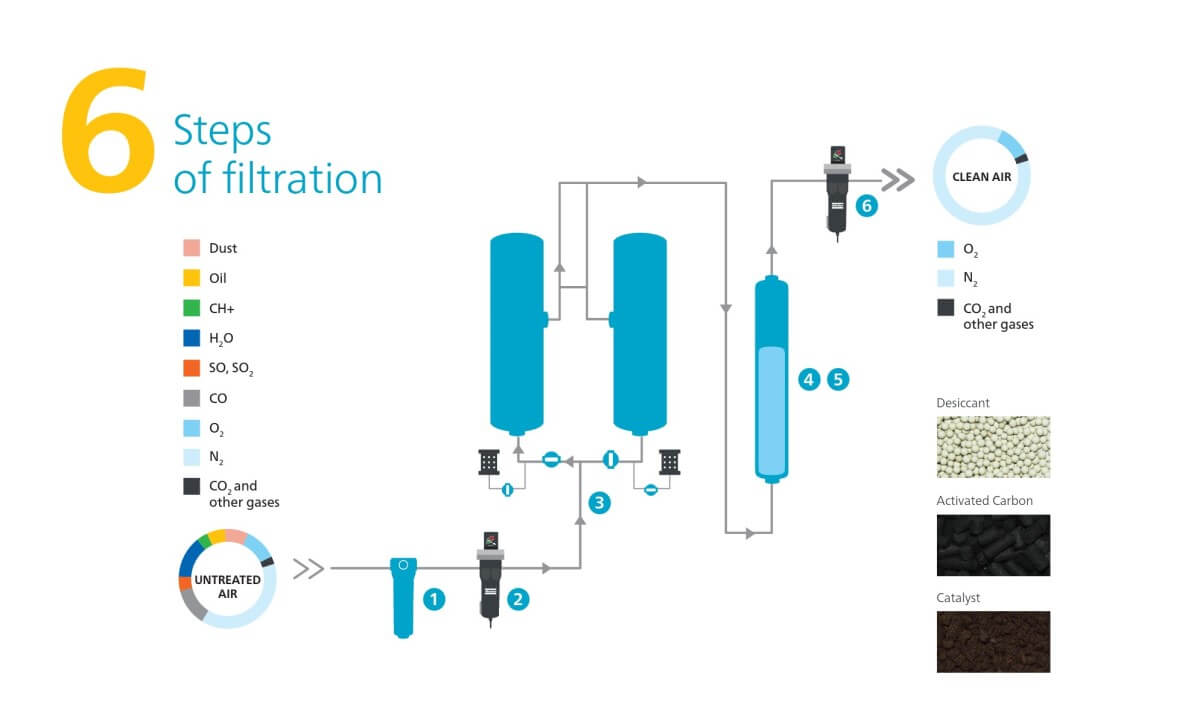 How Do Breathing Air Purifiers Work?
Breathing air purifiers can work with compressed air machines to clean the air and make it suitable for breathing through methods such as multiple levels of filtration and adsorption of contaminants using media like activated alumina, similar to the way a desiccant air dryer removes moisture to purify the air.
What Are Breathing Air Purifiers Used For?
Breathing air purifiers are commonly found in and are strongly recommended for manufacturing plants, factories and other industrial installations where contaminants can be easily released into the air through product processing or cleaning. This can include places where activities such as paint spraying, sandblasting and cleaning using harsh chemicals are taking place.
Trust Fluid Aire Dynamics for Breathing Air Purifier Installation, Service and Repair
Those who know Fluid Aire Dynamics know we understand the importance of safe, quality, pure air for industrial use. We distribute and service some of the most trusted, most reliable, most effective compressed air systems in the industry. That's why when it comes to breathing air purifiers, Fluid Aire Dynamics is the company to call.
You can be sure we put the same care into choosing breathing air purifiers to sell and service that we do into all our products. You'll find some of the top breathing air purifier brands here, including the Aircel BHD Series and the Atlas Copco BAP series. Our technicians have installed, repaired and provided maintenance for countless breathing air purifiers, and you can confidently put your breathing air purifier needs in our hands.
At Fluid Aire Dynamics, we have provided breathing air purifiers to multiple industries for a wide range of companies. If you do not have an adequate breathing air purifier or your breathing air purifier is not working properly, there is no time to waste. For guidance to find the right breathing air purifier for your business or to order yours or request service, call us at 610.913.9100 or contact us online today.