Air Filters
High-quality air filters are a part of any efficiently-run, safe and effective industrial facility. Titus filtration systems can keep the air quality in your facility high and work hand-in-hand with our other air and gas system products to help control the environment in your facility and protect your products.
Without the use of an efficient air-filtration system for your air dryers, your air compression equipment may actually end up harming your products. To get a better idea of how Titus Company compressed air filtration products can work for you, here is the information you need to know about how compressed air-line filters work.
How Do Air Filters Work?
Compressed air systems require clean air to function properly and provide air to applications that does not damage machinery. Properly functioning air filters consist of pre-filters that filter the wet, dirty air that enters the air dryer, and after filters, which filter the dry air as it leaves the dryer.
Particulate filters capture debris, oils and other coarse contaminants. The air then enters the coalescing filter, which gets rid of fine impurities like water or oil aerosols. After the air leaves the dryer, it goes through another particulate filter to make sure the air is totally clean.
What Types of Air Filters Are Used for Different Applications?
The Titus Company has air filters to suit any industrial application where you would use air compressors and air dryers, including military applications, energy industry applications, food and beverage applications, petrochemical applications and pharmaceutical applications. We have filters with the design to suit your particular industrial needs, including high-temperature filters, high-pressure filters and stainless-steel filters.
We also offer the best brands when it comes to air filters, from our own high-quality Titus filters to the Zeks air filter, the Atlas Copco air filter and more. For situations where very high water levels are present, you may wish to consider our mist eliminators, and for air compressors that must be oil-free or hydrocarbon-free, we offer activated carbon bed vapor filters.
If you are not sure which air filter or air filters you need for your commercial grade air compressor system, The Titus Company is happy to help. Contact us now for more information on our air filters and one of our friendly and professional experts can help you determine which one is right for you and your business.
Compressed Air-Line Filters
The quality of a compressed air system is largely determined by the quality of the filtration solution selected.  The Titus Company is proud to offer the best filtration products available in the marketplace.
Titus
THF Series (20 to 16,100 SCFM)
High Temperature Filters (15 to 1600 SCFM)
High Pressure Filters (94 to 1882 SCFM)
Stainless Steel Filters (60 to 2000 SCFM)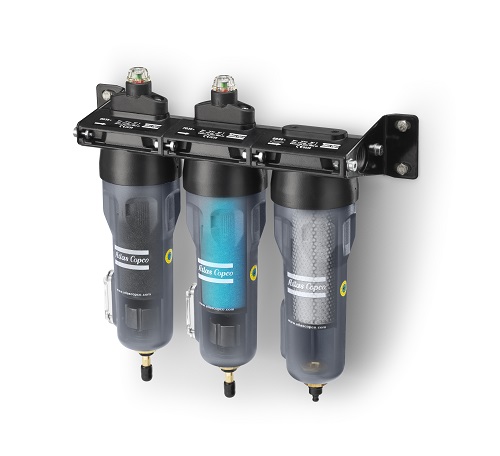 Atlas Copco
DD/PD Series Air Filters
(21 to 16,951 SCFM)
QD Series Air Filters
(21 to 7628 SCFM)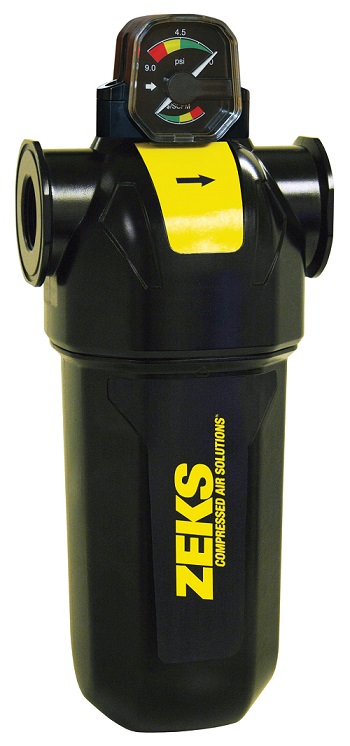 ZEKS
ZTF Series Air Filters (15 to 1600 SCFM)
ZFF Series Air Filters (1800 to 13,200 SCFM)
ZFC Series Air Filters (22 to 1600 SCFM)
Mist Eliminators
In applications where higher levels of condensed oil or water may be present, mist eliminators offer a level of contaminant-holding capacity unmatched by standard cartridge-type coalescing filters.
Mist eliminators can remove liquid from gas streams through a variety of methods, the most popular being a knitted wire mesh which captures the droplets of mist as the air passes through it. Mist eliminators may also use stacked, corrugated plates (vane mist eliminators) or a fiber bed. Fiber beds are effective for very fine mist droplets but can accommodate lower flow than kitted wire or vane eliminators. Your Titus Company specialist can help you determine which mist eliminator is right for your application.
Atlas Copco
MLME Series (85 to 17,500 SCFM)
Van Air
VME Series (125 to 10000 SCFM)
ZEKS
HDF Series (125 to 8000 SCFM)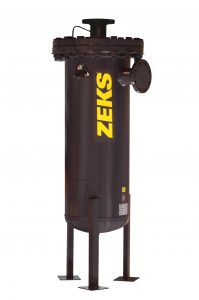 Carbon Bed Oil Vapor Filters
For applications requiring virtually oil-free or hydrocarbon free compressed air, there is no better solution than a bed of activated carbon.
Aircel
AKC Series (10 to 5000 SCFM)
Atlas Copco
QDT Series Air Filters (45 to 655 SCFM)

Additional Equipment
Not content to offer just any product in a given category, The Titus Company carefully selects the manufacturers and brands that it represents. When it comes right down to it, the name on the box is not the one that most customers remember but rather the name of the company that sold it to them. As a result, the products that you will find in the product categories below are those that have proven to be reliable, efficient and cost-effective for our customers and their critical application needs.
Select equipment category below for more information.