Industrial Pumps & Pumping Systems
You will find industrial pumping systems across businesses in nearly every industry. Industrial pumps are a requirement for moving large amounts of fluid into, out of or through your facility. This means if your factory process includes large quantities of water, oil, chemicals or food, you need a good industrial pumping system with quality heavy-duty pumps. You may also require a pumping system to evacuate wastewater, oil, sludge or other unwanted process by-products from your system. Whatever your industrial pumping system needs are, it starts with reliable pumps.
Why Choose The Titus Company for Industrial Pump Solutions?
At The Titus Company, we have been proving our expertise in providing industrial processing solutions since 1991. From compressed air systems and accessories to air dryers, vacuums, chillers and more, you can always count on The Titus Company to bring you the best possible brands and provide you with the highest level of service. Our team knows industrial process solutions. We know what works and what doesn't for your facility, and we can help you find and install the right products to optimize efficiency for your company.
Across a wide range of industries in eastern Pennsylvania, throughout the East Coast and beyond, The Titus Company has always been there to answer the call, providing solutions for the automotive industry, metalworking, HVAC, food processing, pharmaceuticals, the military and many more. If you need great industrial piping solutions, you want The Titus Company. For a free estimate or to learn more, call us at 610.913.9100 or contact us online now.
Pumps
The Titus Company is proud to offer a complete line of engineered pumps and pump products for the water, wastewater, commercial, municipal, energy and power industries.
Types of Pumps
The most commonly found pump that industries use in their applications is the centrifugal pump. This is a pump that contains a motor with a rotating impeller that transfers mechanical energy to the fluid going through the pump. The increase in fluid pressure drives the fluid through your pipe system, allowing the fluid to quickly and efficiently get to wherever in or around your facility you need the fluid to go.
If your pumps are not functioning properly, it could cause you to have to shut down your entire operation while you correct the problem, which is why it is so important that you start with the right industrial pumps.
The Titus Company offers a complete line of quality engineered pumps and pump products for your commercial, municipal, water, wastewater, energy or power company needs. Our offerings from Ebara include:
CDU Series End Suction Centrifugal Pumps
2CDU Series 2-Stage End Suction Centrifugal Pumps
DWO Series Open Impeller End Suction Centrifugal Pumps
JEU Series Self-Priming Jet Pumps
EVMU Series Vertical Multistage Pumps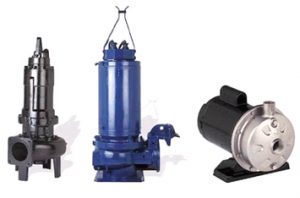 General Air Products / Ebara
CDU Series End Suction
Centrifugal Pumps (up to 3 HP)
2CDU Series 2-Stage End Suction
Centrifugal Pumps (up to 5 HP)
DWO Series Open Impeller End Suction Centrifugal Pumps (1.5 to 4 HP)
JEU Series Self-Priming Jet Pumps (up to 1.5 HP)
EVMU Series Vertical Multistage Pumps (up to 50 HP)
Pumping Stations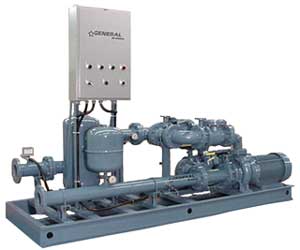 The best way to manage your company's pumping needs is with professional pumping stations. If you have an extensive industrial pumping system, your fluid may lose pressure as it travels the length of your pipes. Strategically placed pumping stations create higher through-put capacity, adding pressure when needed to make sure your fluid can travel the full pipeline promptly. At The Titus Company, we have a custom pumping station solution for you regardless of your industry or commercial application.
Additional Equipment
Not content to offer just any product in a given category, The Titus Company carefully selects the manufacturers and brands that it represents. When it comes right down to it, the name on the box is not the one that most customers remember but rather the name of the company that sold it to them. As a result, the products that you will find in the product categories below are those that have proven to be reliable, efficient and cost-effective for our customers and their critical application needs.
Select equipment category below for more information.