CDR Pompe Magnetic Drive Metallic Centrifugal Pumps
AISI 316 is a durable, medical-grade stainless steel that remains resilient even when working with highly corrosive, aggressive or flammable materials. It's engineered to resist chemical damage, making it useful for equipment used in industries like pharmaceuticals, refining and other sectors that involve complex chemical reactions.
To cater to these industries, Fluid Aire Dynamics has partnered with CDR Pompe to provide a line of safe, effective and efficient magnetic drive pumps that excel in harsh industrial settings. With two series to explore and different configurations in each, any business should be able to find suitable high-efficiency metallic pumps that fit its requirements.
Standard Features
The precise specifications and features of these high-efficiency process magnetic drive centrifugal pumps vary by model, but the following advantages are consistent across the line:
Magnetic Drive Concept
Where mechanical seal pumps have the fluid being transported in direct contact with the motor shaft, magnetic drive pumps include an isolation shell to separate the motor and the impeller, each of which contains a magnet. When the motor shaft spins, magnetic attraction forces the impeller to move as well, pushing media through the pump. This design is highly resistant to leakage, making it ideal for applications involving dangerous or expensive fluids.
Casing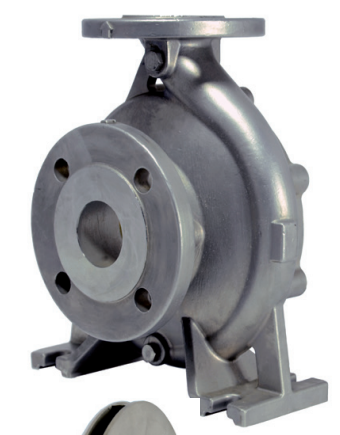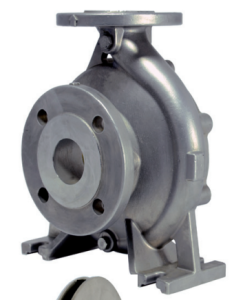 The casing on these metallic magnetic drive pumps comes with an extra 3 millimeters (at minimum) of material for protection against erosion and corrosion. The standard casing drain allows for fast, easy draining. We also have heating and cooling jackets available for thermoregulation processes.
Isolation Shell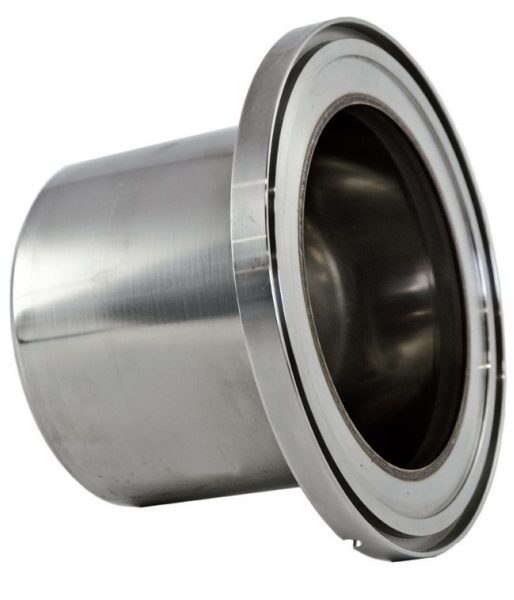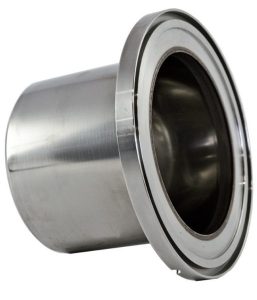 This isolation shell is self-venting and completely drainable. The bottom rib creates a vortex breaker, extending the lifetime of the shell and the time between replacements.
A temperature probe also comes standard with your pump so you can manage the temperature of the contents.
Paint Coating
Any metallic surfaces on these high-efficiency pumps come covered by three 240-micron paint layers to protect the unit from abrasions and corrosion. The paint layers include:
Epoxy zinc paint
Epoxy amidic modified vinyl
Epoxy enamel paint or aliphatic acrylic polyurethane
If you prefer, we can also provide EN ISO 12944-5 C5M and C5I paint grades.
CDR Pompe UTS/UTS-B Series
The models in this series have excellent thermoregulation properties. They can handle temperatures from minus 100 C to 300 C (minus 148 F to 572 F) and work well in H24 services. Properties of this series include:
Magnetic drive shaft seal
Closed impeller
Horizontal design with single-stage process
Long-coupled (UTS model) and close-coupled (UTS-B model) designs
AISI 316 impeller and casing (1.4408)
ISO 5199 adherence
EN 22858-ISO 2858 drive design
UTS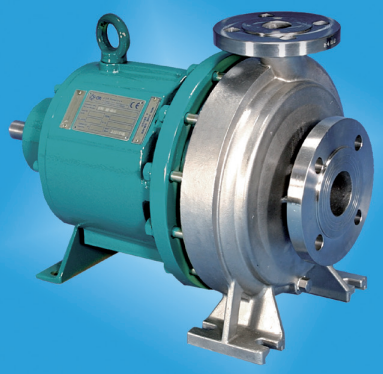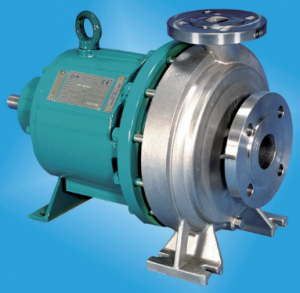 With this model, you'll have an end-suction pump using the back pull-out build. The durable bearing housing and a flexible coupling ensure a long-lasting product.
UTS-B

The UTS-B model includes a standard motor and close-coupled design to support different executions.
Versatility
When safety comes first, the UTS/UTS-B series is the place to start. These pumps are built to handle hazardous, toxic, aggressive liquids that cannot be at risk of leaking into the atmosphere. For optimal longevity, UTS-B pumps are recommended for use with clean or only slightly contaminated liquids of low viscosity.
Design Durability
When used properly, your high-efficiency pump should last through many operations thanks to:
Stainless steel build: The majority of this pump is constructed using stainless steel, which affords it excellent resistance to chemical and heat exposure.
AISI 316 bearings: Like much of the pump, the bearing brackets are oil-lubricated and made from this stainless steel alloy for smooth running even under heavy load
Hydraulic design: This series follows the UCS series design, which caters to the highest industry standards available.
Features
Aside from the magnetic drive concept, these horizontal single-stage pumps from CDR Pompe include numerous design elements that make them excellent for use in industrial settings:
Impeller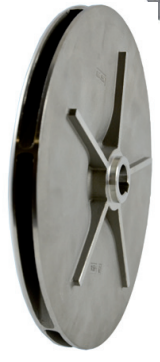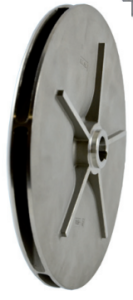 This impeller will provide you with extraordinary strength and durability. The closed design cast in AISI 316 makes it more efficient, and using typical back vanes gives the pump better pressure in the seal chamber while reducing axial thrust.
Bushing Support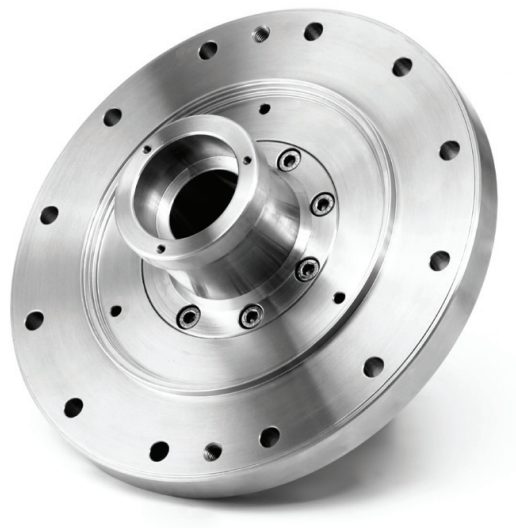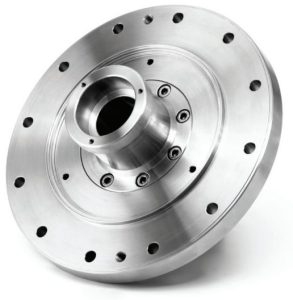 In many pumps, bushing rotation is a source of heat production. In heated operations, this can cause the pump to overheat, while in processes involving cold, it can affect the temperature of the media in the pump. With this series' bushing support, internal flushing holes eliminate much of this heat generation. The seat and the flange of the support are connected with washers and screws, further strengthening the design.
Cartridge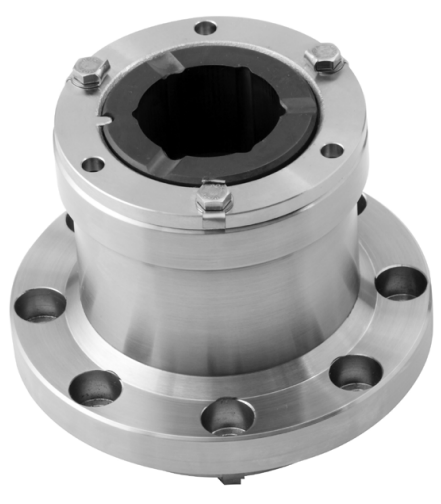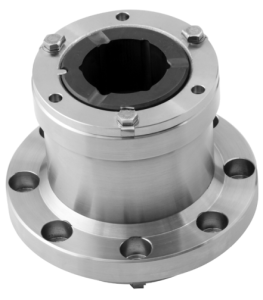 The cartridge in your pump sits inside the bushing support. You'll only need to replace it if the bushings or seat suffer damage, saving you time during assembly while helping you keep your support flange in working order.
Bushings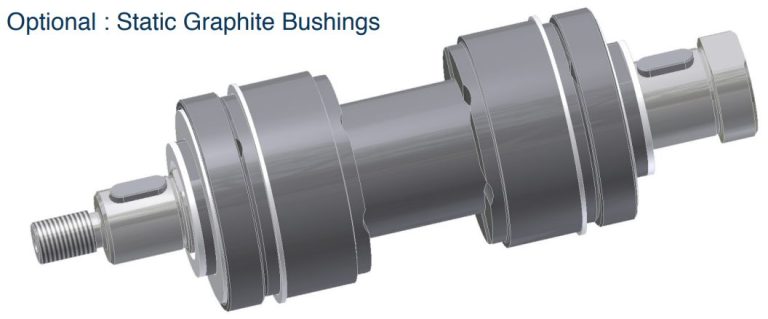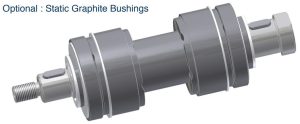 You'll find both rotating and static bushings near the metallic shaft. They support the liquid load together, allowing them to wear at the same rate over a longer period of time. Additionally, you can choose to add static graphite bushings to your pump.
Extreme Temperature Executions
Both the outer and inner magnets on the pump include permanent neodymium iron boron (NdFeB) and samarium cobalt (SmCo) for handling temperatures from minus 110 C up to 180 C and 300 C, respectively. For more extreme conditions, we also have special bushings and magnets for your needs.
3D View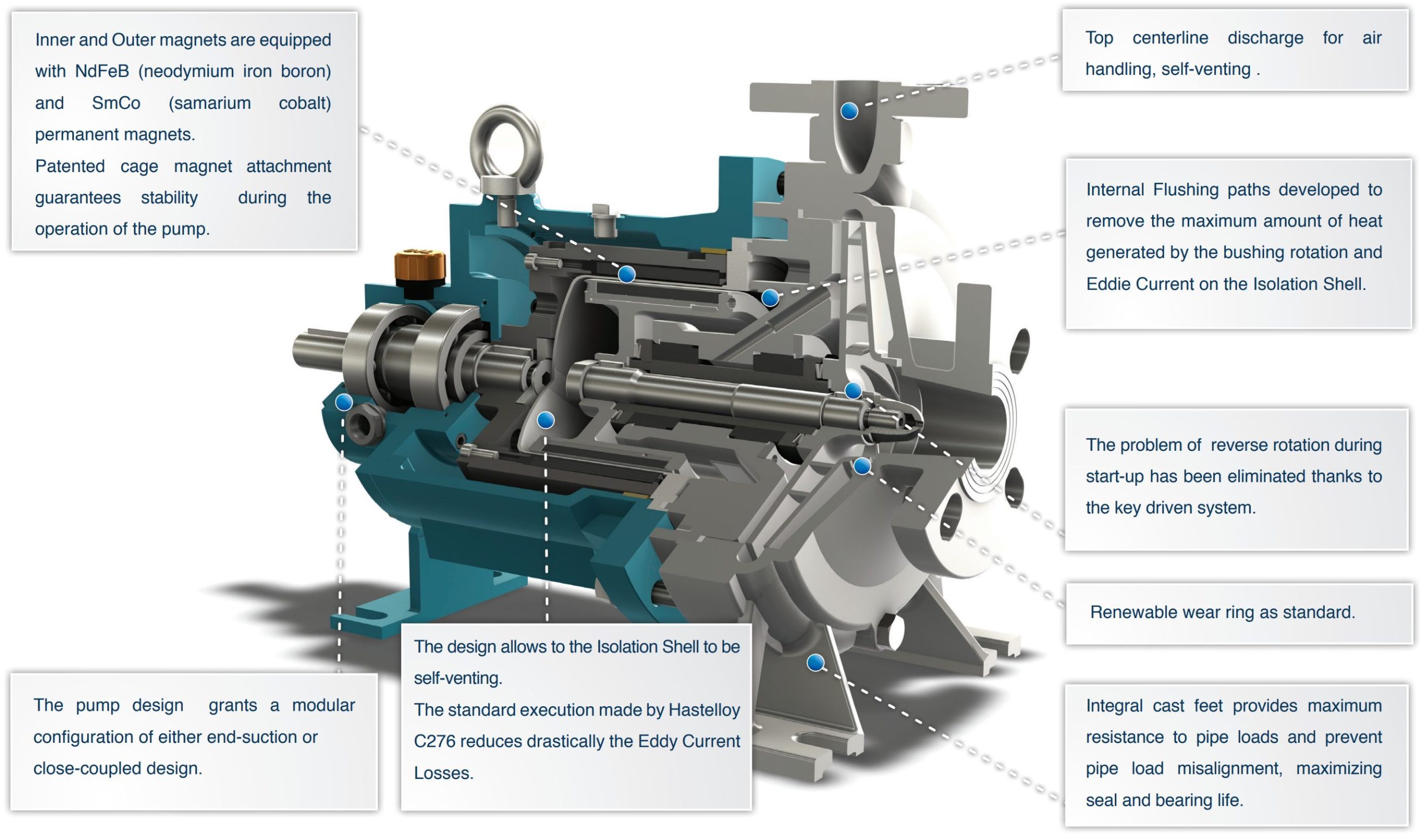 To get a better understanding of how these parts work together, review this 3D representation of the pump for depictions of the following:
Magnets: Both outer and inner magnets have permanent, temperature-resistant coatings for protection. There's also a patented cage magnet that provides better stability during operation.
Pump: The modular design allows for both close-coupled and end-suction use.
Isolation shell: This self-venting shell created by Hastelloy C276 minimizes eddy current losses.
Centerline discharge: Provides self-venting ability and easily accessible air handling.
Internal flushing paths: Ensures as much heat as possible gets displaced away from the eddy current and bushing rotation.
Key-driven system: Eliminates reverse rotation on pump startup.
Cast feet: Gives your pump extra resistance against misalignments and heavy pipe loads, resulting in a longer life span.
Wear ring: The standard ring is renewable.
Applications
While the UTS/UTS-B Series is an excellent choice for any industry that uses pumps, it's been specially made to comply with the stringent standards set forth by many chemical processing and medical manufacturing facilities to ensure that it truly fits all your needs. Many of our customers work in these industries:
Chemical and fine chemical processing
Fiber processing
Refining
Pharmaceutical manufacturing
CDR Pompe ETS Series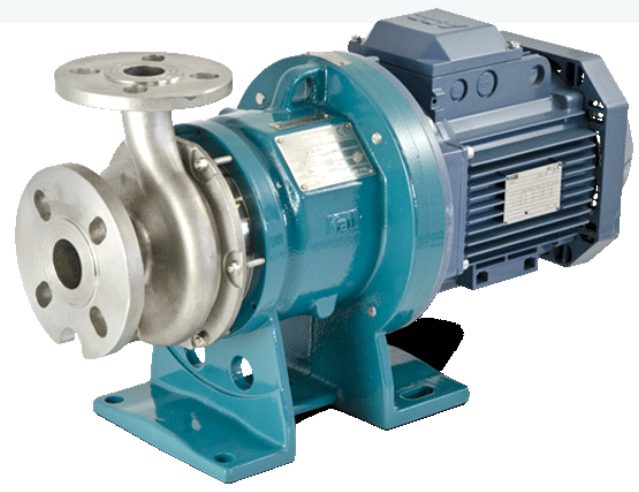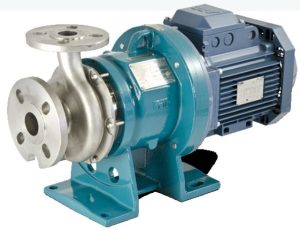 For discontinuous use, consider the ETS series. This monobloc magnetic drive centrifugal pump is also made with AISI 316 stainless steel and provides better value for use in applications that don't require constant pumping. You'll still get:
A magnetic shaft seal
A closed impeller
AISI 316 casing and impeller
Close-coupled executions
Sub-EN 22858 and ISO 2858 drive design
UNI 1092-2 (ISO 7005-2) PN16RF drilling slotted ANSI 150 RF flanges
ETS 30 Series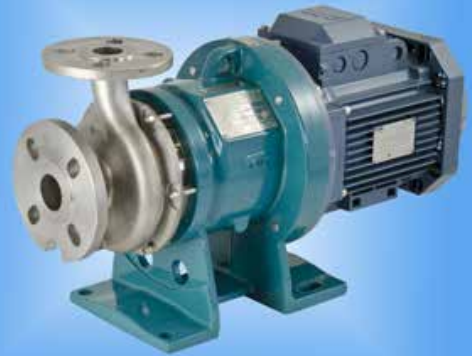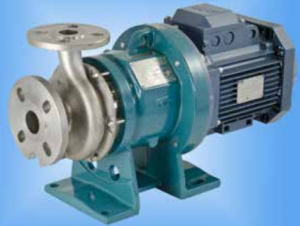 This long-coupled pump model allows for back pull-out for service without disrupting alignment. The versatile coupling and durable bearing housing will ensure it fits a variety of applications.
ETS-50 Series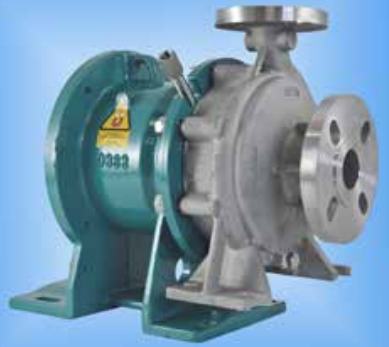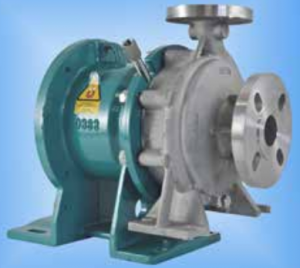 In this single-stage centrifugal pump model, you'll appreciate a close-coupled design and standard motor for a compact form factor.
Versatility and Reliability
These pumps can handle most clean or slightly dirty low-viscosity liquids, including corrosive and toxic substances.
Mag Drive Concept Design
Like the UTS/UTS-B Series, the ETS Series works on the magnetic drive concept, consisting of two magnets in the isolation shell. The ETS Series includes additional value by utilizing a modular design, which means models in this series have interchangeable parts. You'll be able to keep wear parts for multiple pumps on hand with minimal investment.
Features
This series also includes some specialized features to provide excellent pumping capability:
Impeller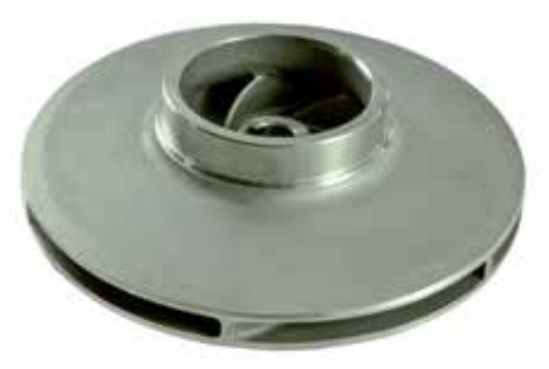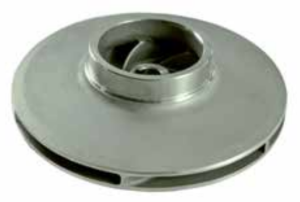 This impeller is a single piece of AISI 316 for exceptional longevity and resilience. With its key-driven operation, the challenge of startup reverse rotation no longer exists.
Inner Magnet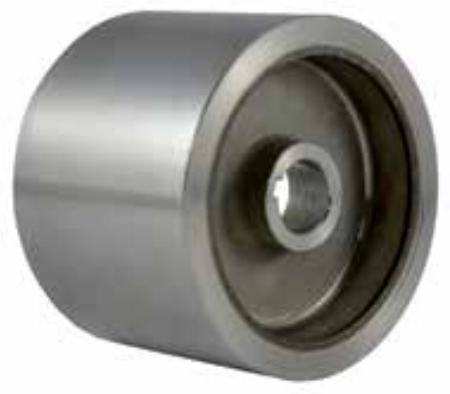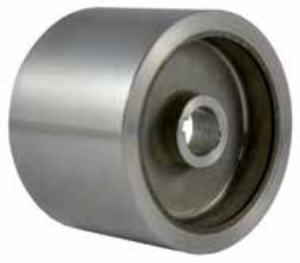 This magnet is completely encapsulated by AISI 316 steel and connected to the impeller through a key, locking tab washer and dome nut.
Bushings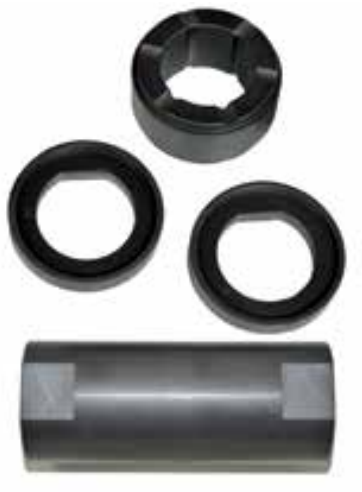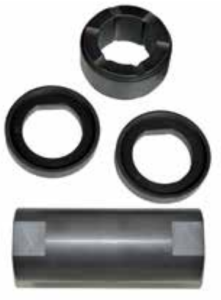 With both static and rotating bushings in the pump to manage axial forces, these bushings offer durable ruggedness in heavy-duty operations. The bushings are also supported by additional compensating rings for maximum security.
Bushing Support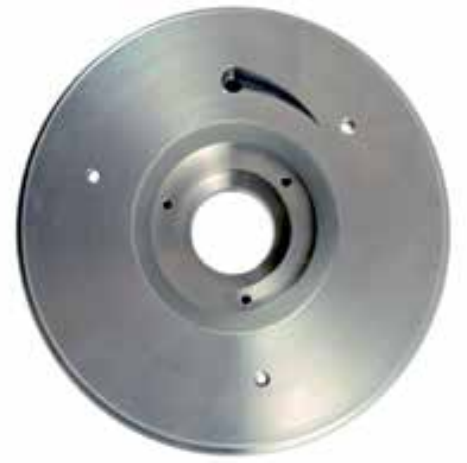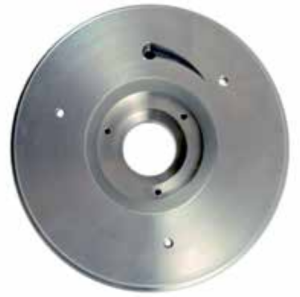 The bushing support includes a locking flange to keep static bushing rotation from disrupting the flow of liquid and enhance performance during heavy use.
3D View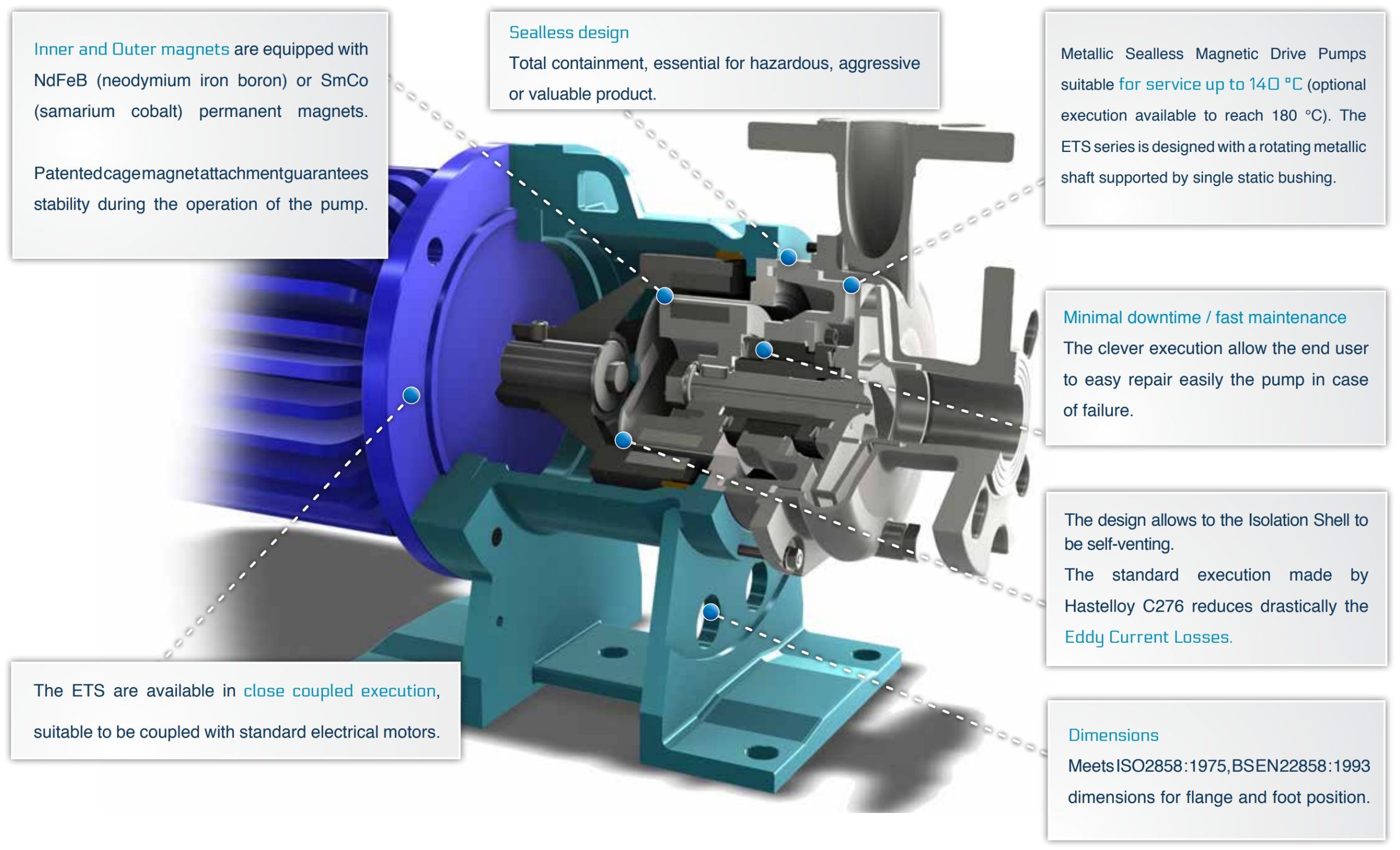 The three-dimensional view of this series gives you a better look at the following elements:
Magnets: ETS Series magnets are coated for thermodynamic protection, ensuring proper use of the pump and stability while in operation.
Execution: Get it in close-coupled configuration to pair it with normal electrical motors. It's designed for minimal downtime and fast, easy repairs should it incur damage.
Design: Everything stays sealed inside, even the most corrosive materials. The sealless design ensures that valuable product or toxins won't leak into the atmosphere. The pump is prepared to handle liquids up to 140 C or 180 C with optional additions.
Metallic magnetic drive system: The shaft rotates to provide the best delivery of liquids and is supported by one static bushing for the most flexibility.
Isolation shell: The shell is made of Hastelloy C276 and greatly reduces eddy current losses thanks to a self-venting design.
Standards for the dimensions are as follows:
Meets ISO 2858: 1975
BS EN 22858: 1993 dimensions for flange and foot position
Applications
The UTS/UTS-B Series and the ETS Series share many features and design elements that make them useful for similar applications. The main consideration in choosing between the two is whether you need a pump for constant or occasional use. The ETS Series is better for the latter, which is why you'll often find it in facilities in these industries:
Basic and batch chemical processing
Thermoregulation
Pharmaceutical production
Detergent processing
Find High-Efficiency Metallic Magnetic Drive Pumps From Fluid Aire Dynamics
When your business needs a new pump, Fluid Aire Dynamics will be there. Our specialists are knowledgeable in new installations, repairs, maintenance, replacements and emergency services, so once you choose us to handle your magnetic drive centrifugal pumps, you'll always have a reliable provider.
We've served all kinds of industries throughout Pennsylvania, Maryland, Delaware, New Jersey, New York and Northern Virginia. Make your business the next on our list. Reach out to our team today, and we'll be in contact within 24-48 business hours.
UTS Series Technical Specifications
I° FRAME
II° FRAME
Performances 2900 rpm
Q max = 80 m3/h -> H max = 65 mcl
Q max = 230 m3/h -> H max = 95 mcl
Electric Motors
• UTS-B : 0.75 kW (motor size 80) -> 18.5 kW (motor size 160)
• UTS : 0.75 kW (motor size 80) -> 18.5 kW (motor size 160)
• UTS-B : 1,1 kW (motor size 80) -> 18.5 kW (motor size 160)
• UTS : 1,1 kW (motor size 80) -> 55 kW (motor size 250)
Temperature range

• UTS-B : -40 °C* -> +180 °C
• UTS : -40 °C* -> +300 °C
* -100 °C special execution

• UTS-B : -40 °C* -> +180 °C
• UTS : -40 °C* -> +300 °C
* -100 °C special execution
Allowable Pressure Range

• UTS series 125/160 : 16 bar (20 °C)
• UTS series 200 : 16 bar (20 °C)
• UTS series 160 : 16 bar (20 °C)
• UTS series 200 /250 : 16 bar (20 °C)

Flange Connections
• UNI 1092-1 / ISO 7005-1 PN 16, type B
• upon request, drilling slotted to match ANSI 150

• UNI 1092-1 / ISO 7005-1 PN 16, type B
• upon request, drilling slotted to match ANSI 150
Viscosity
min : 1cSt - max : 100 cSt

min : 1cSt - max : 100 cSt
Allowable Solids
• Max concentration 2 % by weight
• Max particle size 0,15 mm
• Max concentration 2 % by weight
• Max particle size 0,15 mm
Product Catalogs & Spec Sheet Downloads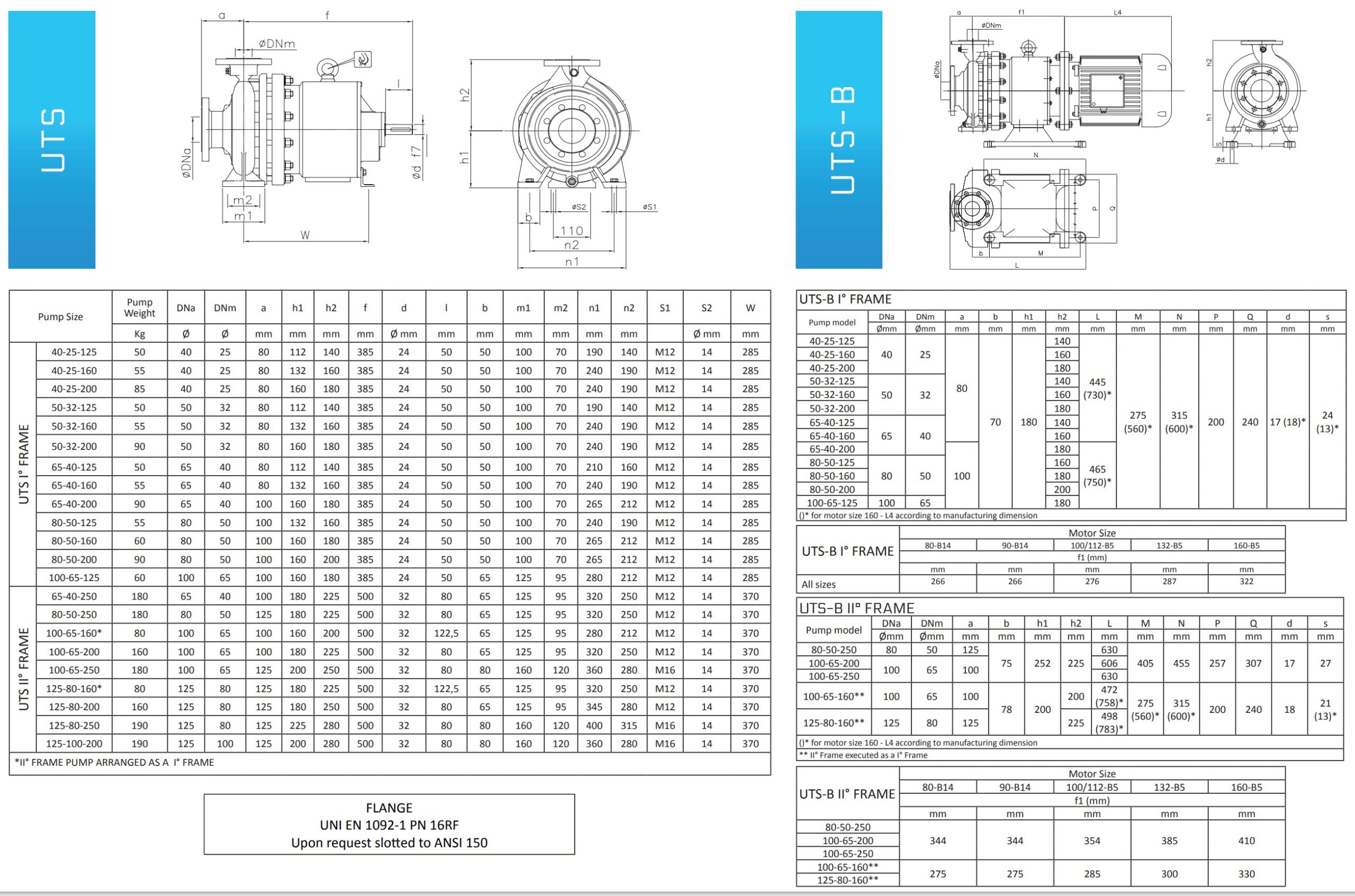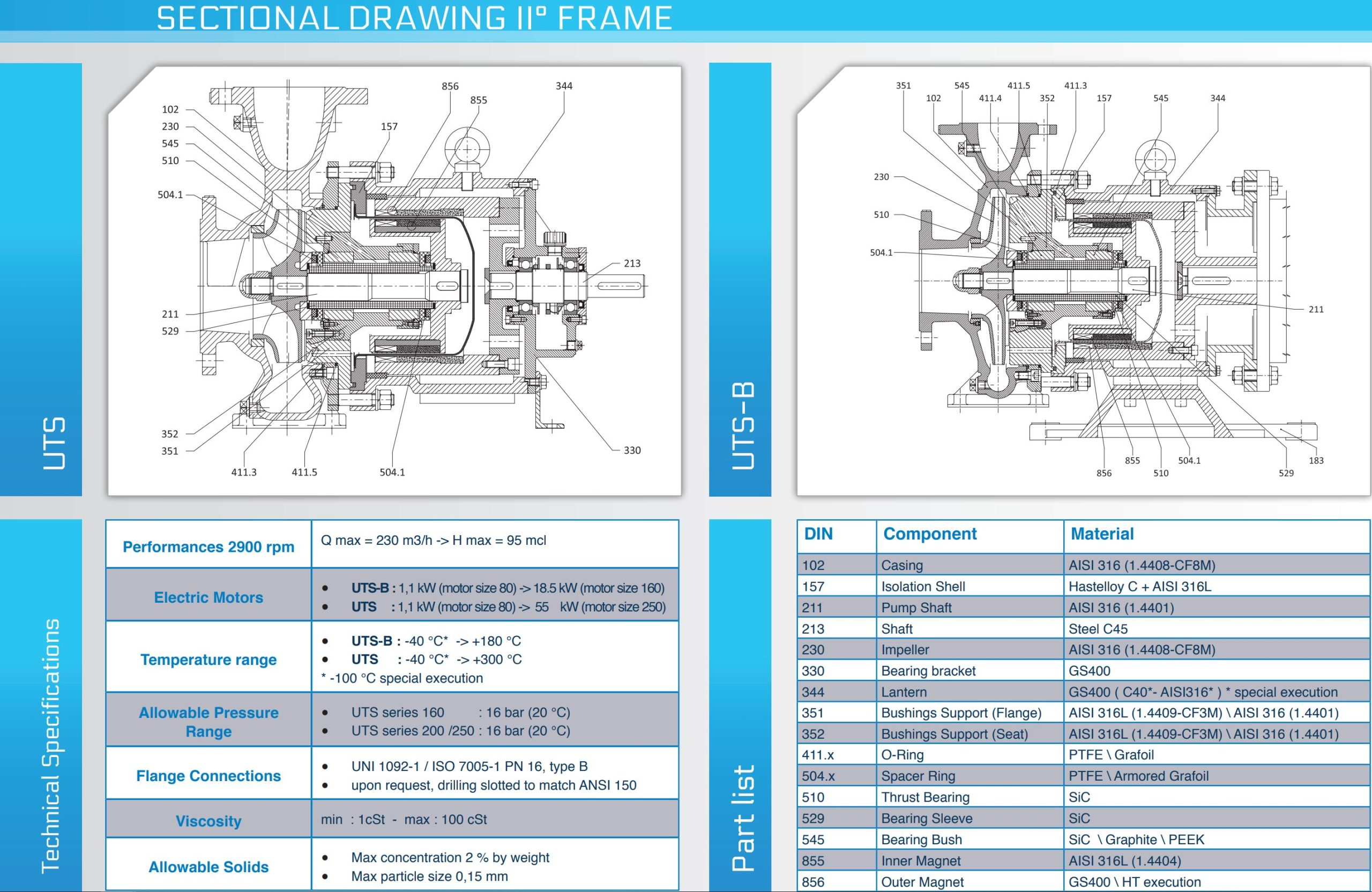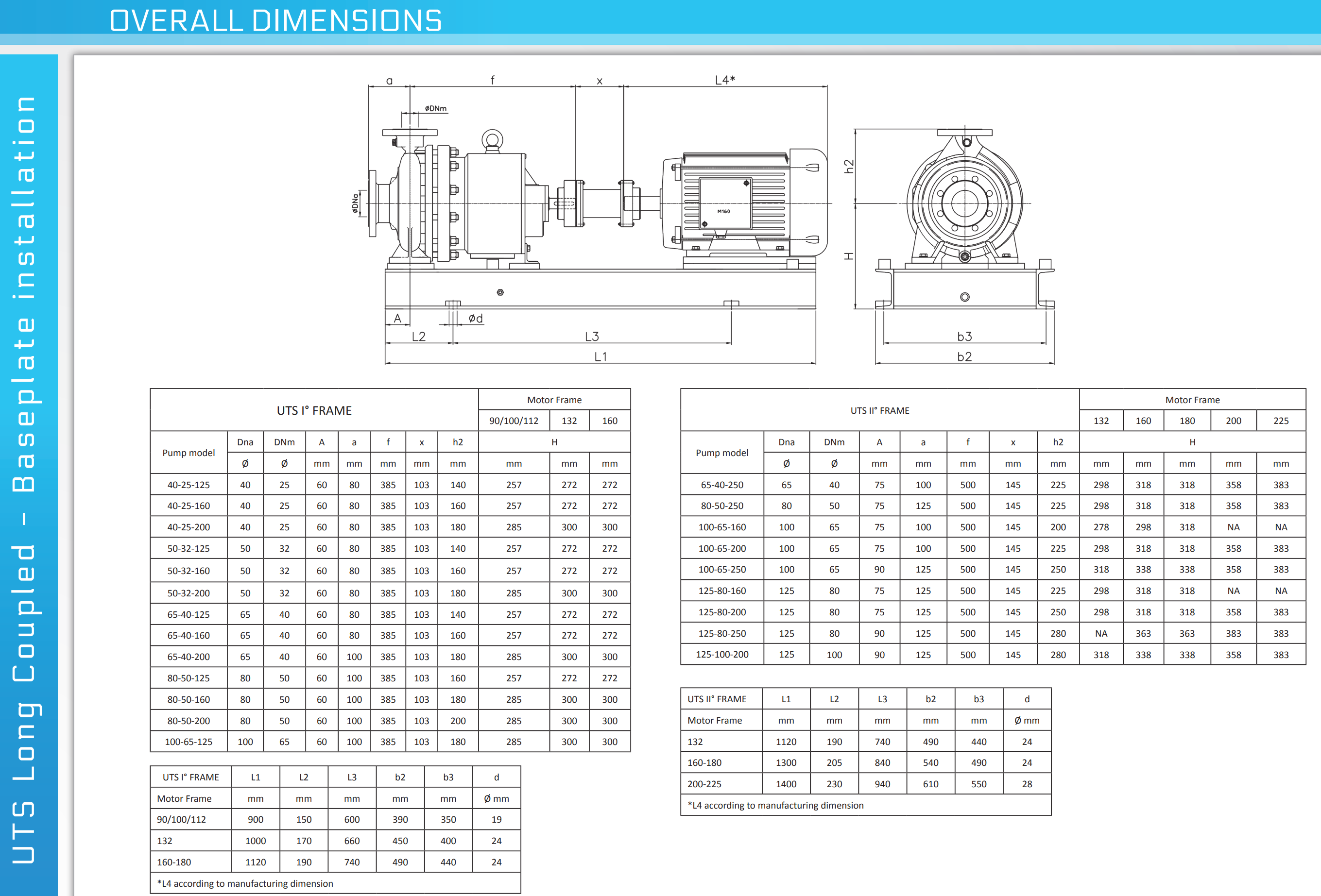 ETS Series Technical Specifications
Performances 2900 rpm
Q max = 24 m3/h -> H max = 38 mcl
Electric Motors
0.75 kW (motor size 80) -> 7,5 kW (motor size 132)
Temperature range
-30 °C -> +140 °C (as option -60 °C -> +180 °C)

Allowable Pressure Range

• ETS 30/40 : 6 bar (20°C)
• ETS 50/70 : 16 bar (20°C)
Suction / Delivery
• ETS 30 : DN32/DN25 ETS 40 : DN40/DN32
• ETS 50 : DN40/DN25 ETS 70 : DN50/DN32

Connections
• ETS 30/40 Flanged ISO 1092-1 PN10RF slotted ANSI 150 RF
• ETS 50/70 Flanged ISO 1092-1 PN16RF slotted ANSI 150 RF

Viscosity
1cSt min - 100 cSt max
Allowable Solids
- Max concentration 2 % by weight
- Max particle size 0,10 mm
Product Catalogs & Spec Sheet Downloads