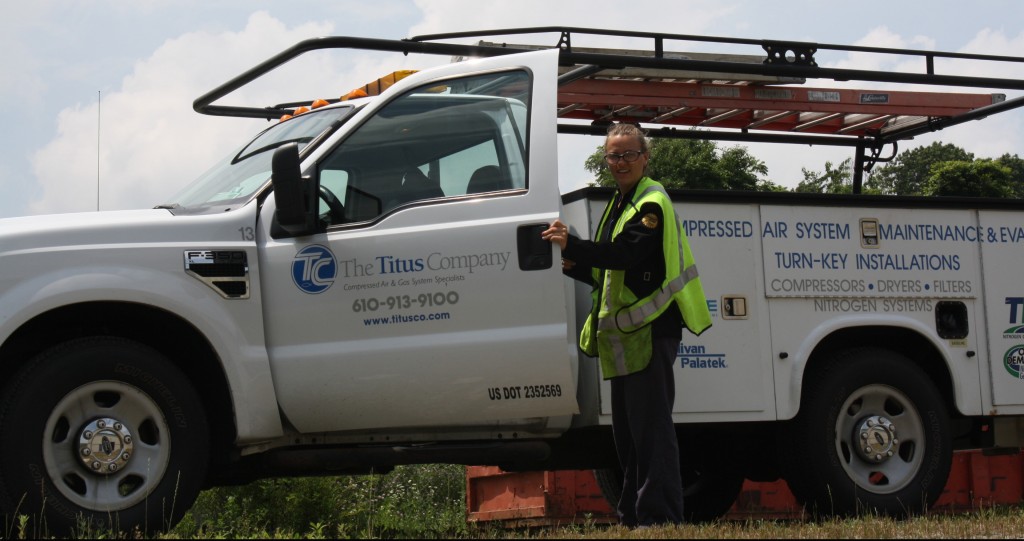 24-Hour Emergency Air Compressor Maintenance
Air compressors have become a vital piece of equipment for operations in countless industries. These impressive machines take input air and pressurize it to fill a much smaller volume. The compressed air is then used for a variety of applications like powering pneumatic tools and sprayers.
Of course, any equipment with moving parts will eventually incur wear that could lead to a malfunction. When a breakdown occurs during your workday, every minute of downtime could cause production delays and cost you money. In these situations, restoring your equipment's function is crucial.
That's why The Titus Company offers 24/7 emergency air compressor repair services to get you back up and running as soon as possible.
24-Hour Emergency Service for Your Air Compressor Needs
The Titus Company's 24/7 emergency compressor repair and maintenance services can help find solutions to any of your industrial air compressor issues, from the most complicated to the most common.
Air Compressors That Won't Start
If you find that your air compressor won't start, don't panic! Give The Titus Company a call for quick, courteous field service. Our technicians will run through a checklist of potential issues to quickly identify the problem and work toward finding a solution.
Water in Your Air Compressor Lines
All air contains water vapor, but once it's pressurized, it releases the vapors, which then condense back into a liquid inside your compressor. This water can cause corrosion and rust that can damage your air compressor and the tools you hook up to it. It can also cause issues if the water freezes, blocking filters and intakes and cracking pipes.
We can quickly identify where the water is located in your system, repair any damage and offer solutions that will prevent future condensation from causing trouble.
Oil Leaks
Without extensive training, it can be difficult to determine the source of an oil leak in your system. Left unaddressed, the leaks can make your compressor less efficient and lead to internal, metal-on-metal friction and corrosion. Sometimes, a leak indicates a damaged gasket or piston that needs replacement.
Our technicians will be able to quickly pinpoint the source of the leak and resolve its cause with a quick repair.
Unusual Sounds
Air compressors make a lot of noise, but unusual knocks and other noises tend to indicate something is awry within your system. If you notice a concerning sound, give us a call as soon as convenient. Our technicians have extensive experience diagnosing air compressor emergencies and can quickly figure out what's going on.
Pressure Drops in Your System
An air compressor experiencing even minor pressure drops may be functioning inefficiently and costing you money on energy consumption. If you are running at a higher pressure, you may be combatting one or several issues, including incorrect piping configurations, air leaks or poorly maintained filtration.
These issues can be tough to diagnose, but our technicians know exactly what to look for to repair your air compressor and restore efficiency.
High-Temperature Shutdowns
Even in the best circumstances, the process of compressing air generates a significant amount of heat. As a safety precaution, many air compressions systems have automatic sensors that will shut down the machine if they get too hot due to ambient heat or internal malfunction.
We know what can cause high-temperature shutdowns, and we are prepared to find solutions to cool off your system and get you back in action.
About Our Service
The Titus Company is a family-owned and operated business located in Pennsylvania, but our service team can provide 24/7 emergency maintenance and repair to customers in areas of Pennsylvania, Delaware, Maryland, northern Virginia and New Jersey.
We provide services to a range of customers, from the smallest local company all the way up to Fortune 500 businesses, and we can repair and maintain air equipment from every major manufacturer.
When you become our customer, we do everything in our power to provide outstanding support, fast and reliable equipment and repairs, and the most effective solutions. We want to become your trusted partner in everything related to air compressors and compressed air equipment.
Maintenance and repair is the final phase of our unique 4 Phase approach to serving our customers' needs. We provide a full lineup of services that extend from analyzing your initial air compressor requirements to ensuring the longest life possible for your equipment.
What Drives Us
Because The Titus Company is a family-owned business, we operate according to the values that we hold as a family.
Our company is driven by three primary principles:
To do the right thing: In everything we do, our goal is to do what is best for our customers. We offer 24/7 emergency repair services because, while it may require some sacrifice on our end, it allows us to serve you when you need it most and provide the best services we can.
To focus on solutions: We don't believe in temporary fixes or taking the easy way out. Instead, we look for real solutions based on solid information, quality system design and precise implementation.
To form winning partnerships: We've found that the best way to run a successful business is to form mutually beneficial partnerships with customers, companies, employees and suppliers. When we all work together as a whole, we can help support the success of our individual parts.
Our Service Benefits
When you call on The Titus Company for emergency air compressor repair services, you can expect to receive first-rate customer service, coupled with all of the benefits of a small, family-owned company that excels in its field.
Extensive Industry Knowledge
The Titus Company was founded in 1986, giving our leaders a rich background in the industry. These decades of experience, coupled with extensive training and ongoing, up-to-date education for our technicians, prepare us to meet every customer need.
Our team members have been working with air compression systems long enough to know them inside and out, so they can quickly identify and solve any problems that may crop up in your system.
Reduced Downtime
Every minute you spend without a functioning air compressor can cost you time and profit. Our goal is to quickly and efficiently repair your machine to get you back up and running as soon as possible, minimizing your downtime and saving you money.
Fast Service Available When You Need It
At The Titus Company, we know that breakdowns can happen at the least convenient times. That's why we offer 24-hour emergency air compressor service and repair so that we can fix your equipment as soon as it breaks. When you contact The Titus Company for an emergency repair, our on-call service technicians immediately jump into action.
With our fast and effective repairs, your compressor is sure to be fully operational and even more efficient in no time.
Reasonable Rates
As a family-owned and operated business, we are able to set reasonable rates without any corporate bloat or overhead. To find out more about the pricing of our services, including 24/7 emergency repairs, please get in touch with our team.
Contact The Titus Company for Emergency Compressor Repairs
The Titus Company is ready to take on any of your emergency air compressor repair needs, no matter the day or time. With our extensive experience, vast operating territory and speedy service, we are the best option for 24/7 emergency repair in Pennsylvania, Delaware, Maryland, northern Virginia and New Jersey.
If you have questions about our services or would like to request an emergency repair, you can contact us online or give us a call at 610.913.9100.