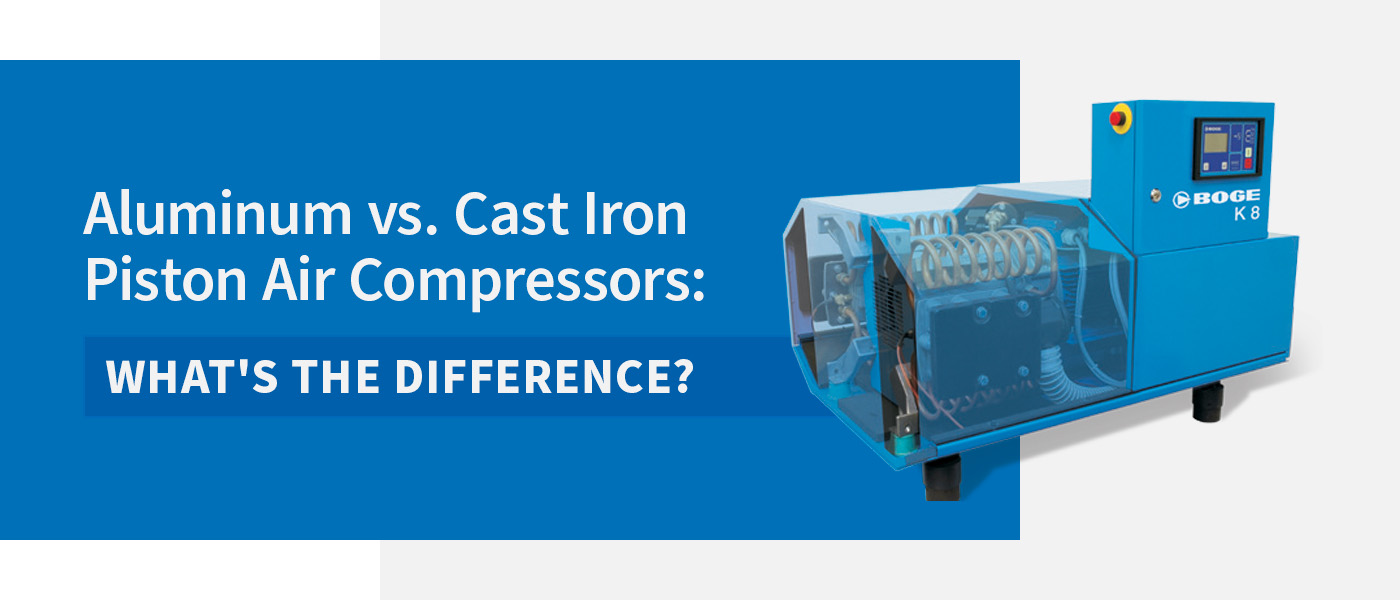 Are you thinking of purchasing a piston air compressor for your garage, home workshop or business? To provide thorough information regarding the different types, we'll compare air compressors in two different ways — single-stage versus two-stage and aluminum versus cast iron. Learn about the key features and strengths of each one with this complete guide to air compressors. You can then determine which piston air compressor is the right choice for you.
In This Article
What Is a Piston Air Compressor?
A piston air compressor is used to provide air for various tools used in workshops — it powers paint sprayers, air tools and other types of blast equipment. It can also be used to push gas through pipelines. Piston air compressors are typically used in textile printing, vehicle service, dentistry, food and beverage packaging, and carpentry, among many other industries.
How Does a Piston Air Compressor Work?
This handy instrument uses a very intricate system to power tools and equipment. A piston air compressor uses a valve system with a pair of stainless steel valve discs to compress air. First, the piston moves in a downward direction to push air into a cylinder. From here, the larger disc folds downward and allows the air to pass. To complete this process, the compressed air is pushed through an opening in the valve seat. Some piston compressors require oil lubrication to run, while others do not.
Piston compressors reduce the volume of air by creating a vacuum and storing it in a tank. Storage tanks are set to a certain air pressure, which the compressor turns off at. Once the storage tank drops below that pressure, the compressor turns back on.
Benefits of Piston Air Compressors
Here are a few of the key benefits associated with piston air compressors:
Relatively inexpensive
Highly efficient
Low maintenance
Readily available spare parts
Durable and long-lasting
Suitable for demanding applications
Operational in various climate conditions
Types of Piston Air Compressors
A piston air compressor typically takes two different forms — a single-stage and a two-stage. The primary difference between these two compressors is the number of times air is compressed between the nozzle and valve. While a single-stage compresses the air once, a two-stage compresses the air twice. With an oil-lubricated compressor, a single-stage makes fluid enter on one side to move the piston, and a two-stage has fluid on both ends. Many consider single-stage options to be the louder compressor of the two.
Another main difference between these two compressors is their uses. One-stage piston air compressors tend to be used more by DIYers and independent craftsmen in home garage settings, as they are used to power pneumatic tools at or below 100 PSI. Meanwhile, two-stage piston air compressors are typically found in settings such as factories, auto shops and power plants, as they are used to power more complex, industrial machinery and equipment.
Is a Single-Stage or Two-Stage Piston Compressor Better?
Chances are you might be looking to purchase a piston air compressor for your job, home or business, or you may simply be researching both types to determine the effectiveness of each one. Whatever the situation may be, it's important to understand the main differences between these two compressors to determine which would better suit your needs. Let's further compare single-stage and two-stage piston compressors by examining their pros and cons.
Single-Stage Piston Compressors
To start, here are the main pros associated with single-stage compressors:
Less expensive
More lightweight
Uses less electricity
Now, let's take a look at some of the cons:
Not as effective for heavy-duty applications
Lower air power
Two-Stage Piston Compressors
Next, we'll look at the overall pros of two-stage compressors:
Better for large construction crews and jobs that require more air
Better for projects that span longer periods
Higher air power
Lastly, we'll list the main cons associated with two-stage compressors:
More costly
Heavier and more difficult to transport
Draws more electricity
Overall, it's difficult to deem one of these compressors "better" than the other, as they are built to serve different purposes and applications. If your compressor will generally be used for lower-maintenance tasks in your in-home shop, and you would prefer one that is more cost-effective and portable, a single piston air compressor is likely the better option between the two.
On the other hand, if you're looking for an air compressor that is more suitable for projects larger in size and scope, and you are willing to spend a little more money, a two-stage piston compressor is likely the right choice for you.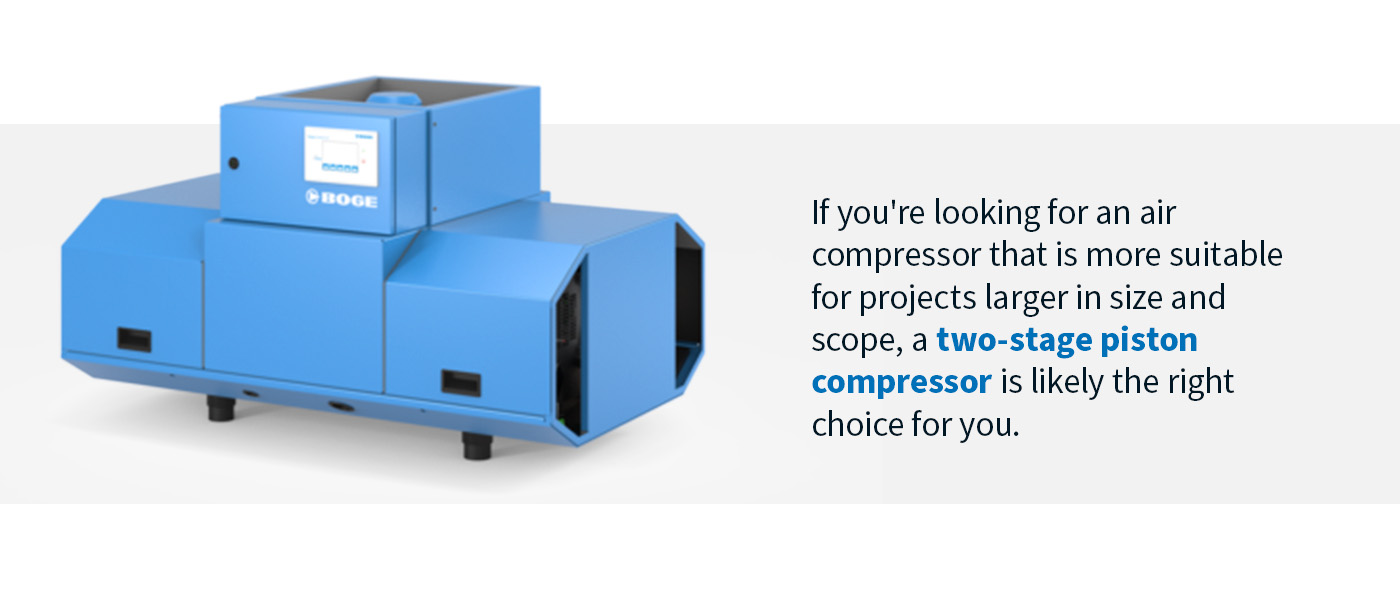 Aluminum vs. Cast Iron Piston Compressors
A piston air compressor is typically made from one of two types of materials — aluminum and cast iron. These metals are used to construct the shaft or pump surrounding the piston. Similar to one-stage and two-stage, aluminum and cast iron air compressors have different strengths and are therefore intended for different purposes.
To help you choose between aluminum and cast iron for your compressed air application, take a look at some notable characteristics of each one.
Aluminum Piston Compressors
One of the most distinctive factors of an aluminum piston compressor is its low density. It is very lightweight, which makes it easy to lift and transport to different locations. It also allows for easier installation. For jobs that require frequent moving of equipment from place to place, this air compressor is highly practical. Despite its lower density, it also has impressive strength and malleability. It has high resistance to corrosion, which allows it to withstand the formation of rust over time.
Another remarkable characteristic of aluminum piston compressors is their excellent thermal and electrical conductivity — this feature is especially useful for strong heat dissipation. When a compressor can cool itself, it reduces the amount of water vapor inside, which could impact the machine's lifespan. The aluminum used in this compressor can also evaporate any condensate in the oil.
However, the main drawback to aluminum piston air compressors is that they are generally more difficult to find. Additionally, they are not quite as strong and durable as cast iron air compressors.
Cast Iron Piston Compressors
A cast iron piston compressor is very shock absorbent, which gives it the ability to endure higher loads. In addition to its impressive strength, another advantage is its long service intervals as well as high cooling performance. Because it is higher in density and more durable than aluminum, this piece of equipment is typically preferred for more extreme environments and work conditions.
One of the main potential drawbacks of cast iron piston compressors is that they can emit potentially harmful dust, so it's important to be very cautious when operating this piece of machinery. Unlike aluminum, cast iron is also not a very flexible metal. While it is relatively resistant to rust and corrosion, this resistance is not as high as aluminum's. Cast iron compressors also tend to be more expensive than aluminum compressors.
Choosing Between Aluminum vs. Cast Iron for Your Compressed Air Application
Now that you've learned some of the main characteristics of both aluminum and cast iron piston air compressors, how do you go about choosing the right one? Similar to one-stage and two-stage compressors, it's important to think about both the setting and job you'll be using your compressor for, as well as what features will most influence your decision.
To summarize the previous section and further compare aluminum and cast iron, let's take a look at the overall pros and cons of each.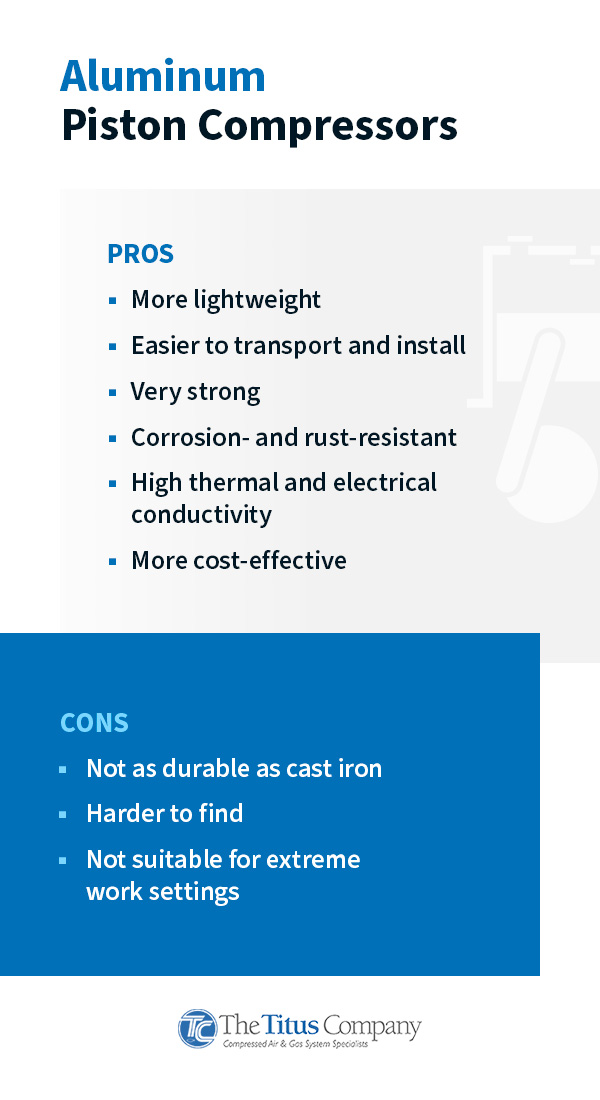 Aluminum Pros and Cons
To recap, let's first take a look at the key pros of aluminum piston compressors:
More lightweight
Easier to transport and install
Very strong
Corrosion- and rust-resistant
High thermal and electrical conductivity
More cost-effective
Now, let's look at the list of potential cons for aluminum piston compressors:
Not as durable as cast iron
Harder to find
Not suitable for extreme work settings
Cast Iron Pros and Cons
Next, after reviewing the characteristics of cast iron piston compressors, let's look at their main pros:
Strong and shock absorbent
Durable for heavy loads
Long service intervals
High cooling performance
More durable
Easier to find
Relatively rust- and corrosion-resistant
Finally, here are the main cons of cast iron piston compressors:
Heavier and less portable
Less flexible
More expensive
Dust-generating
Less rust-resistant than aluminum
All in all, when choosing between an aluminum or cast iron air compressor, the key factors to consider are durability, performance, ease of use and mobility. If you are looking for a compressor that is smaller, lightweight, flexible, portable and cost-effective, an aluminum air compressor would more likely be the right choice for you. That makes this material well-suited for smaller shops and DIYers.
On the other hand, if you're searching for a compressor that is more durable, stationary and able to function in more demanding work conditions, you might consider a cast iron air compressor instead. If you're looking for equipment for a business, you may find that a cast iron air compressor will suit your needs. Consider the strengths and drawbacks of each compressor carefully to ultimately make the decision that is best for you.
On another note, if cost is a primary concern for you when purchasing or maintaining an air compressor, there are strategies for planning a successful air compressor maintenance budget available.
Why Are Air Compressors Made From Aluminum Hard To Find?
As mentioned earlier, one of the main drawbacks of aluminum air compressors is that they are more difficult to find than cast iron compressors. Why exactly are air compressors made from aluminum harder to find?
A large contributing factor is the increased demand for aluminum in recent years — in fact, this has led to an aluminum shortage over time. This shortage has become even more prominent since the 2020 pandemic. Various industries — specifically food and beverage packaging — have turned to using aluminum over glass and other materials. This is particularly due to its lower cost and ease of packing.
In turn, this higher demand for aluminum in multiple industries has affected air compressor services, as well, as compressors made from aluminum are now more difficult to find in many stores. If you're looking to purchase an aluminum air compressor, keep in mind that it will likely require some additional searching — it won't be quite as easy to find as a cast iron air compressor.

Browse Air Compressor Products at The Titus Company
If you are still unsure of the right air compressor for you, or you have any other questions regarding these different types, our team at The Titus Company is ready to assist you in finding one that suits your needs. Whether it is an air compressor for your home garage or workshop, business or industrial job setting, we'll aim to help you find just the tool you're looking for to get the job done efficiently and successfully.
At The Titus Company, we have a wide variety of air compressor products in stock — these products are specially manufactured to meet the needs of multiple jobs, working conditions and industries. We aim to manufacture and stock flexible, energy-efficient, durable and reliable equipment.
With our extensive product and industry expertise, as well as our ability to cater to a wide range of needs, our business has successfully served customers for over 30 years. We serve a variety of areas, specifically the following states:
Delaware
Maryland
New Jersey
New York
Pennsylvania
Virginia
Additionally, we always ensure that our systems meet all relevant standards — including by the Compressed Air & Gas Institute (CAGI) and ANSI/ASME. Our team of Compressed Air Challenge (CAC) certified product and sales engineers is happy to assist your air compressor needs or answer any questions you may have regarding the different types. Here are two categories of air compressors we specialize in:
Pressure-lubricated air compressors: A pressure-lubricated air compressor uses a crankshaft to drive a pressure lubrication pump. This allows the wrist pin and other parts to last for longer periods and reduce excessive wear. Pressure-lubricated air compressors are typically common in automotive, aerospace and refrigeration businesses, as well as other industries that require long-term usage and reliability. You can browse our selection of pressure-lubricated air compressors to find one that suits your applications.
Oil-free air compressors: This equipment prevents liquid oil from traveling downstream and causing unnecessary contamination to delicate and expensive equipment. There's a reduced need for regular maintenance, as you don't have to consistently check lubrication levels. Oil-free air compressors are commonly found in industries that need pressurized air but cannot risk any type of contamination — specifically food and beverage packaging, health care, pharmaceutical companies and chemical plants. Browse our selection of oil-free air compressor products to find one that is appropriate for your applications.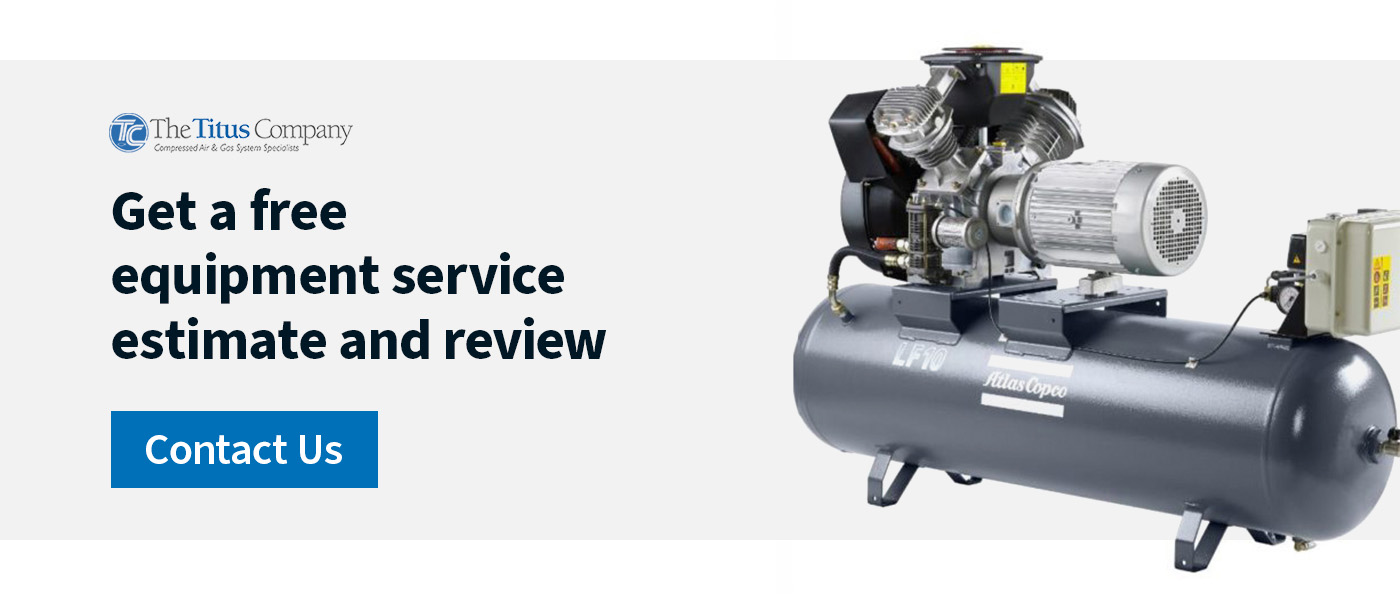 Contact The Titus Company Today
Interested in purchasing one of our air compressors? You can visit our website for a free compressed system air review, as well as a free equipment service estimate and review. For any questions regarding our products or services, please fill out the contact form on our website or call 610.913.9100.