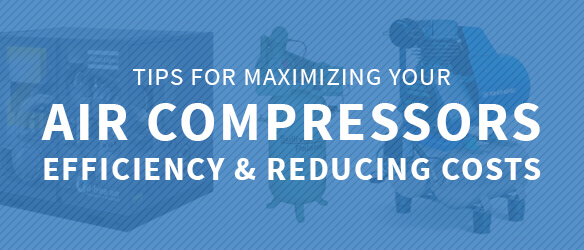 Most industries rely on compressed air as a means of powering their most essential tools. Air compressors provide the punch necessary to drive impactors, drills and other equipment on assembly lines, which is why making sure they're functioning at optimal performance is one of the best ways to reduce your company's air compressor maintenance costs.
The goal of this article is not only to explore what affects air compressor efficiency but also to provide tips on how to maximize the efficiency of an air compressor. With that information, you can boost your air compressor's performance, plus increase the lifespan of your air compressor, which will lower your energy costs and create higher rates of return.
In This Article
The Benefits of an Efficient Air Compressor
The goal of an energy-efficient air compressor is to offer the best performance for your needs while using minimal energy, resulting in less heat and friction. Improving your air compressor's energy efficiency can help you:
Save money: Less energy spent means lower energy bills. Reducing your air compressor's power consumption can only enhance your bottom line.
Reduce pollution: Like all machines, air compressors emit pollution, affecting the air quality around them — and ultimately, the rest of the environment. A more efficient machine gives off less pollution, minimizing emissions and improving your working environment.
Conserve energy: The less energy you use in your compressor, the more energy is open for other uses. A more efficient air compressor lets you get more done without overwhelming your power system.
What Factors Affect Your Compressor's Efficiency?
Compressed air's power makes it the perfect energy source for intensive applications despite its inherent inefficiency. Most air compressors require four to eight times as much horsepower in electricity to create one horsepower worth of compressed air. Additionally, many factors make air compressors grow less efficient with time and without proper maintenance, including:
Impure air: Air that contains dirt, dust or other impurities can cause gunk to accumulate inside an air compressor. This build-up wears on parts and reduces internal volume, which can lead to increased costs for repeated air compressor maintenance sessions.
Humidity: Water has a high specific heat, which means it requires more energy to change its temperature. Additionally, it collects inside the air compressor as condensation and begins to rust out its parts from the inside. Ensuring that incoming air is as cool and dry as possible is one of the best ways to protect your investment and improve your air compressor's efficiency.
Hot air: Hot air has a lower density than cold air. In turn, cold air is naturally more "compressed" than hot air — which means it is far more efficient to pump cold air into your air compressor. And that helps in maximizing your air compressor's efficiency, which leads to gains in productivity.
Different Types of Air Compressors — Which Air Compressors Are More Efficient?
Different types of air compressors are used in the industry and understanding the differences between them is an excellent start to maximizing air compressor efficiency.
Here are the most common types of air compressors in use today:
Reciprocating compressor: These compressors use one or more pistons to compress air. The up-and-down motion of the pistons compresses air within the chamber and then releases it into the holding tank. A system of valves allows air in and out of these piston chambers. These compressors offer a wide range of efficiency levels, with high-speed models ranging from 70% to 85% and low-speed models topping 90%. Their most common use is in building automation systems.

Rotary screw compressor: This type of compressor makes use of a set of helical screws to compress air. The compressor drives air into the chamber, and the helical screws push the air into a smaller and smaller volume thereby increasing the pressure of the trapped air. This is also true for other types of rotary compressors such as rotary vane units. These heavy-duty machines offer 5 horsepower to 900 horsepower with up to 70% efficiency. Both lubricated and oil-free compressors are available in this style.
Centrifugal air compressor: A set of radial blades compress air in this type of device. These blades suck air in through the center, and the high speed rotation of the blades compresses it. This compressor type is capable of running thousands in horsepower with up to 80% efficiency.
Oil-free scroll compressor: Due to the number of moving parts and metal-on-metal applications within air compressors, they usually require the use of oil to provide ample lubrication. Oil-free scroll compressors do not require continued lubrication and are the preferred tools for many clean facilities. There are other types of oil-free compressors as well, but this is a common one. Oil-free scroll compressors also boast the highest efficiency levels, usually ranging between 89% to 94%.
When it comes to air compressors, there are many different brands, each with unique designs and operation specs. Some reputable companies include Atlas-Copco, Boge, Mattei, Sauer and Sullivan Palatek. Buying the right type of compressor from a reputable company ensures a longer life span and higher returns on your investment.
4 Ways to Make Your Air Compressor More Efficient
Using an energy-efficient air compressor is a simple way for your operation to save money every day. Here's how to improve the efficiency of your air compressor:
Explore air intake quality. The air that goes into your system affects everything that comes after it. Cool, clean, dry air is best for most compressors. Ensuring proper air intake quality keeps outside contaminants from affecting machine output and prevents moisture from prematurely aging your system.
Enhance your system design. After improving your air quality, it's time to look at the system itself to see where you can enhance it. From sharp curves in the airflow path to your heat recovery system, look for areas within your air compressor where you can make it easier for your system to do its job.
Reduce your pressure drop. Pressure drops can happen for any number of reasons and can result in extensive energy waste. The best way to avoid them is to make sure your air compressor is in good shape. Check your filters, moisture levels, airflow path and pipe sizes to mitigate some of the most common causes of pressure drops.
Perform regular maintenance. Perhaps the best way to increase your energy efficiency and maintain it is to perform regular compressor checks and maintenance. Beyond maximizing efficiency, regular service can help keep every part of your compressor in order and allow you to notice minor issues before they grow into larger ones.
The Costs of an Inefficient Air Compressor System
Inefficient air compressor systems cost you in several ways:
Money: Air compressors working to spec are fast, reliable and productive. When they work inefficiently, the same task that took 30 minutes may now take 40 minutes — that means more labor hours and increased electrical bills to operate the equipment.
Time: Losing time also affects your bottom line by slowing output and decreasing profit potential. Keeping your air compressors efficient, operational and maintained ensures you will keep up with your production schedule.
Due to the potential losses, an air compressor system can have on your company and its bottom line, it's critical to follow the earlier steps for how to make your air compressor more efficient. Some examples include completing routine maintenance, streamlining your system's design or implementing company policies for the proper use of air compressor system controls. All can help you reduce air compression costs and maximize your air compressors' efficiency.
Come to Fluid Aire Dynamics for Air Compressor Needs
If you work in the modern industry, then your business relies on well-designed air compressor systems that operate smoothly. Fluid Aire Dynamics specializes in high-end, efficient air compressors that supply enterprises with all the power they need to keep creating and driving that improved bottom line.
Fluid Aire Dynamics concentrates on several different products, including reciprocating, rotary screw, rotary vane, scroll and centrifugal lubricated and oil-free air compressors, as well as air and gas dryers and dehydration systems, including refrigerated, desiccant and membrane-type. We offer air and gas filters, oxygen and nitrogen generators, vacuum and blower packages, process chillers and coolers and dust collection systems too. Plus, we're always ready to assist with 24/7 emergency service.
Peruse our website to see the various types of compressors available and contact us with any questions by calling our knowledgeable team at 610.913.9100.